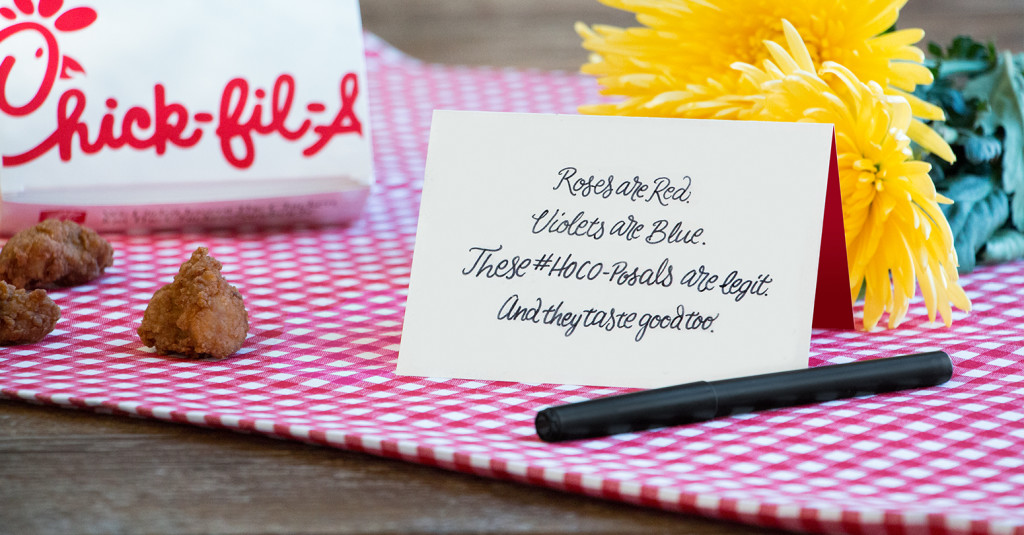 Their parents' homecoming invitations may have been plain and simple. But these days, homecoming has become #HoCo. The proposals are creative endeavors, and the most delicious ones involve Chick-fil-A (it never hurts!). Check out our fave Chick-fil-A HoCo-posals, and let the brainstorming begin for 2016…
This one's in the bag.
He said I can be his chick at homecoming 😍🐓 @ChickfilA pic.twitter.com/TA0GDpSr3P

— ✿paige✿ (@itspaaaigeee) October 2, 2015
How could you say no?
ya girl is going to homecoming! thanks @ChickfilA #SadieHawkins 💃🏾 pic.twitter.com/lA9pYzUp9u

— keeley meetze (@keeleym13) September 25, 2015
Fresh cut flowers, too. We approve.
I only said yes for the sandwich 😉 @ChickfilA #hoco pic.twitter.com/DDNGVy99s2

— emmy wells (@wells_emmy) September 19, 2015
Puns + Posters + Nuggets = A definite yes.
No FOMO this HoCo!
@julescostello We'd love to share your photo with others! Please email us @ social.media@chick-fil-a.com so we can send you a consent form.

— Chick-fil-A, Inc. (@ChickfilA) October 21, 2015
Related Articles
Summer Firsts: Finding Jobs, Finding Love