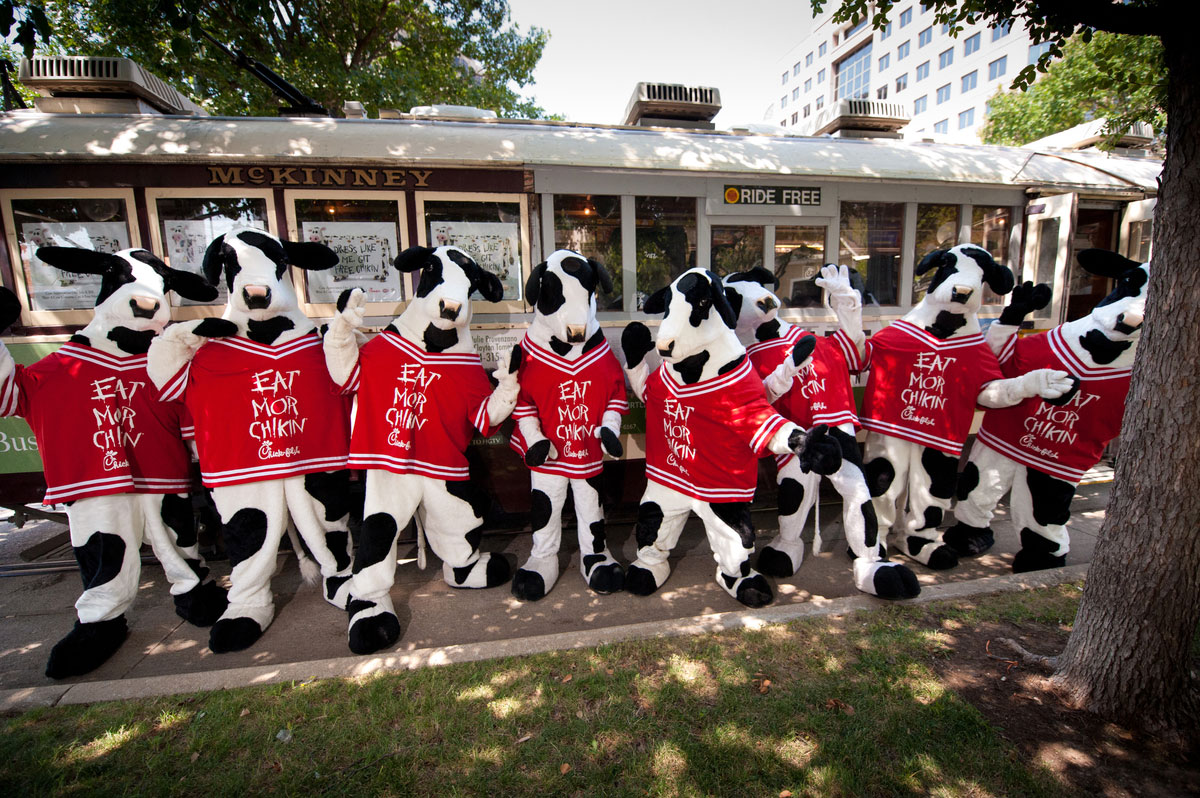 Cow Appreciation Day is Chick-fil-A's largest single-day customer event
ATLANTA (June 23, 2017) – Chick-fil-A® is issuing a cattle call. The restaurant company, known for its iconic "Eat Mor Chikin®" Cows, will celebrate the 13th annual Cow Appreciation Day on Tuesday, July 11, 2017. On that day, Chick-fil-A restaurants nationwide will offer a free entrée to any customer who visits a restaurant dressed as a cow.
Adult customers who dress in any type of cow attire, whether it's "head-to-hoof" or sporting a cow-spotted accessory, will be rewarded with a free Chick-fil-A entrée, such as an Original Chicken Sandwich, seasonal Smokehouse BBQ Bacon Sandwich or breakfast favorite, the Egg White Grill. Children will receive a free Kid's Meal for dressing in a cow costume. Salads will not be redeemable during Cow Appreciation Day this year. (A full list of redeemable menu items can be found here.)
The Cow Appreciation Day celebration will last from restaurant opening through 7 p.m. local time (check local individual restaurant listings for hours).
Cow Appreciation Day celebrates the restaurant company's iconic cow advertising campaign; an award-winning marketing campaign that is marking its 22nd anniversary this year. In addition to clever roadside billboards, the Eat Mor Chikin Cows are the focal point of Chick-fil-A's in-store point-of-purchase materials, promotions, radio, TV and internet advertising, and clothing and merchandise sales.
All free-standing Chick-fil-A restaurants will have an active Cow Appreciation Day Snapchat filter that will allow guests to share their experience with friends and family.

About Chick-fil-A, Inc.
Atlanta-based Chick-fil-A, Inc. is a family owned and privately held restaurant company founded in 1967 by S. Truett Cathy. Devoted to serving the local communities in which its franchised restaurants operate, and known for its original chicken sandwich, Chick-fil-A serves freshly prepared food in more than 2,100 restaurants in 46 states and Washington, D.C.

Chick-fil-A system sales reached nearly $8 billion in 2016, which marks 49 consecutive years of sales growth. In 2016, Chick-fil-A was named the Technomic Consumer's Choice for "providing value through service" and QSR Magazine named the company "the most polite restaurant in the country" in its annual drive-thru report. Chick-fil-A was also recognized in 2015 as America's "Top Chicken Restaurant Brand" by The Harris Poll and the only restaurant brand named to the Top 10 "Best Companies to Work For" by 24/7 Wall Street. in 2016. More information on Chick-fil-A is available at www.chick-fil-a.com.
# # #
Media Hotline: (800) 404-7196
Email: cfapressroom@chick-fil-a.com
Twitter @ChickfilANews