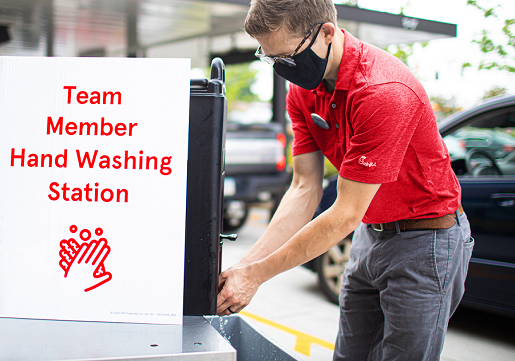 ATLANTA, MAY 29, 2020 — As states and local communities begin to reopen for business, today we are sharing our approach to expanding the levels of service at Chick-fil-A restaurants.

The "Safe Service" standards outlined here summarize changes Guests may notice when visiting a restaurant for drive-thru, carry-out or dine-in service.

"Safe Service" is our unwavering commitment to safety and the highest operating standards to protect the health and well-being of our Guests and Team Members. Our Food Safety and Customer Experience teams are working with local franchise Operators to ensure safety measures not only protect Guests and restaurant teams, but also uphold the restaurant experience guests have come to know and expect from Chick-fil-A®.

Our restaurants are locally owned and Operators are following the guidelines of their individual communities when it comes to expanding service offerings. This means Chick-fil-A restaurants will open for carry-out and in-restaurant dining on different timelines. It also means individual restaurants may close again if needed.

Rest assured, we will continue to diligently monitor guidance from the Centers for Disease Control and Prevention, U.S. Food and Drug Administration and local governments and update our actions and processes accordingly. Chick-fil-A restaurants are required to the meet the same set of high standards — including cleaning and disinfecting high-touch areas even more frequently, requiring Team Members to wash their hands regularly and after touching currency, adding hand sanitizer stations for customers and more – before they begin expanding service.

We know that our Guests trust us to provide a safe and welcoming place to dine, and we never take that for granted. It's our pleasure to continue to serve you.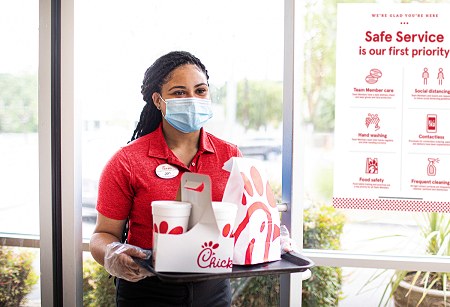 About Chick-fil-A, Inc.
Atlanta-based Chick-fil-A, Inc. is a family owned and privately held restaurant company founded in 1967 by S. Truett Cathy. Devoted to serving the local communities in which its franchised restaurants operate, and known for its original chicken sandwich, Chick-fil-A serves freshly prepared food in more than 2,500 restaurants in 47 states, Washington, D.C., and Canada.

A leader in customer service satisfaction, Chick-fil-A was named top fast food restaurant in Newsweek's 2019 America's Best Customer Service report and received several honors in QSR's 2019 Reader's Choice Awards, including "The Most Respected Quick-Service Brand" and "Best Brand for Overall Experience." Additionally, Glassdoor named Chick-fil-A one of the top 100 best places to work in 2020. More information on Chick-fil-A is available at www.chick-fil-a.com.

Corporate Media Hotline: (800) 404-7196

Email: cfapressroom@chick-fil-a.com