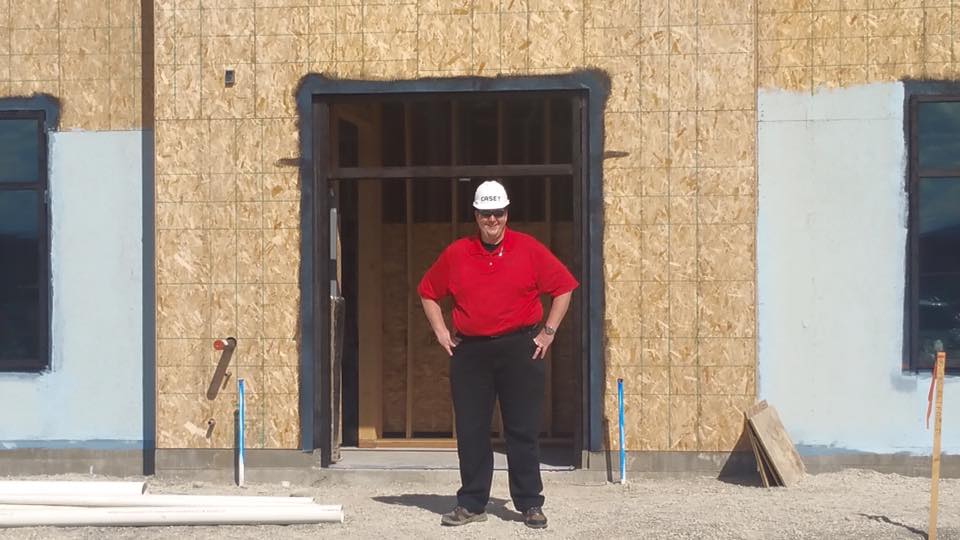 Hiring Begins for Approximately 120 Team Members
KALISPELL, Mont. (Oct. 5, 2016) – Local resident and entrepreneur Casey Meadows has been named franchise owner of Montana's first Chick-fil-A restaurant. With the restaurant slated to open for business Nov. 17, hiring for approximately 120 full- and part-time team members has begun this week. Meadows will oversee day-to-day activities of the business, cultivating relationships with Kalispell schools, organizations and neighboring businesses, and serving local guests.
Meadows, a Georgia native who previously owned a Chick-fil-A franchise in Corona, Calif., is no stranger to a new frontier. In 2004, Meadows and his wife Jan moved to California where they have witnessed Chick-fil-A grow from four to more than 100 stand-alone restaurants in the state. During their 12 years of operating the Hidden Valley Parkway Chick-fil-A, the Meadows were highly involved in their community, holding fundraisers for local schools, supporting charitable causes and serving as treasurer for both the Corona Fire Safety Foundation and Corona Police Community Partnership. Casey's extensive community engagement has been acknowledged with dozens of awards including being named the first recipient of the Champion of Children Award by Unity – a group of 35 non-profit organizations united in their common mission of helping kids.
"We are overjoyed to make beautiful, metro Kalispell our new home," said Meadows. "Jan and I are honored to have the opportunity to introduce and reconnect guests to Chick-fil-A's great food, service and hospitality. We can't wait to meet and serve this wonderful community."
Known throughout the company for his commitment to developing young people, Meadows got his start with Chick-fil-A at the age of 15 when he became a team member at a Chick-fil-A in Macon, Ga. In fact, Meadows was a recipient himself of the Chick-fil-A Leadership Scholarship that has grown to nearly $37.8 million being awarded to nearly 37,800 team members since 1973. Chick-fil-A just announced this month that it will more than double its commitment to restaurant team members with the Remarkable Futures initiative– providing $4.9 million in annual scholarships starting in 2017. Scholarships will be available in three categories, ranging from $2,500 to $25,000, and will be based on leadership, community involvement and academic achievement. Additional details can be found at www.chick-fil-a.com/scholarships.
Chick-fil-A strives to offer all employees and staff a supportive workplace with opportunities for leadership development, promotions that lead to management roles, competitive wages and respect for work-life balance. Interested candidates can visit the hiring trailer at the new restaurant where applications will be taken from 9 a.m. to 5 p.m., Monday through Friday. For additional information on hiring, visit the restaurant's Facebook page at www.facebook.com/ChickfilAKalispell/.
Chick-fil-A is known for its menu of fresh, hand-crafted food and offers a variety of options for guests of all ages. Signature items include a hand-breaded, boneless chicken breast sandwich, Waffle Potato Fries and hand-spun milkshakes. The restaurant uses only premium ingredients and makes many of its menu items from scratch in the restaurant each day, including hand-chopped salads and fruit. The Kalispell Chick-fil-A is one of 104 new restaurants opening across the country in 2016, creating more than 9,000 new jobs.
About Chick-fil-A, Inc.
Atlanta-based Chick-fil-A, Inc. is a family owned and privately held restaurant company founded in 1964 by S. Truett Cathy. Devoted to serving the local communities in which its franchised restaurants operate, and known for its original chicken sandwich, Chick-fil-A serves freshly prepared food in more than 2,075 restaurants in 43 states and Washington, D.C.
Chick-fil-A system sales exceeded $6 billion in 2015, which marks 48 consecutive years of sales growth. Chick-fil-A earned a top spot in the 2016 Customer Service Hall of Fame for the third year in a row and is the only quick service restaurant to make the top five of the Customer Service Hall of Fame. The company was also the only restaurant brand named to the Top 10 "Best Companies to Work For" by 24/7 Wall Street, and the only restaurant brand rated "excellent" in the 2016 Temkin Emotion Ratings study. More information on Chick-fil-A is available on the chain's website located at www.chick-fil-a.com.
###
Contact:
Jackie Jags /// Chick-fil-A, Inc. /// jackie.jags@cfacorp.com /// 404-765-7833
Cindi L.B. Pickett /// CP Communications ///cindipickett@cpcommunicationsinc.com // 678-714.0340 /// 404.375.7882 cell