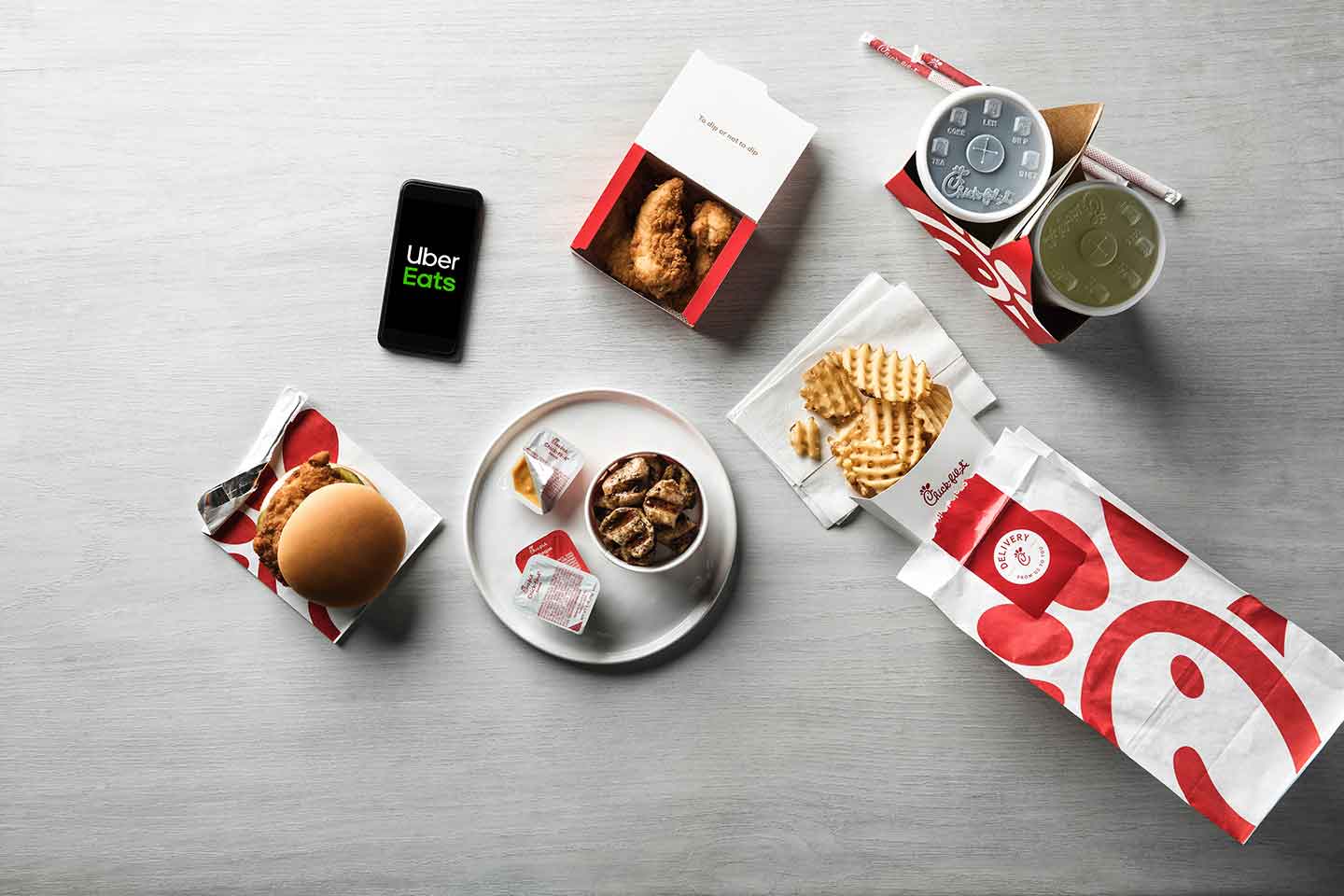 Free delivery available for customers through April 18
ATLANTA (April 13, 2020) – With more people dining at home, Chick-fil-A® today announces a partnership with Uber Eats, offering a new, convenient way for customers to enjoy the Chick-fil-A® Chicken Sandwich and other menu favorites without leaving home. Uber Eats and Chick-fil-A are offering no delivery fee on orders of $10 or more at participating restaurants nationwide through April 18*.

Like Chick-fil-A drive-thru and pick-up orders, menu quality and customer well-being are a top priority with delivery. To maintain the highest quality of menu items, Uber Eats deliveries will typically be made to customers within a 10-minute radius of participating Chick-fil-A restaurants. Uber Eats also offers its 'no contact' delivery option.

"Families are balancing work, school, childcare and other obligations from home and offering a simple way to order breakfast, lunch, dinner or a snack is just one small way to care for guests during this time," said Michael Garrison, senior director of Chick-fil-A's delivery team. "Our partnership with Uber Eats will help us continue to serve nourishing meals in our communities with the added convenience of having the meal delivered to customers' doors."

To order Chick-fil-A with Uber Eats, download the Uber Eats app or visit ubereats.com. Once an address is entered, customers will search for Chick-fil-A or scroll through available restaurants in the area. Once menu options are selected, customers will see their address, an estimated delivery time, and pricing details before submitting the order. Uber Eats offers in-app tipping, which is tied to the card on file, so cash isn't needed to tip delivery drivers.

"Uber Eats brings your favorite restaurants to your front door, which is important now more than ever," said Janelle Sallenave, head of Uber Eats, US & Canada. "We are thrilled to partner with Chick-fil-A as we continue to serve our communities with quick, affordable, and safe food options with the tap of a button."

Read our guide to delivery and contactless ordering, and visit chick-fil-a.com/delivery to view delivery options available in your area. Click here for additional measures we are taking to ensure the welfare of our Guests and Team Members.

*Offer is valid for a $0 Delivery Fee at participating Chick-fil-A restaurants. Offer is limited to one order per customer. Taxes and service fees apply.
# # #
About Chick-fil-A, Inc.
Atlanta-based Chick-fil-A, Inc. is a family owned and privately held restaurant company founded in 1967 by S. Truett Cathy. Devoted to serving the local communities in which its franchised restaurants operate, and known for its original chicken sandwich, Chick-fil-A serves freshly prepared food in more than 2,500 restaurants in 47 states, Washington, D.C., and Canada.
A leader in customer service satisfaction, Chick-fil-A was named top fast food restaurant in Newsweek's 2019 America's Best Customer Service report and received several honors in QSR's 2019 Reader's Choice Awards, including "The Most Respected Quick-Service Brand" and "Best Brand for Overall Experience." Additionally, Glassdoor named Chick-fil-A one of the top 100 best places to work in 2020. More information on Chick-fil-A is available at www.chick-fil-a.com.
About Uber Eats

Uber Eats is an on-demand food delivery app and website that helps bring millions of people around the world the food they want, at the tap of a button. We partner with over 400,000 restaurants in more than 6,000 cities across 45 countries and six continents who make meals for every taste and occasion. From specialty local favorites to everyday national brand names, Uber Eats offers millions of dishes while maintaining an average delivery time under 30 minutes.


Corporate Media Hotline: (800) 404-7196

Email: cfapressroom@chick-fil-a.com