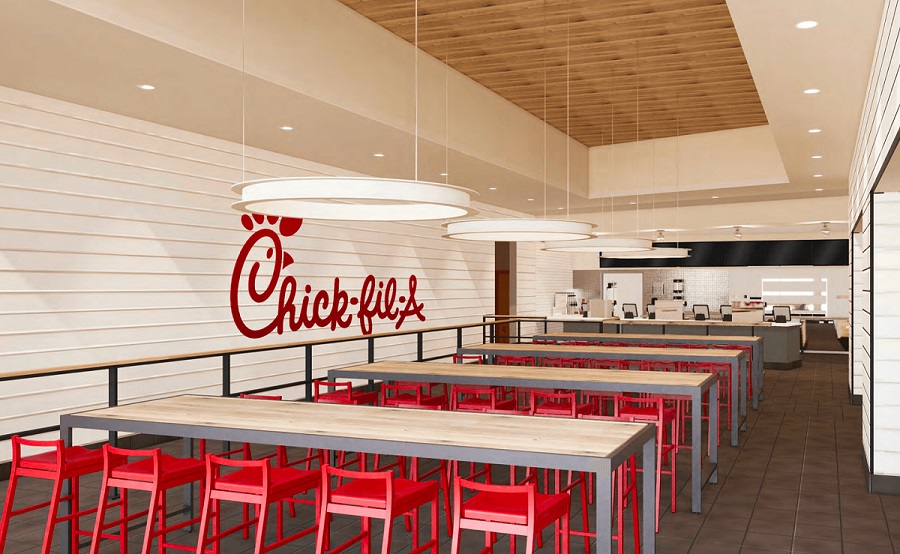 Restaurant will Bring Approximately 100 Full- and Part-Time Jobs to the Toronto Community
TORONTO (February 9, 2022)
– Chick-fil-A
®
Queen Street West, located at 336 Queen St. W. in Toronto, is slated to open for business on Friday, February 11, 2022. Chick-fil-A, Inc. selected Keisse Azevedo as the independent franchised Owner/Operator of this new Chick-fil-A
®
restaurant. Azevedo will be responsible for all day-to-day activities of the business, including cultivating relationships with local organizations and neighbouring businesses, employing approximately 100 full- and part-time Team Members and serving Guests. Chick-fil-A Queen Street West will be open from 10:30 a.m. to 10 p.m., Monday through Saturday. This restaurant will be the sixth Chick-fil-A restaurant in Canada and the second location in downtown Toronto.
Chick-fil-A restaurants are committed to serving guests safely and are continually adjusting their operations to help protect Operators, restaurant Team Members and Guests. Currently, Chick-fil-A Queen Street West will open with take-out and limited dine-in, with third-party delivery available shortly after the opening. To learn more about Chick-fil- A's safety protocols, please visit the
COVID-19 response page
.
Locally Owned and Operate
d
Azevedo joined Chick-fil-A Delray Beach in Florida as a Team Member when she was 23 years old, where the local Operator provided incredible mentorship and guidance on the fundamentals of running a restaurant. Azevedo then applied for the
Chick-fil-A Leadership Development Program
, where she travelled for 27 months opening new restaurants and serving as the Interim Manager in corporate-owned locations.
After five years dedicated to growing her career at Chick-fil-A, including four months spent in Canada helping open Chick-fil-A Yorkdale Shopping Centre, the decision to relocate to Toronto to open Chick-fil-A Queen Street West was a dream realized for Azevedo. "I'm excited to contribute to one of the city's most dynamic neighbourhoods by helping those in need in the Queen Street West community, providing personal growth opportunities to my team and showing care to all who walk through our doors," said Azevedo. "I was struck by the kindness of my first experience at Chick-fil-A and am committed to bringing that same experience to all we have the pleasure of serving."
Cultivating Meaningful Partnerships
In honour of the new restaurant opening, Chick-fil-A has donated US$25,000 to the Yonge Street Mission (YSM) Evergreen Centre for Street-Involved Youth, an inclusive, comprehensive centre for street-involved youth in Toronto. Their wide range of services and programs are specifically designed to meet the unique needs of youth aged 16 to 24.
"At our centre, we believe in people until they believe in themselves," said Angela Solomos, vice president of philanthropy at Yonge Street Mission. "It is through the power of partnership that we can continue to care for our youth, and we are so appreciative of Chick-fil-A's continued support of Yonge Street Mission and our Evergreen Centre for Street-Involved Youth so that we can provide education, employment and hunger programs across Toronto."
In addition to the donation to the YSM Evergreen Centre for Street-Involved Youth from Chick-fil-A, Azevedo's restaurant will be participating in the
Chick-fil-A Shared Table program
, an initiative that redirects surplus food from the restaurant to local soup kitchens, shelters, food banks and non-profits in need. Chick-fil-A Queen Street West will do its part to reduce food waste in its kitchen with a "cook less, more often" approach, reducing or eliminating the amount of food that goes unserved. When there is surplus food, Chick-fil-A Queen Street West will also donate it to the YSM Evergreen Centre for Street-Involved Youth, joining an existing partnership started in 2019 between Yonge Street Mission and Chick-fil-A Yonge & Bloor. Since the partnership began with Yonge Street Mission in 2019, Chick-fil-A has helped donate approximately 20,000 meals to local Torontonians in need.
Chick-fil-A Restaurant Team Member Investment
Chick-fil-A franchised Operators strive to hire, develop and retain top talent, while providing a great work environment for people of all ages and backgrounds. They also offer their Team Members opportunities for flexible work hours and leadership growth, competitive pay and benefits, hands-on training and mentoring, and the chance to apply for
scholarships to support their continuing education
. Like all Chick-fil-A restaurants, the restaurant will close on Sundays to allow Team Members to have a dedicated day off.
Quality Ingredients; Delicious Food
Chick-fil-A restaurants focus on serving customers great-tasting food made with high-quality ingredients. Chick- fil-A restaurants serve chicken raised without antibiotics, in accordance with its stringent Animal Wellbeing Standards. Many items on the menu are hand-prepared daily and produce is delivered fresh up to six times per week. More about Chick-fil-A food:
The famous Original Chick-fil-A® Chicken Sandwich is made with a chicken breast fillet, breaded by hand and served on a toasted bun with pickles.
Chick-fil-A® Nuggets are available breaded or grilled and are perfect for pairing with one of seven delicious Chick-fil-A dipping sauces.
Spicy Chick-fil-A Chick-n-Strips® are seasoned with a spicy blend of peppers, hand-breaded and cooked to perfection.
Chick-fil-A Waffle Potato Fries® are made from real potatoes.
Chick-fil-A salad entrées, including Spicy Southwest and Cobb, feature ingredients that are freshly prepared in restaurant daily.
Regular Chick-fil-A® Lemonade is made from three simple ingredients: real lemon juice, sugar and water.
Commitment to Customer Service
With a long-standing tradition in the restaurant industry for setting high standards in customer service, Chick- fil-A earned recognition for providing the "best fast food customer service in America" according to America's Best Customer Service 2020 report by Newsweek, among other honours.
For more information about Chick-fil-A, visit
chick-fil-a.ca
and follow us on
Facebook
and
Instagram
.
About Chick-fil-A, Inc.
Atlanta-based Chick-fil-A, Inc. is a family owned and privately held restaurant company founded in 1967 by S. Truett Cathy. Devoted to serving the local communities in which its franchised restaurants operate and known for its Original Chick-fil-A® Chicken Sandwich, Chick-fil-A serves freshly prepared food in more than 2,700 restaurants in 47 states, Washington, D.C., and Canada.
A leader in customer service satisfaction, Chick-fil-A was named top fast food restaurant in Newsweek's 2019 America's Best Customer Service report and received several honours in QSR's 2019 Reader's Choice Awards, including "The Most Respected Quick-Service Brand" and "Best Brand for Overall Experience". Additionally,
Glassdoor
named Chick-fil-A one of the top 100 best places to work in 2020. More information on Chick-fil-A is available at
www.chick-fil-a.ca/
.