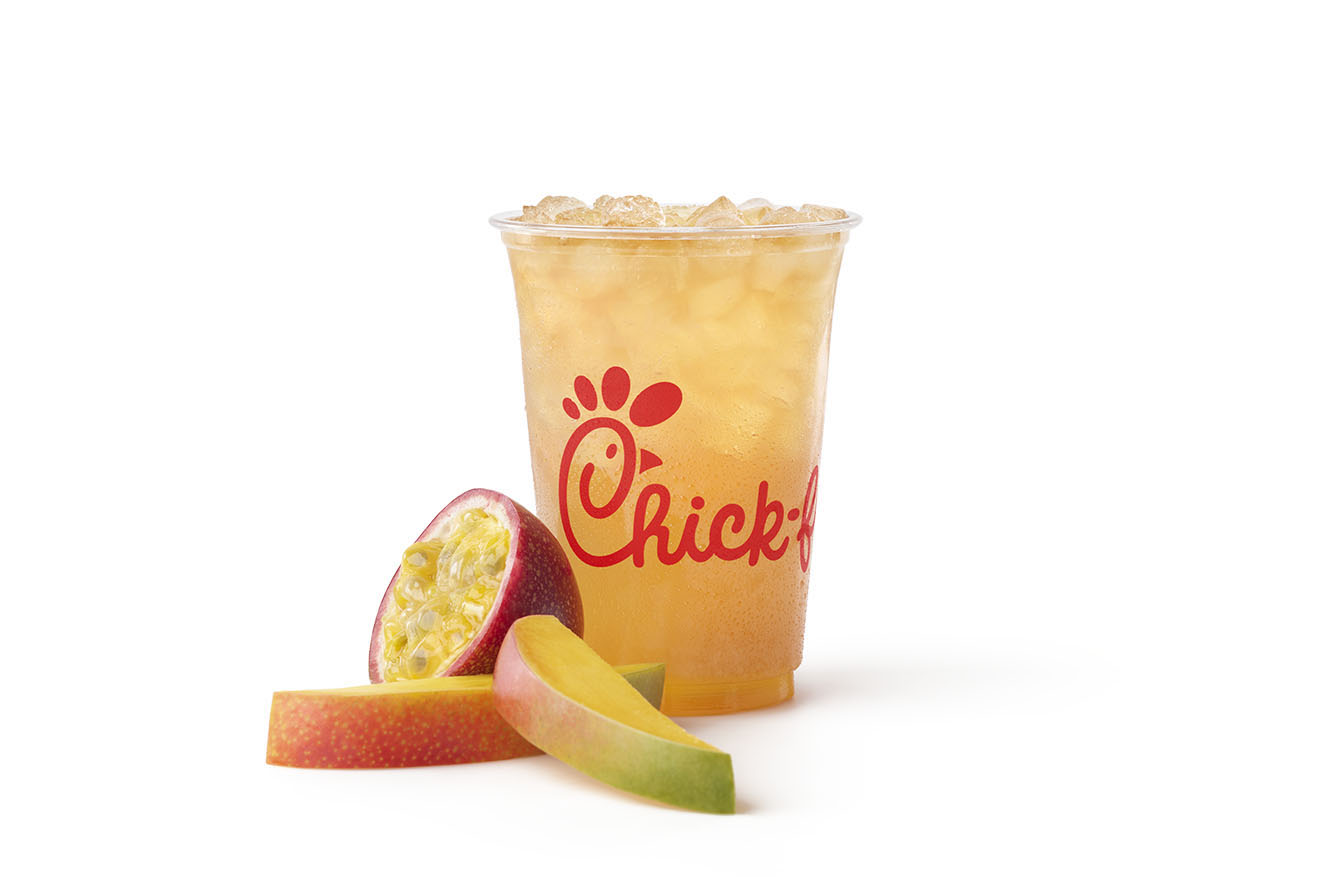 Mango Passion Tea Lemonade Joins Menu and Popular Peach Milkshake Returns
ATLANTA (June 25, 2020) – Chick-fil-A® is offering guests nationwide something new to sip this summer starting June 29: Mango Passion Tea Lemonade. The new beverage comes to restaurants alongside the return of an old favorite, the beloved Peach Milkshake.
Mango Passion Tea Lemonade is Chick-fil-A's first seasonal beverage since Strawberry Passion Tea Lemonade in Summer 2019. The hand-crafted, seasonal beverage is a tropical blend of classic Chick-fil-A® Lemonade and freshly-brewed Unsweetened Iced Tea, and mango syrup featuring natural mango and passionfruit flavors.
"Summer is the perfect time for people to quench their thirst with a delicious and refreshing drink like Mango Passion Tea Lemonade," said Ben Bolling, beverages category leader at Chick-fil-A. "The beverage was well received when we tested it in Jacksonville, Fla. last fall, so we're excited to offer it to guests around the country and give them more variety to help sweeten up a meal or midday snack this summer."
In addition, Chick-fil-A is bringing some familiarity to summer with the return of the Peach Milkshake. A delicious treat, the Peach Milkshake combines handspun Chick-fil-A Icedream® with real peaches. This Chick-fil-A favorite is available for a limited time starting on June 29.
Mango Passion Tea Lemonade starts at $1.99 for a small and $2.19 for a large. The beverage is also available with Chick-fil-A® Diet Lemonade and Sweetened Iced Tea. The Peach Milkshake starts at $3.29 for a small and $3.79 for a large.
Both the Mango Passion Tea Lemonade and Peach Milkshake will be available at participating restaurants nationwide starting Monday, June 29 through the summer, while supplies last.
Safe Service remains the top first priority at all Chick-fil-A restaurants. The brand is committed to not only providing the high-quality food and service guests have come to know and expect from Chick-fil-A, but also the highest safety standards to protect the health and well-being of all who come in contact with the brand. For more information on Chick-fil-A's "Safe Service" standards, visit chick-fil-a.com/safeservice.
For more information about Chick-fil-A and stories about the company's food, people and customers across the country, visit thechickenwire.chick-fil-a.com.
# # #
About Chick-fil-A, Inc.
Atlanta-based Chick-fil-A, Inc. is a family owned and privately held restaurant company founded in 1967 by S. Truett Cathy. Devoted to serving the local communities in which its franchised restaurants operate, and known for its original chicken sandwich, Chick-fil-A serves freshly prepared food in more than 2,500 restaurants in 47 states, Washington, D.C., and Canada.
A leader in customer service satisfaction, Chick-fil-A was named top fast food restaurant in Newsweek's 2019 America's Best Customer Service report and received several honors in QSR's 2019 Reader's Choice Awards, including "The Most Respected Quick-Service Brand" and "Best Brand for Overall Experience". Additionally, Glassdoor named Chick-fil-A one of the top 100 best places to work in 2020. More information on Chick-fil-A is available at www.chick-fil-a.com.
Contact: Chick-fil-A Media Hotline: (800) 404-7196
Email: cfapressroom@chick-fil-a.com