The idea started with an experiment in a restaurant kitchen
ATLANTA (March 16, 2015) – Chick-fil-A® introduces its newest menu item, Frosted Lemonade, at restaurants nationwide today. The refreshing treat combines two of the fast food restaurant's most beloved offerings, Chick-fil-A Lemonade and its signature Icedream®.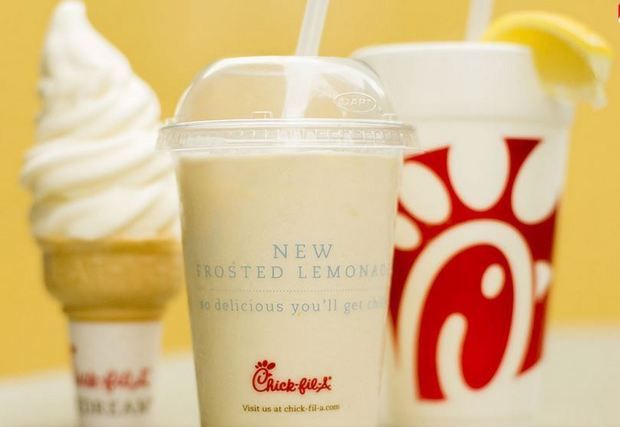 The new menu item was long rumored as a recipe created by Chick-fil-A team members to enjoy while on breaks. After hearing stories of the creative concoction, Chick-fil-A refined the Frosted Lemonade recipe and formally tested it in restaurants in Charleston, S.C., Raleigh, N.C., Sacramento, Calif., and N.W. Arkansas in spring of 2014. Positive customer feedback confirmed Chick-fil-A's decision to launch the treat nationwide for customers seeking an on-the-go snack or an indulgence that is lighter than a milkshake.
"We always knew customers loved our lemonade, and we always knew they loved Icedream. But we never thought to combine the two to make a completely original treat that isn't a milkshake or even a smoothie," said David Farmer, vice president of menu strategy and development for Chick-fil-A. "Thanks to team members, this recipe will now be a delicious, lower calorie treat that all customers can enjoy anytime."
Chick-fil-A's lemonade is made from scratch daily at each restaurant using only lemon juice, pure cane sugar and water. In 2014, Chick-fil-A served 121 million cups of lemonade and purchased approximately 250 million lemons. Icedream, inspired by founder Truett Cathy's original recipe, is a soft serve ice cream with a simple, distinct vanilla flavor. Frosted Lemonade is available in a 16oz. serving with prices starting at $2.69 and can be handspun with diet or regular lemonade. Diet Frosted Lemonade (with Splenda®) has only 240 calories, while the regular Frosted Lemonade contains 330 calories.
To follow what customers are saying about Frosted Lemonade, visit chickfila.tumblr.com, or search Instagram, Twitter, and Facebook using the hashtag #FrostedLemonade.
About Chick-fil-A, Inc.
Atlanta-based Chick-fil-A, Inc. is a family owned and privately held restaurant company devoted to serving the local communities in which its restaurants operate. Known for its original chicken sandwich and unique franchise model, Chick-fil-A serves freshly prepared food in more than 1,900 restaurants in 41 states and Washington, D.C.
Founded in the early 1960s by S. Truett Cathy, Chick-fil-A produced sales of nearly $6 billion in 2014, which marks 47 consecutive years of sales growth. Chick-fil-A was recognized in 2014 as one of America's "Top 20 Most Admired Brands" by The Harris Poll, "Top Fast Food Chicken Chain" by Consumer Reports and the only restaurant named to 24/7 Wall Street's "Customer Service Hall of Fame." More information on Chick-fil-A is available on the chain's website located at www.chick-fil-a.com.
CONTACT: Chick-fil-A, Inc.
Media Relations
(800) 404-7196
@ChickfilANews