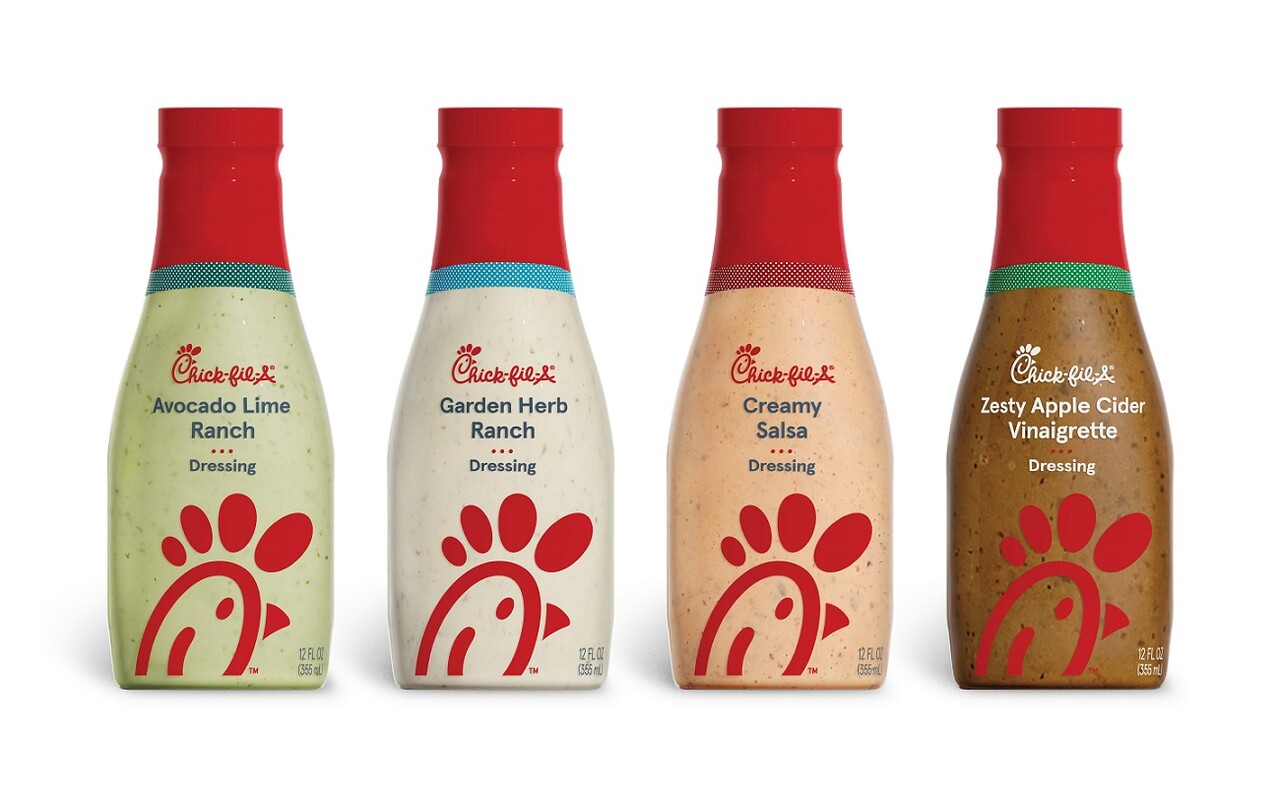 12 fluid ounce bottles of Chick-fil-A's popular salad dressings are piloting in Cincinnati and Tennessee this fall
ATLANTA (October 13, 2022) - Chick-fil-A® announced today it will begin selling four of its most popular salad dressings at retail locations in the greater Cincinnati area and across Tennessee. The company has plans to expand availability of its salad dressings nationwide in the Spring of 2023.

"We love that our guests are enjoying our salad dressings in our restaurants and can now share them more easily with family and friends at home," said Michael Garrison, senior director of innovation and new ventures at Chick-fil-A. "We saw excitement from customers around the launch of our Bottled Sauces in 2020, and we are thrilled to add more retail offerings for our fans while introducing the brand to new customers in our pilot markets."

Starting this month, customers in Cincinnati and Tennessee will be able to purchase 12 fluid ounce bottles of the following salad dressings at participating Walmart, Kroger and Meijer stores.*
Avocado Lime Ranch Dressing

A twist on the original Ranch, the Avocado Lime Ranch Dressing is our most popular salad dressing. This southwest style dressing includes creamy avocado, spices and lime and livens up any salad or wrap.

Garden Herb Ranch Dressing

The classic Garden Herb Ranch Dressing, with its traditional, creamy taste, is a savory mix of garlic, onion and herb flavors.

Creamy Salsa Dressing

The Creamy Salsa Dressing was originally developed by Chick-fil-A's culinary team to pair with the Spicy Southwest Salad and blends southwest flavors of cumin, hot peppers, tomatoes and garlic.

Zesty Apple Cider Vinaigrette Dressing

The lightest of the four offerings, this vinaigrette is made with apple cider vinegar, fruit juices, spices and honey for a robust yet sweet flavor.
"We've worked hard with our supplier and retail partners to help bring these
Chick-fil-A flavors into people's homes for their own salads, marinades and other recipes," said Garrison. "We're grateful that guests are so passionate about our salad dressings and sauces."
For more information about Chick-fil-A and stories about the company's food, people and customers across the country, visit www.chick-fil-a.com/stories.
*Customers in Tennessee and the greater Cincinnati area are encouraged to contact their local Walmart, Kroger and Meijer stores to confirm availability of the Chick-fil-A salad dressings. Chick-fil-A Bottled Salad Dressings can be found in the refrigerated section of each retail location.
About Chick-fil-A, Inc.
Atlanta-based Chick-fil-A, Inc. is a restaurant company known for the Original Chick-fil-A® Chicken Sandwich and signature hospitality. Represented by more than 170,000 Team Members, Operators and Staff, Chick-fil-A® restaurants serve guests freshly prepared food at more than 2,700 restaurants in 48 states, Washington, D.C., Puerto Rico and Canada. The family-owned and privately held restaurant company was founded in 1967 by S. Truett Cathy and is committed to serving the local communities in which its franchised restaurants operate.

Known for its leadership and growth opportunities, in 2022 Chick-fil-A was named a Best Employer in America by Forbes and a top company for career opportunities for Black employees by Glassdoor. The company was also awarded the Employee's Choice by Glassdoor honoring top CEOs and was named a Culture 500 Culture Champion in 2020. A leader in customer service, Chick-fil-A was named QSR Magazine's Drive-Thru Restaurant of the Year for 2021. More information on Chick-fil-A is available at www.chick-fil-a.com and @ChickfilANews.
Contact: Chick-fil-A Media Hotline: (800) 404-7196
Email: cfapressroom@chick-fil-a.com
Twitter: @ChickfilANews
###