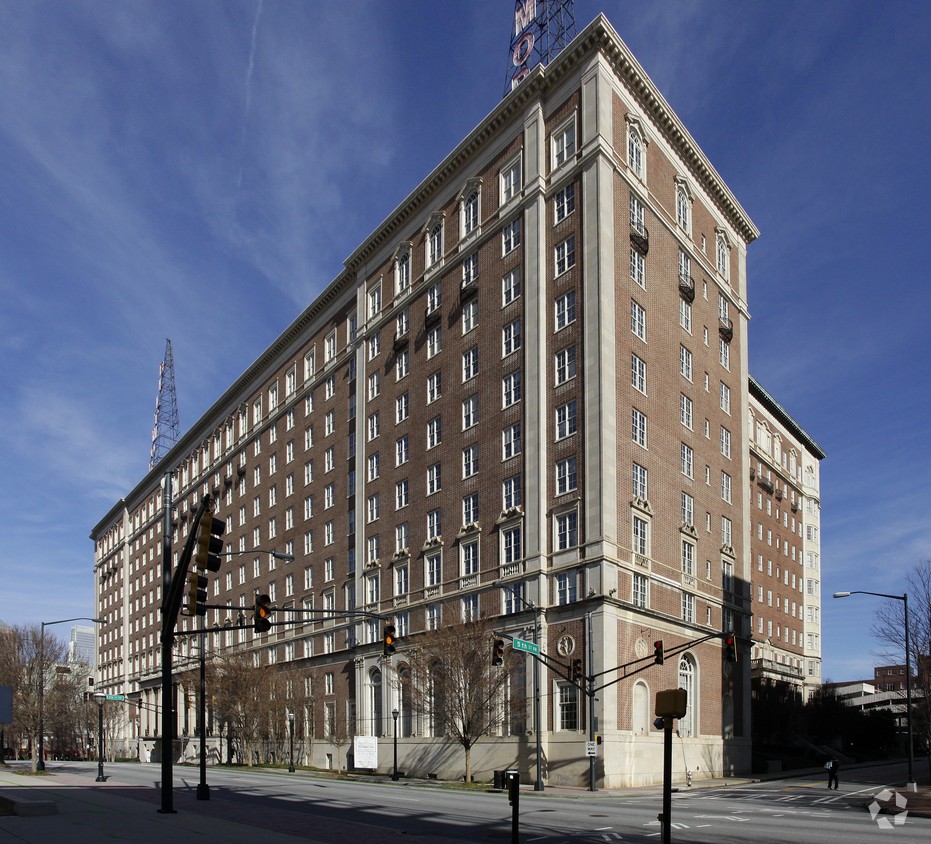 ATLANTA (March 8, 2017) – Chick-fil-A® announced today plans to open a new Innovation Satellite Office in Georgia Institute of Technology's Tech Square at the historic Biltmore. This new satellite office, along with the ongoing intern recruitment program that will be housed there, are part of a larger partnership with Georgia Tech, and emphasize Chick-fil-A's commitment to innovation.
"This new facility will provide a dedicated space for Chick-fil-A to collaborate with the bright minds of Georgia Tech and develop technology solutions that will benefit our customers," said Mike Erbrick, CIO and Vice President of Information Technology for Chick-fil-A. "Our founder Truett Cathy was a true innovator, and the Innovation Satellite Office is one of the ways we're continuing his legacy."
The 6,000-square foot space at Tech Square expands the technology-driven work already taking place at Chick-fil-A's three internal innovation centers, and is a further testament to the company's desire to constantly enhance the customer experience. The Innovation Satellite Office is scheduled to open this summer. Chick-fil-A will work with faculty and students to explore design, innovation and development projects among various majors and disciplines.
"Georgia Tech and Chick-fil-A enjoy a long and collaborative relationship, including employing our undergraduates as interns and hiring our graduates. We are delighted to welcome them to Georgia Tech's Biltmore to enhance our partnership and expand the opportunities for interaction with our students, faculty and staff," said Georgia Tech President G. P. "Bud" Peterson. "Chick-fil-A joins a prestigious and growing list of corporations that are opening innovation centers in Tech Square to take advantage of the talent and technologies at Georgia Tech and the exciting innovation ecosystem that we have created here."
Chick-fil-A is among the founding corporate members contributing to Engage, a new national membership-driven accelerator and venture fund targeting high-tech startups. Georgia Tech's Advanced Technology Development Center will provide programming and other services for the Atlanta-based Engage.
Chick-fil-A has a long-standing commitment to innovation, opening the company's first Innovation Center, called "Hatch" in 2012 as a place to experiment with new restaurant designs, train team members and franchise Operators and cultivate new ways of thinking to both improve the customer experience and generate business. In 2014, Chick-fil-A opened its Test Kitchen, an innovation center devoted to menu enhancements, and in 2016 expanded the innovation space on its campus with its third innovation center, focused primarily on urban expansion and food service design.
Chick-fil-A worked with Jon Mayeske of Cushman and Wakefield in the search for the space.
# # #

About Chick-fil-A, Inc.
Atlanta-based Chick-fil-A, Inc. is a family owned and privately held restaurant company founded in 1967 by S. Truett Cathy. Devoted to serving the local communities in which its franchised restaurants operate, and known for its original chicken sandwich, Chick-fil-A serves freshly prepared food in more than 2,100 restaurants in 46 states and Washington, D.C.
Chick-fil-A system sales reached nearly $8 billion in 2016, which marks 49 consecutive years of sales growth. In 2016, Chick-fil-A was named the Technomic Consumer's Choice for "providing value through service" and QSR Magazine named the company "the most polite restaurant in the country" in its annual drive-thru report. Chick-fil-A was also recognized in 2015 as America's "Top Chicken Restaurant Brand" by The Harris Poll and the only restaurant brand named to the Top 10 "Best Companies to Work For" by 24/7 Wall Street. in 2016. More information on Chick-fil-A is available at www.chick-fil-a.com.

About the Georgia Institute of Technology
The Georgia Institute of Technology is one of the nation's leading research universities — a university that embraces change while continually creating the next. The next generation of leaders. The next breakthrough startup company. The next life-saving medical treatment.
Georgia Tech provides a focused, technologically based education to more than 25,000 undergraduate and graduate students. Georgia Tech has many nationally recognized programs, all top-ranked by peers and publications alike, and is ranked in the nation's top 10 public universities by U.S. News and World Report. It offers degrees through the Colleges of Computing, Design, Engineering, Sciences, the Scheller College of Business, and the Ivan Allen College of Liberal Arts. As a leading technological university, Georgia Tech has more than 100 centers focused on interdisciplinary research that consistently contribute vital research and innovation to American government, industry, and business. Additional information about Georgia Tech is available at www.gatech.edu.