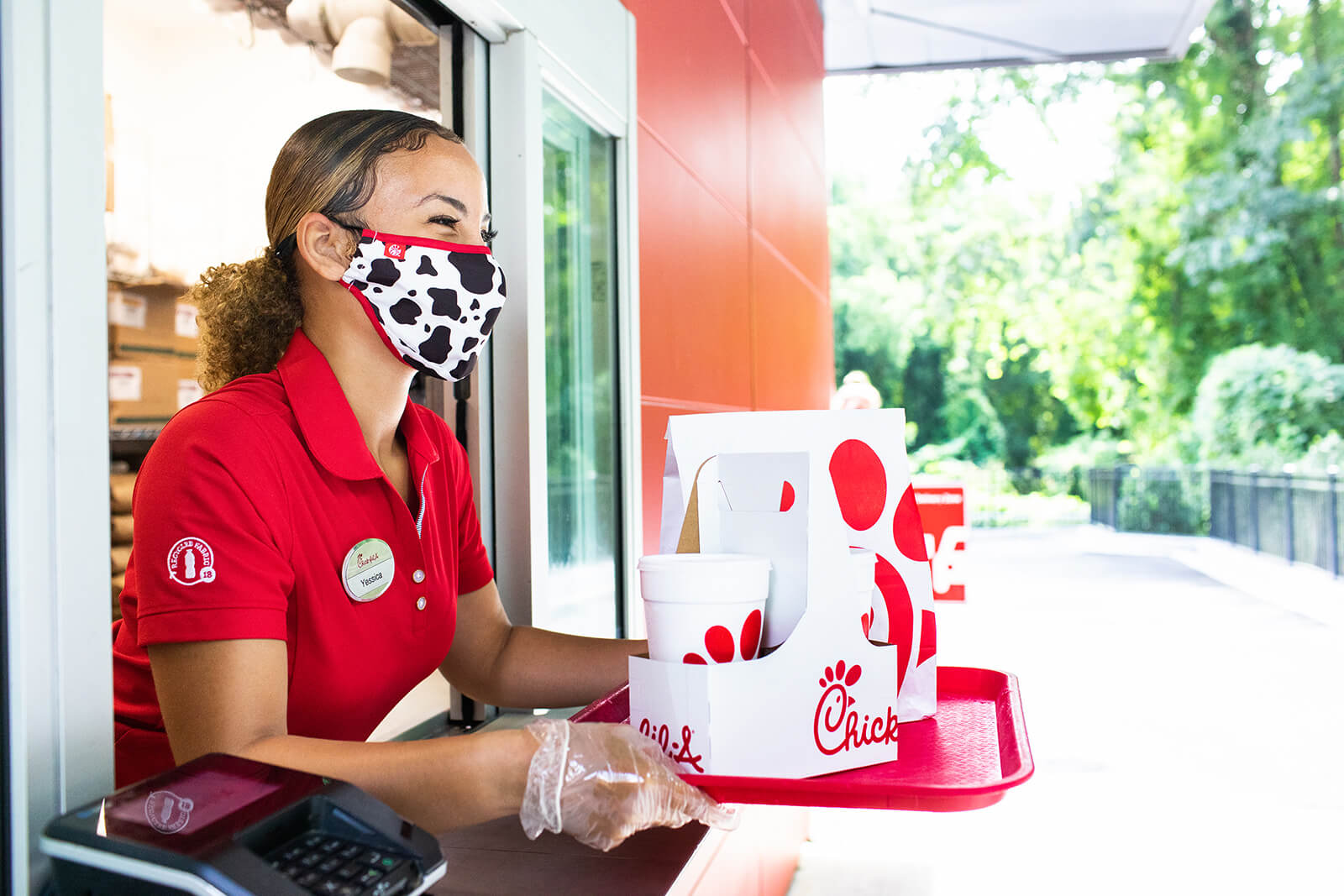 SAN JUAN, PUERTO RICO (Dec. 21, 2020) – Chick-fil-A, the #1 chicken restaurant in the United States, announced today it will join the Puerto Rican market, projecting to open two restaurants in early 2022. The restaurants will be located in the metropolitan area, with the first two restaurants in Bayamón. Each Chick-fil-A restaurant will employ, on average, 75 people.
"We are honored to have the opportunity to serve the people of Puerto Rico," said Ryan Holmes, Director of Operations, Chick-fil-A, Inc. "Puerto Rico is known for its culture, history, and sense of community. This mirrors the Chick-fil-A commitment to investing in people and communities, and we are excited about the opportunity to grow in Puerto Rico with people who have a passion for service and hospitality."
With plans to open 10-15 restaurants in Puerto Rico over the next 5 years, Chick-fil-A is looking for people who are passionate about the work of serving great food and providing exceptional hospitality in a fast-paced environment to be independent, franchised Owners/Operators of Chick–fil–A restaurant businesses. Each restaurant opening also brings 75 to 100 part-time and full-time jobs to the local community. "The business is built on local owners who truly care about their restaurant and the community where it's located, because Chick-fil-A wants each owner to truly feel that their own success and their community's success are intertwined," stated Holmes.
Puerto Ricans can look forward to an authentic Chick-fil-A experience at every restaurant: delicious, freshly prepared food with remarkable service. Exact timing and location details will be shared at a later date.
Chick-fil-A Operators employ more than 250,000 Team Members who serve great-tasting, quality food to millions of guests every year, in more than 2,600 restaurants in 47 states, Washington, D.C. and Canada.
More information about Chick-fil-A: 
Local Community Impact
Chick-fil-A was built on a core set of principles that pursues people over profit. This includes closing on Sundays, even though analysts have shown that doing so cuts into their bottom line.
Every time a Chick-fil-A restaurant opens, the company donates $25,000 to a local food bank in the area. 
Through the Chick-fil-A Shared Table program, Chick-fil-A restaurants donate surplus food to local shelters, soup kitchens and charities. In just the last few years, restaurant Owners/Operators have donated approximately 3 million meals.
Chick-fil-A franchise Owner/Operators engage with and support local communities through Spirit Night fundraisers, charitable donations and other involvement with causes that matter to their community and guests.

Quality Ingredients and Food
The majority of Chick-fil-A menu items are freshly prepared in the restaurant each day.
Chick-fil-A restaurants only use whole, boneless chicken raised with no antibiotics ever, starting from the egg.
Chicken is hand-breaded every day in each restaurant's kitchen.
Chick-fil-A® Lemonade is made with three simple ingredients – lemon juice, sugar and water.
Biscuits are baked fresh throughout the morning.
Salads are prepared fresh daily.
Creamy milkshakes are hand-spun.

People with a Heart for Customer Service
Nearly all franchised Chick-fil-A Owner/Operators have only one restaurant, and they live in the community where that restaurant is located.
Creating a strong and valuable workplace experience for Team Members is important to Chick-fil-A franchised Owner/Operators, and many offer their Team Members opportunities for leadership development, competitive wages and respect for work-life balance.
Chick-fil-A, Inc. also provides scholarship opportunities for restaurant Team Members. In fact, Chick-fil-A, Inc. has awarded more than $30 million in scholarships over the past two years to help support Team Members in continuing education. Since 1973, the scholarship program has helped more than 53,000 Chick-fil-A Team Members across the United States and Canada.


About Chick-fil-A, Inc.
Atlanta-based Chick-fil-A, Inc. is a family owned and privately held restaurant company founded in 1967 by S. Truett Cathy. Devoted to serving the local communities in which its franchised restaurants operate, and known for its original chicken sandwich, Chick-fil-A serves freshly prepared food in more than 2,600 restaurants in 47 states, Washington, D.C., and Canada.

A leader in customer service satisfaction, Chick-fil-A was named top fast food restaurant in Newsweek's 2019 America's Best Customer Service report and received several honors in QSR's 2019 Reader's Choice Awards, including "The Most Respected Quick-Service Brand" and "Best Brand for Overall Experience". Additionally, Glassdoor named Chick-fil-A one of the top 100 best places to work in 2020. More information on Chick-fil-A is available at www.chick-fil-a.com.
###
Chick-fil-A® llega a Puerto Rico en 2022
SAN JUAN, PUERTO RICO (21 de diciembre de 2020): Chick-fil-A, el restaurante de pollo n.º 1 en los Estados Unidos, anunció hoy que incursionará en el mercado puertorriqueño y contempla abrir dos restaurantes a principios del 2022. Los restaurantes estarán ubicados en la zona metropolitana, siendo Bayamón el área de las primeras dos aperturas. Cada restaurante de Chick-fil-A empleará un promedio de 75 personas.
"Nos sentimos honrados de tener la oportunidad de servir a la gente de Puerto Rico", dijo Ryan Holmes, Director de Operaciones de Chick-fil-A, Inc. "Puerto Rico es conocido por su cultura, historia y sentido de comunidad. Esto refleja el compromiso de Chick-fil-A de invertir en las personas y sus comunidades. Estamos entusiasmados de tener la oportunidad de crecer en Puerto Rico con personas que sienten pasión por el servicio y la hospitalidad".
Con planes de abrir de 10 a 15 restaurantes en Puerto Rico en los próximos 5 años, Chick-fil-A busca personas apasionadas por servir comida excelente y brindar una hospitalidad excepcional en un entorno ágil para ser propietarios/operadores de franquicias independientes de Chick-fil-A. Cada restaurante genera un promedio de 75 a 100 empleos regulares y a tiempo parcial en la comunidad donde esté ubicado. "El concepto se desarrolla con propietarios - operadores locales que demuestran interés por su restaurante y la comunidad donde se encuentra, porque Chick-fil-A quiere que cada propietario – operador sienta que su éxito y el de su comunidad están entrelazados", declaró Holmes.
Los puertorriqueños pueden esperar una auténtica experiencia de Chick-fil-A en cada restaurante consistente en comida deliciosa recién preparada con un servicio extraordinario. Los detalles exactos de la fecha y la ubicación se compartirán en una fecha posterior.
Cada año, los operadores de Chick-fil-A emplean a más de 250,000 Miembros del Equipo que sirven alimentos de calidad y de gran sabor a millones de clientes en más de 2,600 restaurantes en 47 estados, Washington D.C. y Canadá.
Más información sobre Chick-fil-A:
Impacto en la comunidad local
Chick-fil-A se construyó sobre un conjunto central de principios que ubican a las personas por encima de las ganancias. Esto incluye cerrar los domingos, aunque los analistas han demostrado que hacerlo reduce sus resultados finales.
Cada vez que abre un restaurante Chick-fil-A, la compañía dona $25,000 a un banco de alimentos local en el área.
A través de su programa Mesa Compartida de Chick-fil-A, los restaurantes donan alimentos excedentes a refugios locales, comedores comunitarios y organizaciones benéficas. En los últimos años, los propietarios/operadores de restaurantes han donado aproximadamente 3 millones de porciones de alimentos.
Los operadores/propietarios de la franquicia de Chick-fil-A se involucran y apoyan a las comunidades locales a través de eventos de recaudación de fondos, donaciones benéficas y otras participaciones en causas importantes para su comunidad y sus invitados.

Ingredientes y alimentos de calidad
La mayoría de los platos del menú de Chick-fil-A son preparados diariamente.
Los restaurantes de Chick-fil-A solo usan pollo entero deshuesado criado sin antibióticos desde su gestación.
El pollo se empana y prepara a mano todos los días en la cocina de cada restaurante.
La Chick-fil-A® Lemonade está hecha con tres ingredientes simples: jugo de limón, azúcar y agua.
Los "biscuits" se hornean cada mañana.
Las ensaladas son siempre frescas porque se preparan diariamente.
Las batidas cremosas se preparan a mano.

Personas con un corazón puesto en el servicio al cliente
Casi todos los propietarios operadores de la franquicia de Chick-fil-A tienen un solo restaurante y viven en la comunidad donde éste se encuentra.
Para los propietarios - operadores de franquicias de Chick-fil-A es importante crear una experiencia laboral sólida y valiosa para los Miembros del Equipo que fomente el desarrollo del liderazgo, salarios competitivos y respeto por el balance entre la vida laboral y personal.
Chick-fil-A, Inc. también ofrece oportunidades de becas para los Miembros del Equipo del restaurante. De hecho, Chick-fil-A, Inc. ha otorgado más de $30 millones en becas durante los últimos dos años para ayudar a éstos a continuar su educación. Desde 1973, el programa de becas ha ayudado a más de 53,000 Miembros del Equipo de Chick-fil-A en los Estados Unidos y Canadá.

Acerca de Chick-fil-A, Inc.
Chick-fil-A, Inc., con sede en Atlanta, es una compañía de restaurantes de propiedad familiar y privada fundada en 1967 por S. Truett Cathy. Chick-fil-A, está dedicado a servir a las comunidades locales en las que operan sus restaurantes franquiciados. Conocido por su sandwich de pollo original, sirve comida recién preparada en más de 2,600 restaurantes en 47 estados, Washington D.C. y Canadá.

Líder en satisfacción del servicio al cliente, Chick-fil-A fue seleccionado el mejor restaurante de comida rápida en el informe de Mejor Servicio al Cliente de Estados Unidos de Newsweek de 2019 y recibió varios honores en los Reader's Choice Awards de QSR 2019, que incluyen "La marca de servicio rápido más respetada" y "La mejor marca para la experiencia general". Además, Glassdoor nombró a Chick-fil-A como uno de los 100 mejores lugares para trabajar en 2020. Para obtener más información sobre Chick-fil-A, visite www.chick-fil-a.com.
###
CONTACTO: Línea directa de medios corporativos: (800) 404-7196
Correo electrónico: cfapressroom@chick-fil-a.com