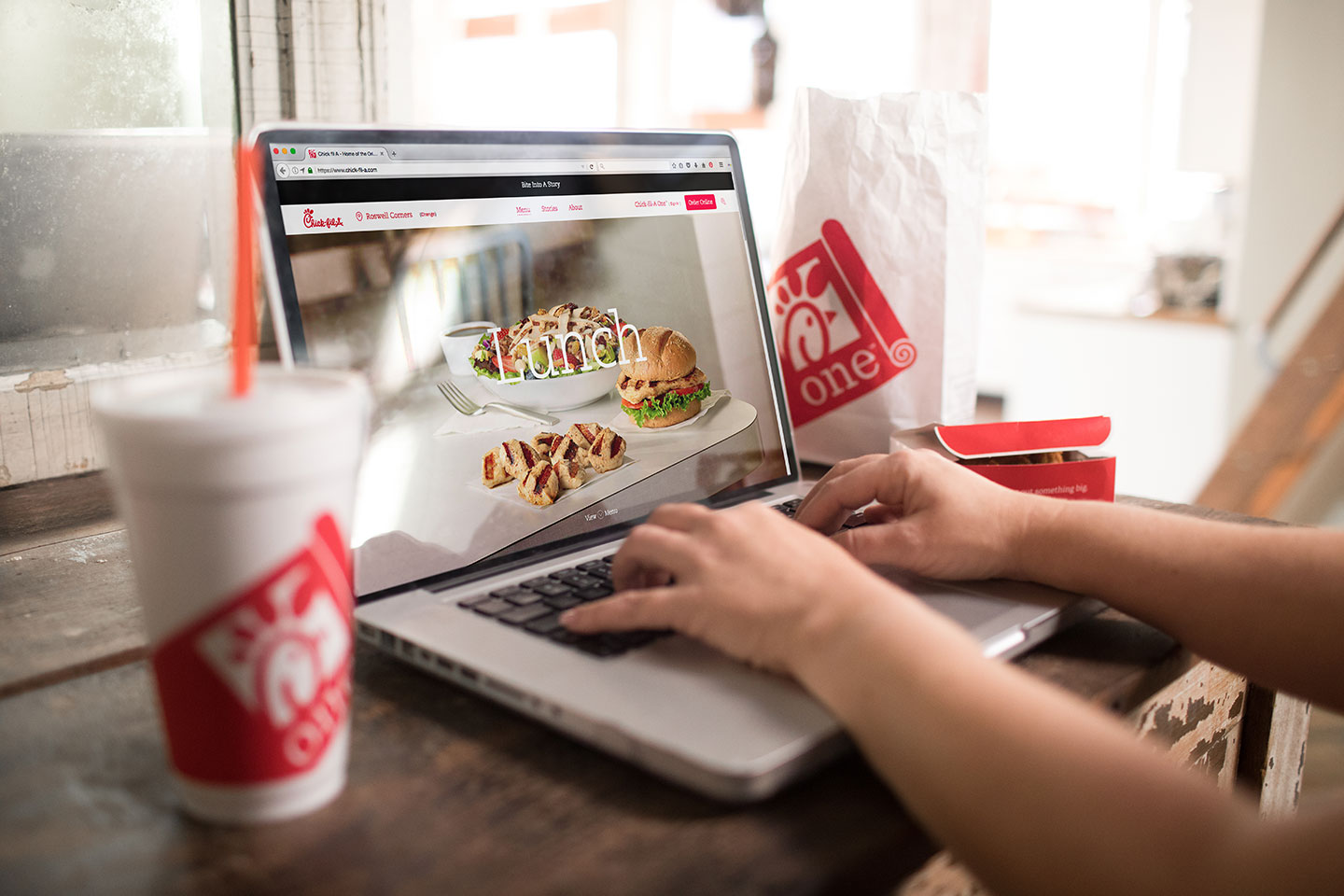 Groundbreaking website mixes menu with media
ATLANTA, Ga. (Nov. 17, 2016) – Today, Chick-fil-A® unveiled a complete relaunch of its flagship website, chick-fil-a.com. The new site will serve as the company's storytelling and information hub. Leading the quick service restaurant industry in designing an experience informed by consumer research, the site puts customer preferences and interests front and center by providing customized content and localized information to each, individual user.
The site begins with a "multi-scroll" homepage that allows readers to choose their own path through the site. Users can then select their favorite Chick-fil-A restaurant from the homepage, making menu pricing appear as well as offerings specific to their favorite location. Easy-to-find nutrition and allergen information supports the company's food transparency commitment to customers, and visually rich ingredient displays lead to food stories and recipes customers can make using those same ingredients at home. Unique enhancements include an embedded publication, quotes from Chick-fil-A Founder, S. Truett Cathy, and "Easter egg" surprise appearances from the iconic "Eat Mor Chikin"™ Cows.
"From the beginning our team envisioned the new website as a digital extension of our restaurants where food and customer service are at the forefront of the experience. That's why the menu reflects what's being served in restaurants at the time of day the user hits the site, as well the incorporation of rich textures and red accents recognizable from the architecture and design of our heritage locations," says Ashley Callahan, digital communications and content strategy manager at Chick-fil-A. "Our goal is to share stories and create meaningful moments with existing and potential customers."
An industry first, the new site is home to embedded publication The Chicken Wire, a digital magazine dedicated to sharing good-news, with multi-media stories focused on food, hospitality and community. From brand stories that offer a peek behind the curtain of the family-owned company to unbranded pieces, the publication creatively balances feature articles with videos, gifs, polls, infographics and more. "Our restaurants are often the setting for serendipitous moments where acts of human kindness inspire conversation. So, while we use the site to give guests the information they need about our menu, ingredients and restaurants, we also want to offer them something a little unexpected, like access to acclaimed chefs, seasonal recipes they can make at home, and stories that inspire, like the documentary-style film of a high school student who bonds with a dementia patient through their love of art," says Callahan.
Like Chick-fil-A restaurants, the site will, in a way, close on Sundays. Truett Cathy made the decision to close on Sundays in 1946 when he opened his first restaurant in Hapeville, Georgia. After working seven days a week in restaurants open 24 hours, Truett saw the importance of closing on Sundays so that he and his employees could set aside one day to rest and tend to ideals he deemed more important than business--a practice the company upholds today.
"We found that while our online traffic dips on Sundays, the people who come to spend time with us on Sunday stay longer than those who visit during the hours we're open," says Callahan. "Sunday stories are developed through the lens of 'providing a service,' meaning the pieces serve the reader's time well by making them laugh at new Sunday comic, Chicken Strips, inspire them to create a meal at home with friends and family or dive into a long-format feature."
Future enhancements are already in the works. Designers are using consumer research to launch a best-in-class meal nutrition calculator before the year's end, and will plant a few more "Easter eggs" – surprise appearances throughout the site by the cows. An integrated e-commerce experience is planned for 2017 and already the project team is experimenting with localized content within certain markets at launch.
"This site is a hub for all things Chick-fil-A, and we're not done," says Kelsey Moore, Chick-fil-A customer-facing technology project lead. Adding that user behavior on the site will help determine future updates, like tailoring content to be geographically relevant and appealing to customer preferences, as well as enhancing ordering opportunities for customers, "The site is a sophisticated platform that is both responsive and adaptive to create a premiere mobile experience, much like the new Chick-fil-A One app," Moore says.
###
About Chick-fil-A, Inc.
Atlanta-based Chick-fil-A, Inc. is a family owned and privately held restaurant company founded in 1967 by S. Truett Cathy. Devoted to serving the local communities in which its franchised restaurants operate, and known for its original chicken sandwich, Chick-fil-A serves freshly prepared food in more than 2,000 restaurants in 46 states and Washington, D.C.
Chick-fil-A system sales exceeded $6 billion in 2015, which marks 48 consecutive years of sales growth. Chick-fil-A earned a top spot in the 2015 Customer Service Hall of Fame for the second year in a row and is the only quick service restaurant to make the Customer Service Hall of Fame. The company was also the only restaurant brand named to the Top 10 "Best Companies to Work For" by 24/7 Wall Street. More information on Chick-fil-A is available on the chain's website located at www.chick-fil-a.com.
Media Hotline: 1 (800) 404-7196