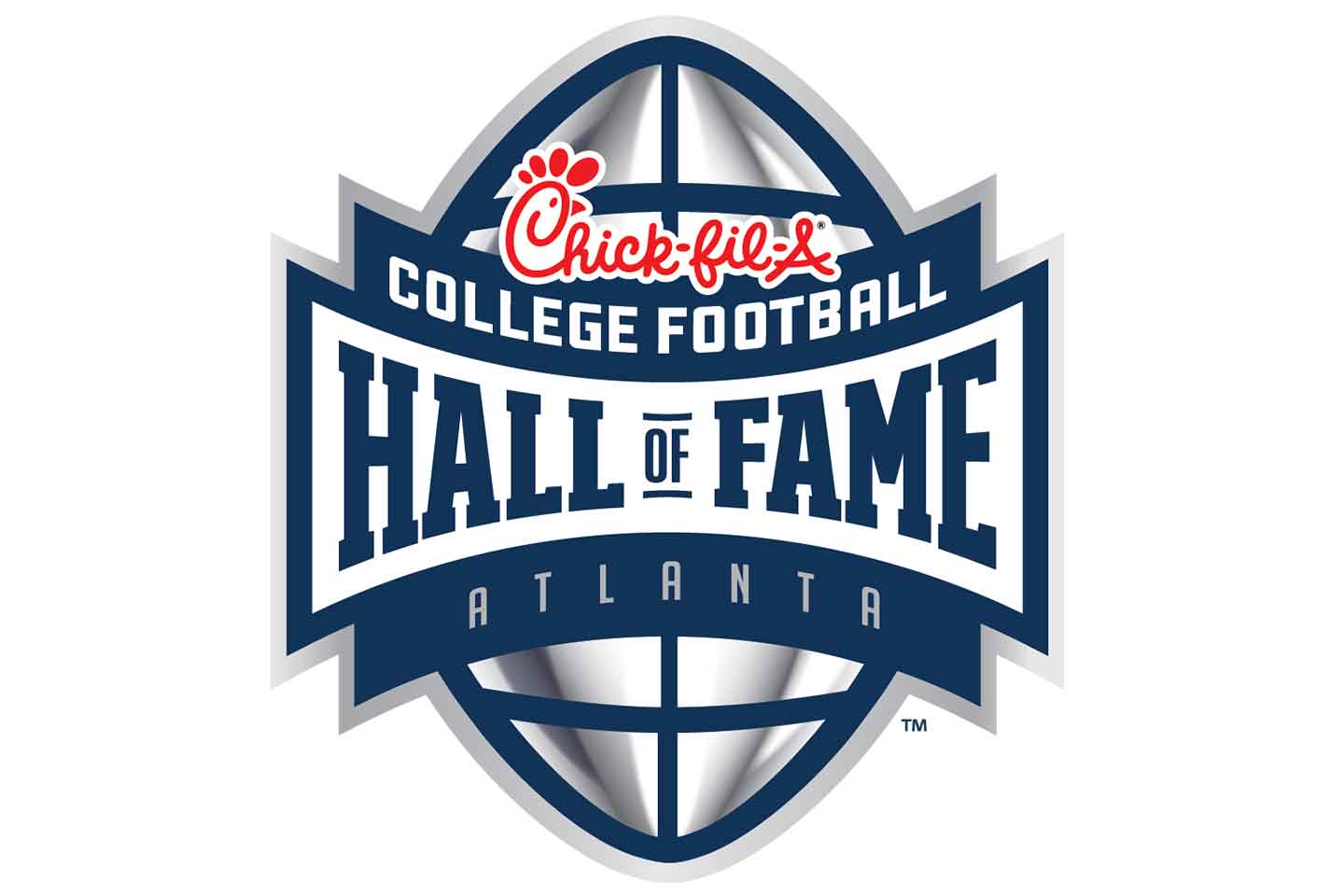 Attraction's New Name to be Chick-fil-A College Football Hall of Fame
ATLANTA (April 20, 2018) — Now in its fourth year of operation in Atlanta, the College Football Hall of Fame today announced an expansion of the attraction's relationship with Atlanta-based Chick-fil-A®. Chick-fil-A and the Hall of Fame have agreed upon a new sponsorship arrangement making Chick-fil-A the title sponsor of the Hall, which will now be called the Chick-fil-A College Football Hall of Fame.
"Chick-fil-A has been an incredible partner since the 2014 opening of the Hall in Atlanta, and today's announcement of their role as the title sponsor further solidifies their commitment to establishing the Hall as a national platform for promoting our great game," said Archie Manning, chairman of the National Football Foundation. "We stand for what's good about football, and Chick-fil-A's partnership has made a huge difference in our ability to showcase the educational and character building qualities of our sport while inspiring the young people who play our game to become leaders. On behalf our board, our members around the country and the entire college football community, a big thanks to Chick-fil-A for helping keep the legacy of our sport alive."
Chick-fil-A was one of the Hall's founding partners and their commitment to College Football and the City of Atlanta were instrumental in the relocation of the Hall of Fame from South Bend, Indiana, truly making Atlanta the capital of College Football. The new sponsorship deepens the company's partnership with the Hall of Fame in many ways and provides a compelling platform to continue to bring the excitement and rich history of the game to fans of all ages. Chick-fil-A also operates a restaurant adjacent to the Hall that provides a unique dining experience for fans.
"The sponsorship of the Hall of Fame is not only important to Chick-fil-A's ongoing commitment to college athletics and higher education, but also to our commitment to the City of Atlanta and continued revitalization of Downtown," said Joe Saracino, vice president brand strategy and media for Chick-fil-A. He added, "The lessons of hard work and teamwork taught through the game of football are universal, and this sponsorship extension ensures that the Hall of Fame will remain a vital part of Atlanta's vibrant downtown for generations to come."
Added Dennis Adamovich, CEO of the College Football Hall of Fame, "Our partnership with Chick-fil-A has always been one of mutual respect for the game, the coaches and the players, and of course, a mutual love for the city of Atlanta. We are thrilled to look ahead to the next chapter for the Hall of Fame with Chick-fil-A and our other partners behind us."
The new signage for the Chick-fil-A College Football Hall of Fame is expected to be installed on May 24.
# # #
About Chick-fil-A, Inc.
Atlanta-based Chick-fil-A, Inc. is a family owned and privately held restaurant company founded in 1967 by S. Truett Cathy. Devoted to serving the local communities in which its franchised restaurants operate, and known for its original chicken sandwich, Chick-fil-A serves freshly prepared food in more than 2,200 restaurants in 47 states and Washington, D.C.
Chick-fil-A reported over $9 billion in revenue in 2017, which marks 50 consecutive years of sales growth. A leader in customer service satisfaction, Chick-fil-A earned the Chicken Restaurant Brand of the Year honors for the fourth consecutive year in the 2017 Harris Poll EquiTrend Study. Chick-fil-A also received the top score among fast food brands and one of the top 10 scores overall for customer experience in the 2017 Temkin Experience Ratings survey, and was named one of the top 100 best places to work by Glassdoor. Continuing its founder's legacy of generosity and service, in 2017 the company's philanthropic Chick-fil-A Foundation awarded $1.23 million to 23 not-for-profit organizations across 13 states through the True Inspiration Awards and almost $9 million in scholarships to restaurant team members nationwide. More information on Chick-fil-A is available at www.chick-fil-a.com.
About The Chick-fil-A College Football Hall of Fame
The Chick-fil-A College Football Hall of Fame is a 94,256-square-foot attraction located in the heart of Atlanta's sports, entertainment and tourism district Adjacent to the Georgia World Congress Center and Centennial Olympic Park, the Hall provides visitors with a highly immersive, interactive and engaging experience using a blend of historic college football artifacts and state-of-the-art, interactive multimedia exhibits. The National Football Foundation (NFF) launched the Hall in 1951 to stand as one of the nation's premier sports shrines, immortalizing the game's greatest players and coaches as positive role models for future generations. Atlanta Hall Management, Inc., partnered with the NFF to construct and operate the Hall of Fame attraction, which provides a platform for community outreach, education and character development initiatives, as well as serves as one of Atlanta's premier special event spaces. For more information, please visit www.cfbhall.com.
Media Contacts:
Kimberly Beaudin
College Football Hall of Fame
Phone: (404) 880-4831
Email: kbeaudin@cfbhall.com
Chick-fil-A Media Hotline
Phone: (800) 404-7196
Email: cfapressroom@chick-fil-a.com