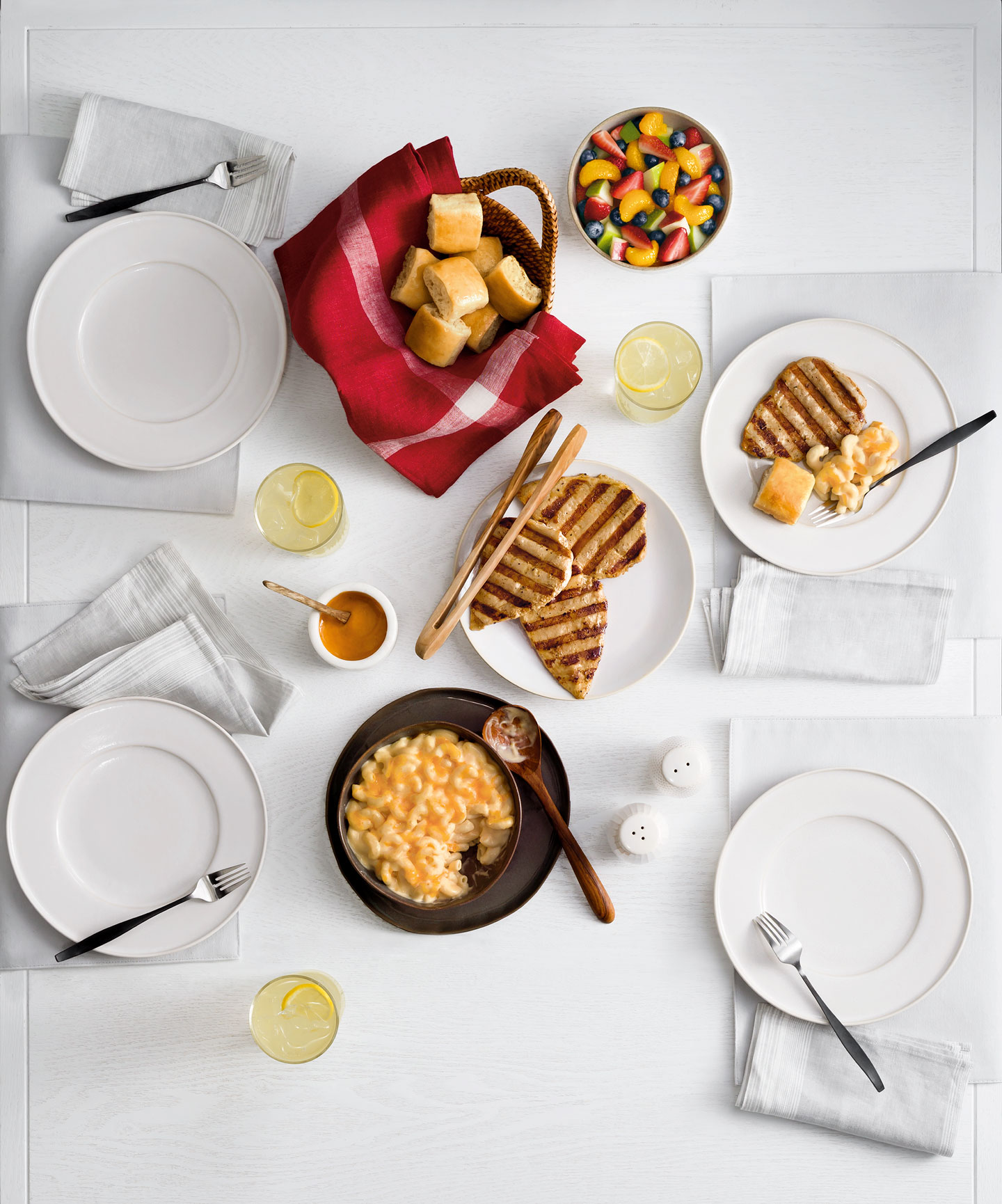 Meal kit makes it even more convenient to order takeout
ATLANTA (July 17, 2017) – Chick-fil-A® customers in Greensboro, N.C., Phoenix and San Antonio will be the first in the country to test out a new way to share Chick-fil-A meals and a few new side items as the restaurant chain begins testing "Family Style Meals" in three cities today through November 18. The Family Style Meals include one entrée, two sides and eight mini rolls to serve four people, with the option to add additional entrees, shareable sides and beverages. Plates, utensils and condiments are also included.
Entrée options include: Chick-n-Strips™ (12-count); Original Chick-fil-A Chicken Breasts (4-count); Chick-fil-A Nuggets (30-count) and Grilled Chicken Breasts (4-count).
Side options include: Fruit Cup, Mac & Cheese, Side Salad and the Superfood Side. The Family Style Meal starts at $29.99.
The Family Style Meals serve more than just hungry diners; they also serve a growing demand for takeout options. Thirty-six percent of Chick-fil-A dinner customers take their meal to go from restaurants to eat at home.
"Our customers told us that they wanted an even more convenient way to share meals at home or on the go, so we worked directly with a group of parents to design every part of Family Style Meals – down to the cutlery caddy that features five unique conversation starter questions to help customers connect over mealtime," said Matt Abercrombie, manager of menu development at Chick-fil-A. "Mealtime should be an enjoyable experience that brings family and friends together, not an extra stress in the day."
The Family Style Meals also offers lower calorie options. For example, a meal with Grilled Chicken Breasts, Side Salad and Fruit Cup with two Mini Rolls has less than 300 calories per serving.
In addition to the Family Style Meals, Chick-fil-A is also testing the option Mac & Cheese as an individual side in these three cities. The Mac & Cheese side is a classic macaroni and cheese recipe featuring a special blend of cheeses including Cheddar, Parmesan and Romano.
The Family Style Meals and new sides will only be available in Greensboro, N.C., Phoenix and San Antonio restaurants during the limited-time test. Customer feedback will help determine if Family Style Meals and the two new individual sides will be added to menus nationwide.
To find a restaurant near you, check out Chick-fil-A's restaurant locator.


About Chick-fil-A, Inc.
Atlanta-based Chick-fil-A, Inc. is a family owned and privately held restaurant company founded in 1967 by S. Truett Cathy. Devoted to serving the local communities in which its franchised restaurants operate, and known for its original chicken sandwich, Chick-fil-A serves freshly prepared food in more than 2,100 restaurants in 46 states and Washington, D.C.

Chick-fil-A system sales reached nearly $8 billion in 2016, which marks 49 consecutive years of sales growth. In 2016, Chick-fil-A was named the Technomic Consumer's Choice for "providing value through service" and QSR Magazine named the company "the most polite restaurant in the country" in its annual drive-thru report. Chick-fil-A was also recognized in 2015 as America's "Top Chicken Restaurant Brand" by The Harris Poll and the only restaurant brand named to the Top 10 "Best Companies to Work For" by 24/7 Wall Street. in 2016. More information on Chick-fil-A is available at www.chick-fil-a.com.
# # #
Media Hotline: (800) 404-7196
Email: cfapressroom@chick-fil-a.com
Twitter @ChickfilANews