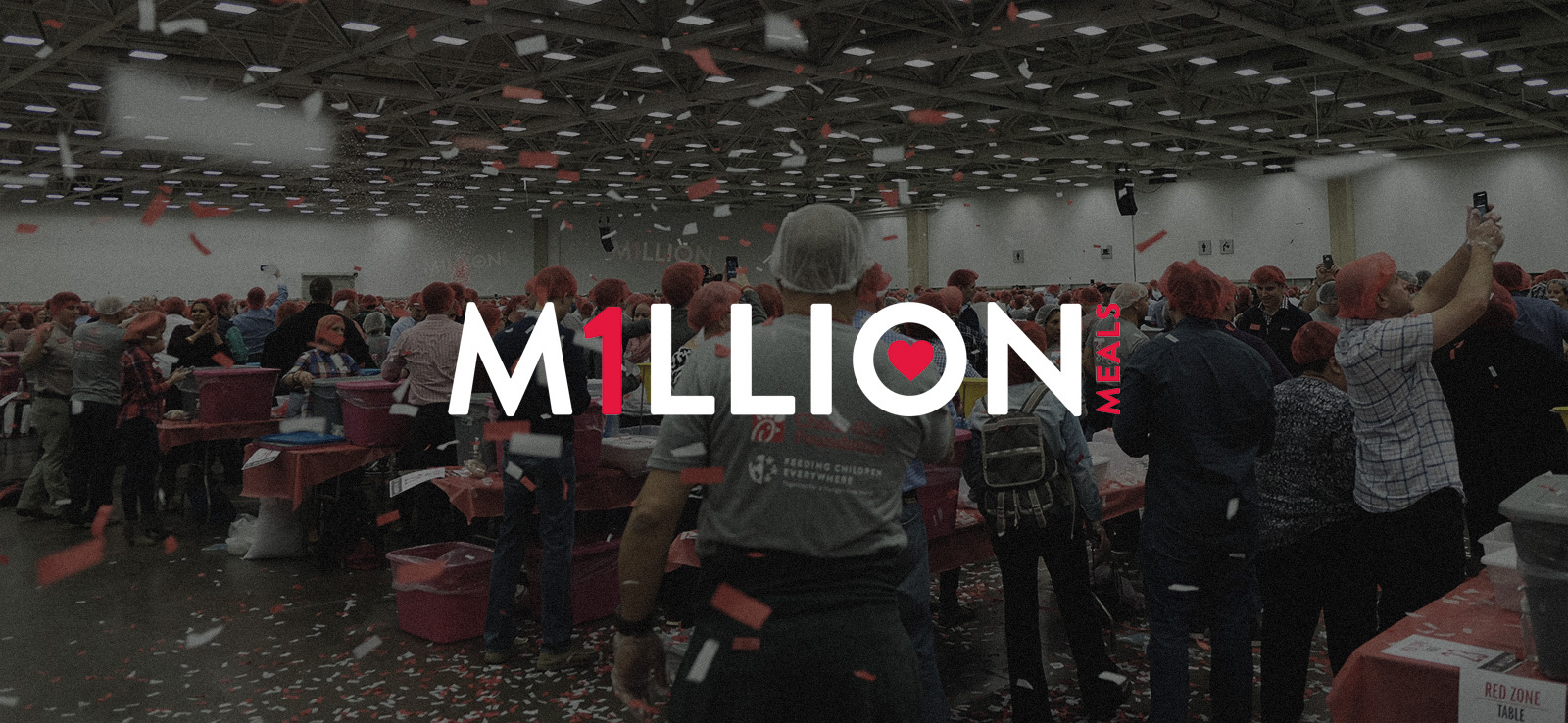 Chick-fil-A teams up with Feeding Children Everywhere during Dallas conference
ATLANTA (Feb. 15, 2017) – More than 5,000 Chick-fil-A® restaurant franchise owners, home office employees and their spouses packed a record-breaking one million meals for food-insecure children while gathered at the company's annual conference in Dallas on Tuesday, Feb. 14. Chick-fil-A partnered with Feeding Children Everywhere –a national non-profit organization that provides tens of millions of healthy meals for hungry children across the globe to pack the meals, which will be distributed to families with limited or uncertain access to adequate food living in 13 states around the country.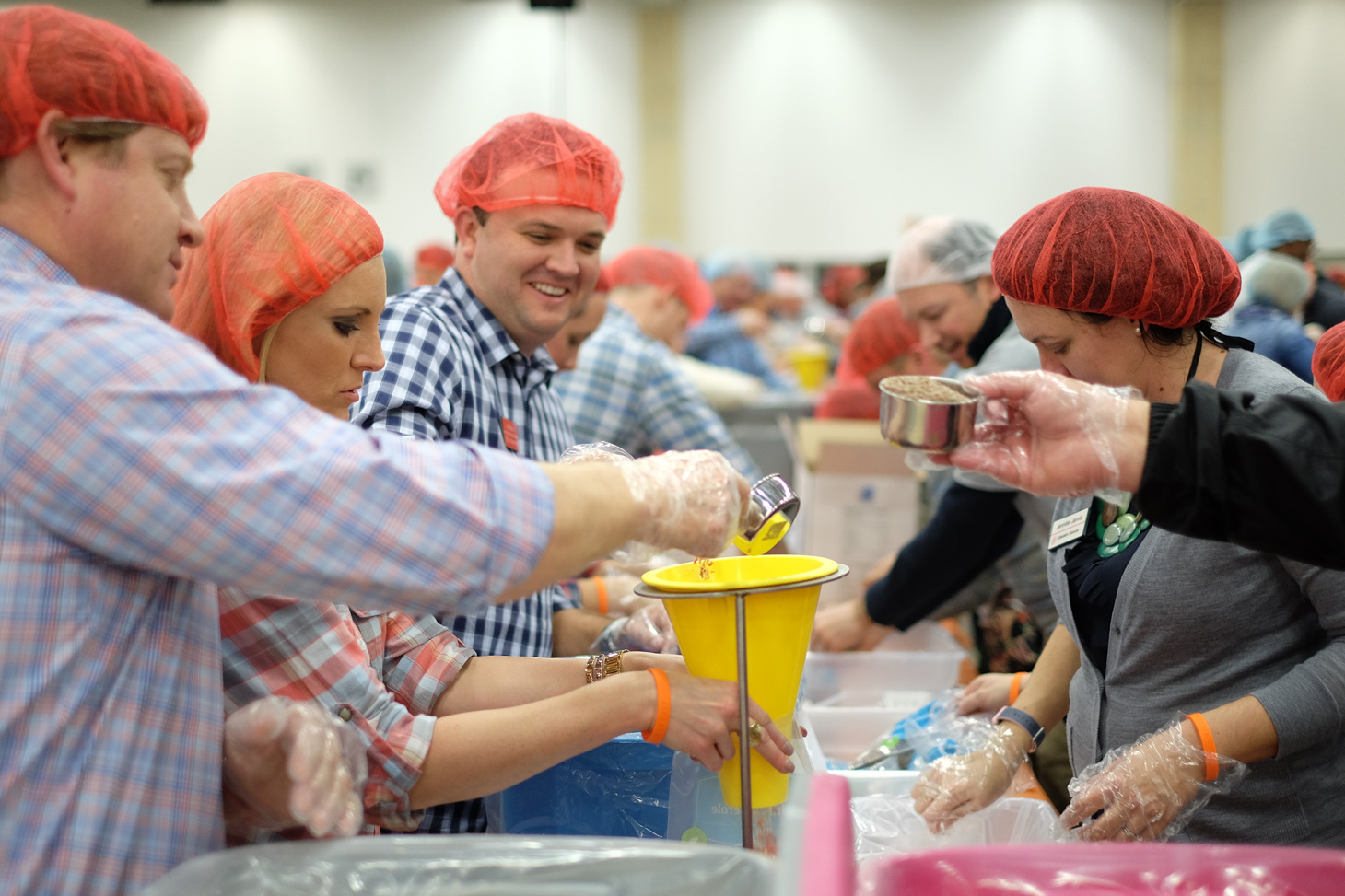 The meal-packing event was part of the non-profit's Hunger Projects initiative – a high-energy, practical way for organizations and groups to make a tangible difference in the fight against global hunger.
Each meal contains balanced portions of lentils, rice, dehydrated vegetables and pink Himalayan salt, intended to serve as a sustainable addition to a child's daily diet. The meals will be distributed over the next week to communities in Arizona, Arkansas, California, Florida, Georgia, Maryland, Mississippi, Missouri, North Carolina, Ohio, Pennsylvania, Tennessee and Texas.
"When Truett Cathy founded Chick-fil-A, it was to do more than just sell chicken – he also wanted to have a positive impact in the local community," said Rodney Bullard, vice president of community affairs for Chick-fil-A and executive director of the Chick-fil-A Foundation. "Now that we've expanded to thousands of local communities, our local franchise owners find meaningful ways to give back to communities throughout the year, and this is one more way we can make a collective difference. We thank the more than 5,000 franchise owners, home office employees and their spouses who came together for this exciting, impactful event."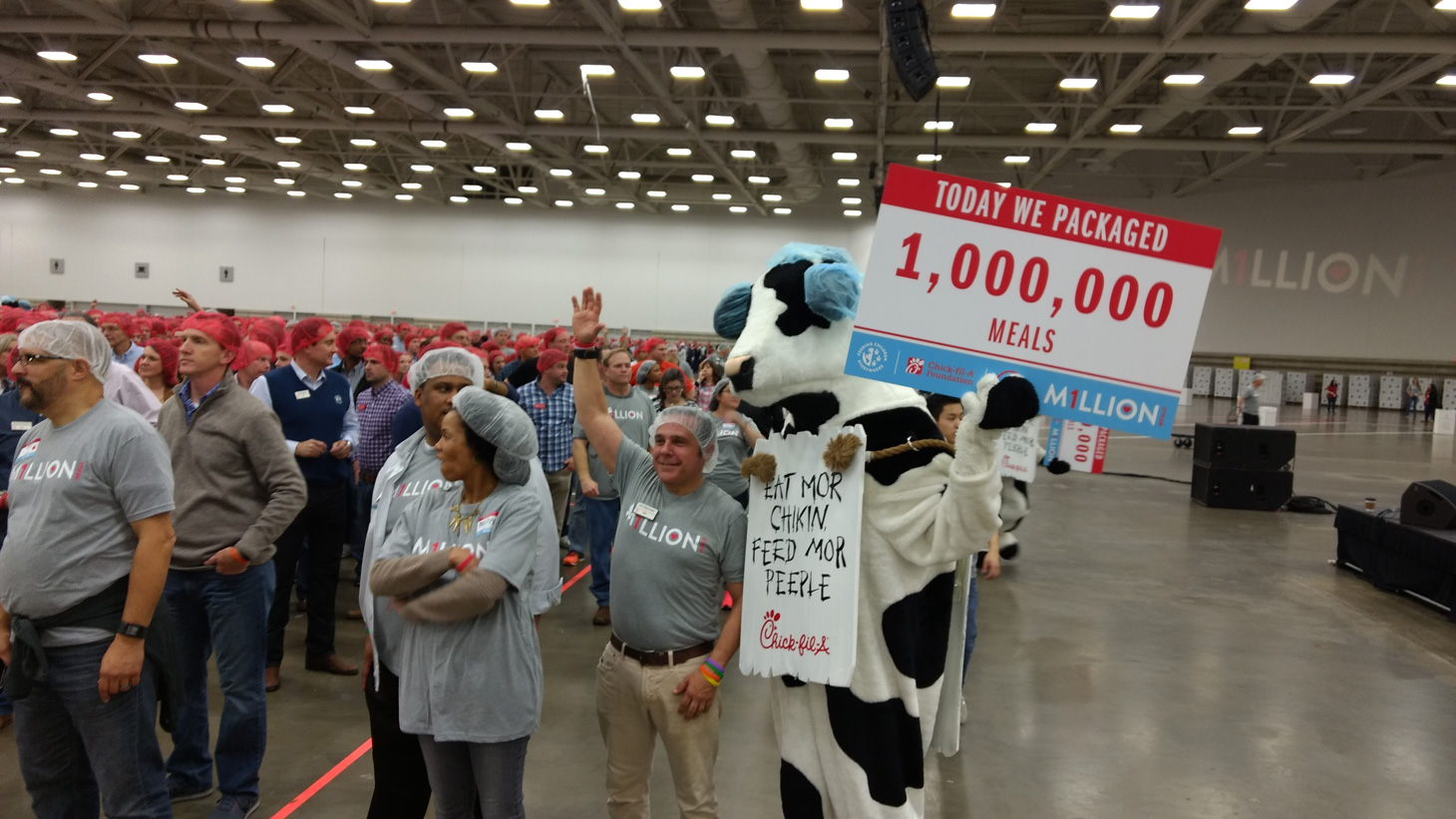 Chick-fil-A restaurant franchisees and home office employees have packed nearly four million meals since the company first teamed up with Feeding Children Everywhere in 2014.
In addition to providing meals to those in need, Chick-fil-A is also committed to supporting the Team Members who work in the restaurants. As part of the company's commitment to giving back, this year Chick-fil-A also more than doubled its investment in Team Members' college educations, providing $4.9 million in scholarships in 2017 alone. Since Chick-fil-A began awarding scholarships to Team Members in 1973, the company has awarded nearly $36 million to 36,000 Team Members.
###

About Chick-fil-A, Inc.
Atlanta-based Chick-fil-A, Inc. is a family owned and privately held restaurant company founded in 1967 by S. Truett Cathy. Devoted to serving the local communities in which its franchised restaurants operate, and known for its original chicken sandwich, Chick-fil-A serves freshly prepared food in more than 2,100 restaurants in 46 states and Washington, D.C.
Chick-fil-A system sales reached nearly $8 billion in 2016, which marks 49 consecutive years of sales growth. In 2016, Chick-fil-A was named the Technomic Consumer's Choice for "providing value through service" and QSR Magazine named the company "the most polite restaurant in the country" in its annual drive-thru report. Chick-fil-A was also recognized in 2015 as America's "Top Chicken Restaurant Brand" by The Harris Poll and the only restaurant brand named to the Top 10 "Best Companies to Work For" by 24/7 Wall Street. in 2016. More information on Chick-fil-A is available at www.chick-fil-a.com