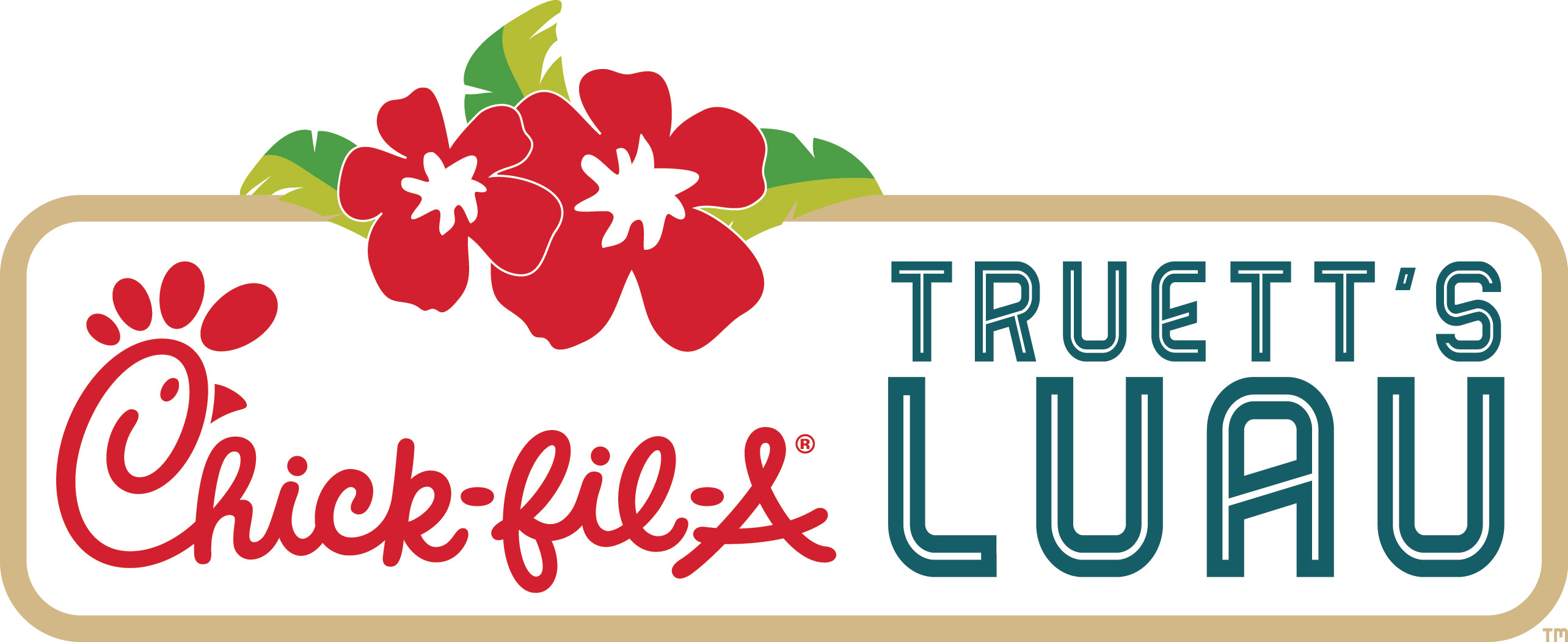 FAYETTEVILLE, Ga. (Dec. 11, 2013) – Chick-fil-A®, Inc. Founder S. Truett Cathy, whose entrepreneurial spirit emerged as a young boy, is still brimming with hospitality ideas at the youthful age of 92. His latest vision -- Truett's Luau -- will open Dec. 12 in Fayetteville, blending Cathy's signature elements of freshly prepared food and personalized customer service with a flavor of the aloha spirit of the Hawaiian Islands.
Following a ribbon-cutting ceremony at 2 p.m., Dec. 11, the restaurant at 600 W. Lanier Ave. will open for business on Dec. 12 offering dine-in, walk-up and drive-thru service. The restaurant will be open Monday through Thursday 6 a.m. to 10 p.m. with extended hours until 11 p.m. on Friday and Saturday. The restaurant will be closed on Sundays.
Cathy has been involved in every step of developing the menu, design and décor of the new restaurant, which is the anchor of the Waterfall commercial development at the corner of Grady Avenue and Highway 54. Featuring bamboo-lined skylights, counters inlaid with shells, carved tiki columns made from Cypress trees, interior waterfalls and other upscale design elements, the restaurant is more than 7,000 square feet and includes additional outdoor seating near the center's signature waterfall.
The restaurant will offer breakfast, lunch and dinner menus featuring a variety of fresh seafood items such as Mahi-mahi, Ahi tuna, cod, calamari and shrimp as well as other Hawaii-inspired dishes including banana macadamia nut pancakes, teriyaki chicken nuggets and an island chicken salad. A selection of tropical drinks will include fruit smoothies, pineapple macadamia nut milkshakes, Hawaiian shaved ice and the restaurant's signature drink, the Frosted Pineapple. Some familiar Chick-fil-A favorites also will be available including the original Chick-fil-A® Chicken Sandwich, Chick-fil-A Chick-n-MinisTM, Waffle Potato Fries® and hand-spun milkshakes.
Whether on the go or seeking a fine dining experience, customers will find three service options at Truett's Luau. Full table service will be available in a large open dining room inspired by the islands where live tropical plants, water features, bamboo and high-end finishes provide a comfortable community setting to enjoy a meal. Also available is a walk-up counter where customers can order their meals and then choose to dine in a tropical café setting or sit outside on an elevated patio adjacent to the 70-foot-long waterfall. Nearby is a palm tree lined drive-thru lane which features two order points before merging into a single lane for pick up.
The restaurant will be operated by General Manager Doug Mickey, who has been with Chick-fil-A for more than 30 years and also manages the chain's Dwarf House restaurant in Fayetteville. Mickey has hired nearly 150 team members who will sport Hawaiian uniforms. Truett's Luau will be unique to Fayetteville, as Cathy has no intention of expanding the restaurant concept beyond the single location.
Mickey worked closely with Cathy developing his latest restaurant concept and said Cathy made weekly visits to the site to share his ideas and drop off décor and design items and make suggestions. In the final weeks before the opening, Cathy has made daily visits to the restaurant to oversee completion of his vision.
"From the very beginning, Truett wanted to bring the taste and feeling of Hawaii to Fayetteville," said Mickey. "He wanted Truett's Luau to combine the warm and wonderful feelings of family as well as the fresh and tropical flavors of the islands into a restaurant that also embodied the menu quality and customer service that have become his standard."
Cathy's level of energy and excitement around his latest restaurant concept mirrors the pattern that began when he lived in an Atlanta boarding house as a boy and began selling Coca-Cola door to door. In 1946, he opened his first restaurant, the Dwarf Grill, in Hapeville, Ga., just outside Atlanta. It was there that he invented the Chick-fil-A Chicken Sandwich which became the signature menu item when Cathy launched the Chick-fil-A chain in in 1967. Cathy recently stepped aside as CEO of Chick-fil-A, but his passion for hospitality remains strong and he's excited to bring his latest concept to Fayetteville.