A modern twist on a traditional treat
ATLANTA, Ga. (March 8, 2016) – This spring, Chick-fil-A® is taking cold-brewed iced coffee to the next level, introducing Frosted Coffee for customers beginning Monday, March 14 at restaurants nationwide.
Frosted Coffee is made by combining Chick-fil-A's signature vanilla Icedream® with THRIVE Farmers™ cold-brewed iced coffee. The hand-spun treat starts at just 240 calories, offering fewer than half the calories of a milkshake.
Chick-fil-A's cold-brew iced coffee process is typically reserved for specialty coffee houses, providing a hand-crafted taste. Unlike traditional techniques in which hot-brewed coffee is cooled and later iced, Chick-fil-A's cold-brewed coffee is never heated; instead coffee grounds are infused with cool, filtered water and steeped using proprietary equipment for up to 24 hours to create a concentrate that is naturally sweeter with low acidity and bitterness. This is then blended with Chick-fil-A's signature Icedream®.
"We're excited to offer customers a new, great-tasting frosted beverage."
Chick-fil-A's Icedream® is a delicious, dairy treat with an old-fashioned vanilla taste. The launch of Frosted Coffee comes on the heels of the successful launch of Frosted Lemonade in 2015.
"We're excited to offer customers a new, great-tasting frosted beverage just in time for spring," said Amanda Norris, senior director of menu development for Chick-fil-A. "Our guests let us know how much they've enjoyed Frosted Lemonade, and we think they'll love Frosted Coffee just as much when they're seeking a delicious, light treat."
Frosted Coffee will be available in a small (14-ounce) or large (20-ounce) serving with prices starting at $2.69 for a small. A limited-time menu option, Frosted Coffee will be available through May 31, 2016.
Chick-fil-A partnered with THRIVE Farmers Coffee in 2014, becoming the first in the quick-service industry to offer specialty-grade coffee. The sale of each cup of coffee provides direct revenue to the THRIVE Farmers network of family farmers in Central America. The farmer-direct platform allows the farmers to earn up to 10 times more than farmers earn in traditional revenue models.
For more information about Frosted Coffee, THRIVE Farmers Coffee and stories about the company's food, people and customers across the country, visit the News section of thechickenwire.chick-fil-a.com.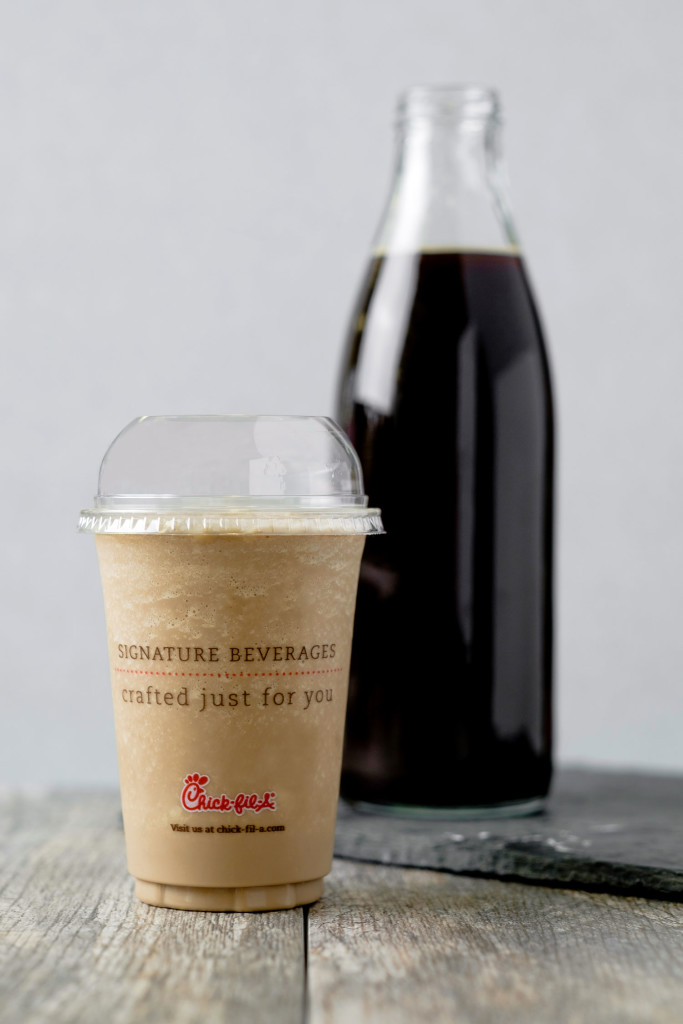 About Chick-fil-A, Inc.
Atlanta-based Chick-fil-A, Inc. is a family owned and privately held restaurant company founded in 1964 by S. Truett Cathy. Devoted to serving the local communities in which its franchised restaurants operate, and known for its original chicken sandwich, Chick-fil-A serves freshly prepared food in nearly 2,000 restaurants in 42 states and Washington, D.C.
Chick-fil-A system sales exceeded $6 billion in 2015, which marks 48 consecutive years of sales growth. Chick-fil-A ranked first for customer satisfaction in the Limited Service Restaurants industry according to the 2015 American Customer Satisfaction Index and received the highest ACSI score ever in the industry. The company was also recognized in 2015 as America's "Top Chicken Restaurant Brand" by The Harris Poll and the only restaurant brand named to the Top 10 "Best Companies to Work For" by 24/7 Wall Street. More information on Chick-fil-A is available on the chain's website located at www.chick-fil-a.com.
Corporate Media Hotline: (800) 404-7196 Email: cfapressroom@chick-fil-a.com Twitter: @ChickfilANews