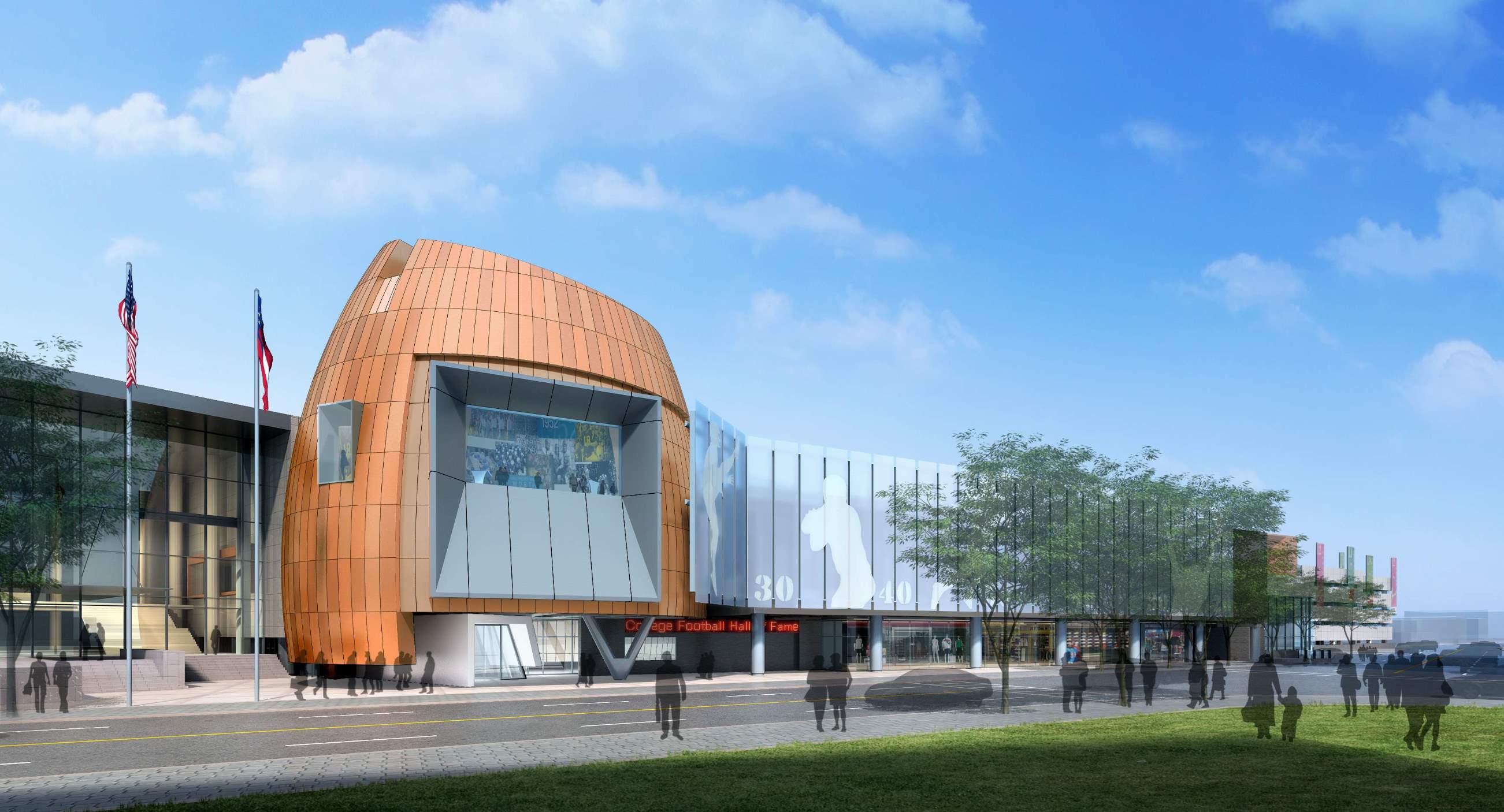 ATLANTA (Aug. 23, 2014) – The College Football Hall of Fame and Chick-fil-A Fan Experience opened its doors to fans on Saturday, August 23 at 10 a.m. with a tailgate and banner run-through. Atlanta Mayor Kasim Reed, College Football Hall of Fame President & CEO John Stephenson, National Football Foundation President & CEO Steve Hatchell, Atlanta Hall Management Chairman of the Board Steve Robinson and a host of Hall of Famers welcomed the first ticketholders to the new Hall of Fame.
Designed by tvsdesign, developed by Cousins Properties and constructed by Brasfield & Gorrie, the state-of-the-art facility, at 94,256 square feet, is located in downtown Atlanta in the heart of the city's sports and entertainment district. Exhibit designers include Gallagher & Associates, Cortina Productions, Pacific Studio, Tomorrow Pictures and Obscura Digital.
"We could not be more excited and honored to finally invite fans from around the country into the College Football Hall of Fame's new home, a completely unprecedented and unique entertainment experience," said Stephenson. "The Hall has written a new chapter for the home of college football in America and we are grateful for the support from the National Football Foundation and our founding partners and official sponsors, without whom this project would not be possible."
In addition to housing the national College Football Hall of Fame, previously located in South Bend, Indiana, the attraction offers a total "Fan Experience" matching traditional, museum-quality memorabilia with interactive, multi-media exhibits that will invite fans and visitors to engage with their favorite college football team or Hall of Famer.
"Now complete, the new College Football Hall of Fame will provide fans of college football with an immersive and educational experience that also preserves the history of the game. The National Football Foundation is honored to have the Hall of Fame in such a special place in the city of Atlanta," Hatchell said.
"Atlanta is the capital city of college football," Mayor Reed said. "There is no better place to honor the sport's past, present and future than right here. I could not be more excited that Atlanta will be the home to this celebration of college football."
The attraction will be broken up into multiple galleries, and will feature the Hall of Fame, which resides on the third floor of the building, as its pinnacle experience.
The journey begins with a one-of-a-kind experience through the Entry Tunnel, boasting larger-than-life images of players in action. It winds its way to The Quad, which is anchored by the Helmet Wall Presented by Southwest Airlines, featuring helmets from all 768 college football teams, across all divisions and leagues. Guests check in at the registration desks in The Quad to personalize their All-Access Pass with their favorite college football team.
Chick-fil-A "Why We Love College Football" features iconic trophies and a large, touch-sensitive, 52-foot media wall filled with dynamic content such as photos and videos of players, fans, cheerleaders and marching bands. A multi-touch system allows for fun interaction with content specific to a fan's favorite college football team.
The Game Day Theater will immerse guests in an ultra-high definition 4K feature film "The Game of Your Life," a behind-the-scenes look into the experience of a game day through the perspectives of former players and coaches.
Coca-Cola Fans' Game Day allows visitors to feel the excitement on campus around the big game and highlights tailgating, digital face painting, bands, fight songs, mascots, cheerleading, and traditions. One of the centerpieces of the gallery is the interactive ESPN College GameDay Desk Built by The Home Depot. Here, fans will be able to virtually join ESPN analysts Chris Fowler and Desmond Howard at the iconic College GameDay desk.
Kia Building a Champion takes visitors inside the world of players and coaches and includes a Q&A with former players about life as a college student-athlete. The Under Armour Evolution of Equipment exhibit traces the advances made in crafting protective gear over time, providing glimpses of the cutting-edge technology being employed to keep student-athletes safe. Other exhibits pay homage to Historically Black Colleges and Universities, the Service Academies, Coaches Who Changed the Game and John Heisman, whose playbook has been digitally scanned for viewing.
AT&T Game Time Gallery allows visitors to explore the rich rivalries of college football and invites visitors to call one of college football's most memorable plays from the broadcast booth. Visitors of Game Time will also be treated to college football's greatest memories through Regions Bank Greatest Moments video and will be able to guide their own college football program to the championship through an interactive game. The 360 Virtual Stadiums Presented by Piedmont Healthcare exhibit takes visitors straight to the field of college football's most legendary stadiums.
National Football Foundation Building Leaders presented by Chick-fil-A is all about the "good in the game." It is a tribute to the mission and programs of the National Football Foundation (NFF), the profound and positive impact the NFF has on the game, and the key awards it distributes annually. Fans will find stories about some of society's great leaders that point to the lessons they learned in football to achieve success in business, community and life.
The greatest legends in college football history are forever enshrined in the Hall of Fame. The Hall of Fame captures the stories and accomplishments of the players and coaches who broke records and won our hearts, cementing their legacies in a one-of-a-kind experience that pays homage to the tradition and heritage of the game. Fans are treated to a unique experience in the Hall through 10 augmented reality displays where they can select video and images of players and coaches from their favorite school.
Chick-fil-A Peach Bowl Skill Zone is located on the 45-yard long football field and allows fans to sharpen their football skills through a variety of physical activities.
The Hall of Fame's founding partners include AT&T, Chick-fil-A, the Chick-fil-A Peach Bowl, Coca-Cola and Kia. The Hall's official sponsors are Brasfield & Gorrie, Georgia Pacific, Georgia Power, The Home Depot, Invest Atlanta, Omni Hotels & Resorts, Piedmont Healthcare, Regions Bank, Southwest Airlines, Sporturf and Under Armour.
The Hall is projected to attract 500,000 visitors each year with ticket sales, retail and special events contributing to annual revenue totaling in excess of $11 million.
For additional information about the Hall or to purchase tickets, please visit cfbhall.com.
About Atlanta Hall Management & The College Football Hall of Fame
The new College Football Hall of Fame and Chick-fil-A Fan Experience is a 94,256-square-foot attraction located in the heart of Atlanta's sports, entertainment and tourism district. Adjacent to the Georgia World Congress Center and Centennial Olympic Park, the new Hall provides visitors with a highly immersive, interactive and engaging experience using a blend of historic college football artifacts and state-of-the-art, interactive multimedia exhibits. The National Football Foundation (NFF) launched the Hall in 1951 to stand as one of the nation's premier sports shrines, immortalizing the game's greatest players and coaches as positive role models for future generations. Atlanta Hall Management, Inc., partnered with the NFF to construct and operate the new Hall of Fame attraction, which also provides a platform for community outreach, education and character development initiatives, as well as serves as one of Atlanta's premier special event spaces. For more information, please visit www.cfbhall.com.