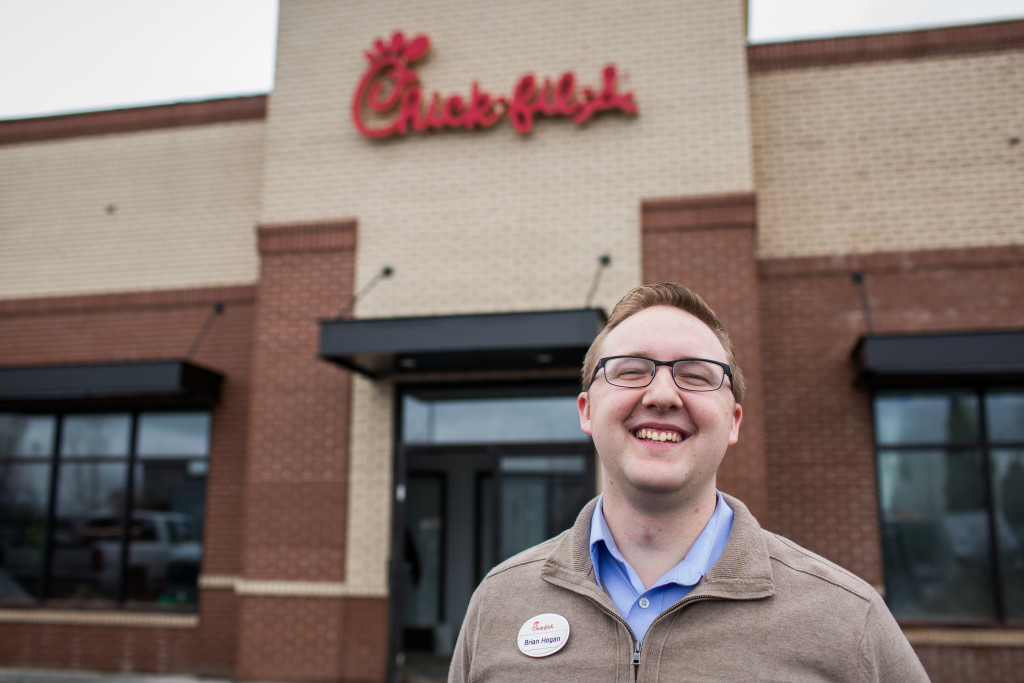 ATLANTA (Dec. 9, 2015) – Hillsboro native Brian Hogan has been named franchise owner of the new Chick- fil-A restaurant in the Tanasbourne neighborhood of Hillsboro, Ore. With the restaurant slated to open for business in spring 2016, Hogan will oversee day-to-day activities of the business, employing more than 80 full- and part-time team members, cultivating relationships with Hillsboro schools, organizations and neighboring businesses, and serving local guests.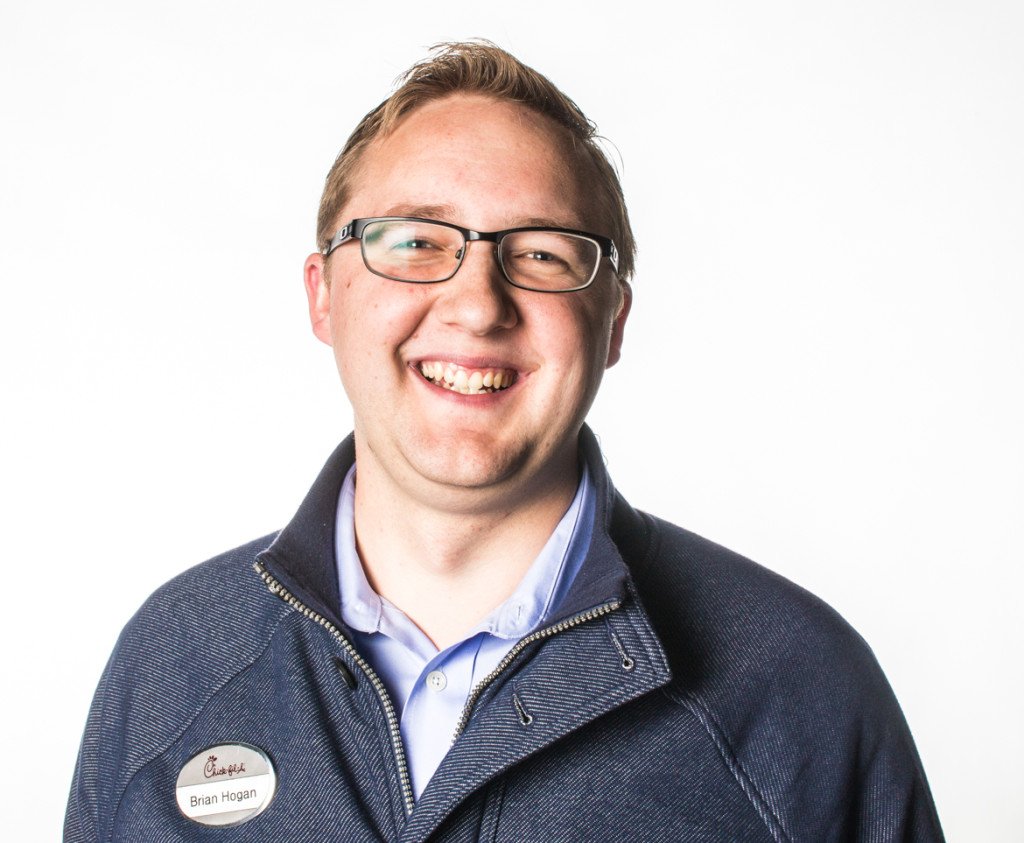 Chick-fil-A Operator Brian Hogan
Hogan is a fifth generation Oregonian and recently returned to the Hillsboro area with his wife, Jaclyn, to open the franchise just three miles down the road from his childhood home on Hennig Street. He is a long-time Chick-fil-A team member, having started with the company at age 16 after moving to Charlotte, N.C. During his 10 years as a team member, Hogan worked in all areas of the restaurant, and even served as a trainer for new franchise owners and team members across the country. He pursued the path to becoming a Chick-fil-A franchisee soon after graduating from UNC Charlotte with a degree in Organizational Communication by entering Chick-fil-A's Interim Manager program. In the program, Hogan spent 18 months managing Chick-fil-A restaurants in Louisiana, Illinois, Wyoming, North Carolina, South Carolina and Alabama. After building his career with Chick-fil-A, he is excited to return to his hometown to open Oregon's first Chick-fil-A restaurant.

"This is a homecoming for me," Hogan says. "My wife and I are so excited for the opportunity to open our own Chick-fil-A restaurant in my hometown. We look forward to introducing Chick-fil-A to Oregon and to serving our customers great food and remarkable hospitality. We want our restaurant to be a place where everyone in the community feels welcome and is known by name."

Chick-fil-A held a site dedication ceremony for the new restaurant in Hillsboro on Sept. 29 and was welcomed by members of the Hillsboro City Council, Hillsboro Chamber of Commerce and more than 30 community leaders, vendors and partners, including Junior Achievement of Oregon. The restaurant, formally named Chick-fil-A at Tanasbourne, will be located at 2865 NW Town Center Drive and is one of two locally owned Chick-fil-A restaurants opening in Oregon this spring. The restaurant will be built to LEED® specifications with water and energy efficiency features, air quality control and waste diversion efforts, among other initiatives.
"This is a homecoming for me. My wife and I are so excited for the opportunity to open our own Chick-fil-A restaurant in my hometown. We look forward to introducing Chick-fil-A to Oregon and to serving our customers great food and remarkable hospitality."–Brian Hogan
Chick-fil-A, which this year was ranked the No. 1 quick-service restaurant for customer service by the American Customer Satisfaction Index, is known for its menu of fresh, hand-crafted food and offers a variety of options for guests of all ages. Signature items include a hand-breaded, boneless chicken breast sandwich, Waffle Potato Fries and hand-spun milkshakes. The restaurant uses only premium ingredients and makes many of its menu items from scratch in the restaurant each day, including hand-chopped salads and fruit.
Chick-fil-A at Tanasbourne will partner with regional farmers and suppliers to source as many locally- and regionally-grown ingredients as possible. In fact, the restaurant will source all of its bread from Portland-based Franz Bakery, which also supplies bread to Chick-fil-A restaurants in Washington. Chick-fil-A sources all potatoes used to make hash browns and Waffle Potato Fries from the Columbia River Basin – buying more than 438 million pounds of potatoes last year alone. Additionally, all of the apples used to supply Chick-fil-A's West Region restaurants are grown in the Pacific Northwest, sourcing more than 2.25 million pounds of apples from the region each year. Chick- fil-A is also collaborating with national and regional poultry suppliers to ensure it serves chicken raised without antibiotics in all its restaurants nationwide by 2019.
The Hillsboro Chick-fil-A is one of more than 90 new restaurants the chain plans to open across the country in 2016, creating more than 8,000 new jobs. Last year, Chick-fil-A reported an increase in the number of new restaurants initially planned for the year and record-setting annual sales of more than $6 billion, the 47th consecutive year of sales growth since the company began in 1967.
For more information about Chick-fil-A and stories about the company's food, people and customers across the country, visit the News section of thechickenwire.chick-fil-a.com.
Atlanta-based Chick-fil-A, Inc. is a family owned and privately held restaurant company founded in 1964 by S. Truett Cathy. Devoted to serving the local communities in which its franchised restaurants operate, and known for its original chicken sandwich, Chick-fil-A serves freshly prepared food in more than 1,900 restaurants in 42 states and Washington, D.C.
Chick-fil-A system sales reached nearly $6 billion in 2014, which marks 47 consecutive years of sales growth. Chick-fil-A ranked first for customer satisfaction in the Limited Service Restaurants industry according to the 2015 American Customer Satisfaction Index and received the highest ACSI score ever in the industry. The company was also recognized in 2015 as America's "Top Chicken Restaurant Brand" by The Harris Poll and the only restaurant brand named to the Top 10 "Best Companies to Work For" by 24/7 Wall Street. More information on Chick- fil-A is available on the chain's website located at www.chick-fil-a.com.
Corporate Media Hotline: (800) 404-7196 Email: cfapressroom@chick-fil-a.com Twitter: @ChickfilANews