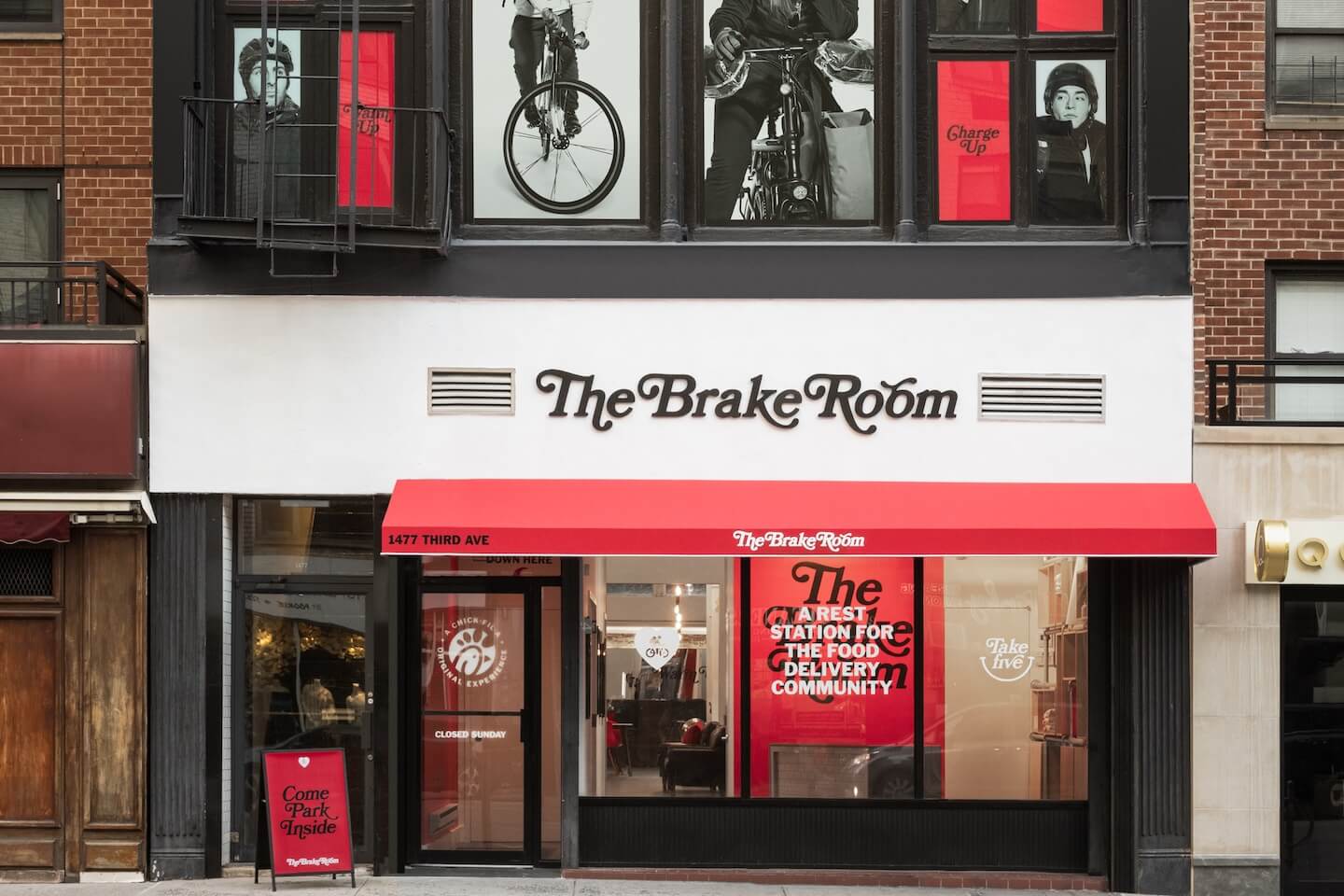 The Brake Room offers a warm place to rest and recharge during the coldest days of the year
NEW YORK (Feb. 15, 2023) – Chick-fil-A Inc., along with its New York restaurant Operators, will open The Brake Room, a limited-time experience for individuals who work in the food delivery community to rest, get warm and recharge during New York City's harshest winter days. With more than 65,000 food delivery workers in NYC, Chick-fil-A recognized the importance of caring for workers in this community and is opening a dedicated space where they can take a break and refuel.
Data from 2021 shows food delivery has tripled in size since 2017. For Chick-fil-A, the food delivery community has become an increasingly important part of each restaurant's business, with the highest number of Manhattan-based Chick-fil-A restaurant deliveries reported in the winter months of 2022. The Brake Room will provide a moment of respite and a welcoming environment amidst long shifts and many miles cycled across the city.
"In metro areas like New York City, we see the same food delivery workers come through nearly every day of the week, several times a day, and how taking an extra second to warm-up between deliveries or offering a glass of water helps to fuel them on for their shift. The food delivery community helps to power our businesses, and this is just our small way of showing appreciation for all they do," said Jared Caldwell, a Chick-fil-A® restaurant Owner/Operator in New York City at 1536 3rd Avenue in the Upper East Side.
Located on the Upper East Side at 1477 Third Ave. (between E. 83rd St. and E. 84th St.), The Brake Room will be open from Thursday, Feb. 16 through Thursday, April 13, from 11 a.m. – 7 p.m. Monday through Saturday. The free space will be open to the food delivery community who can enter simply by showing proof of a delivery within the past week via an eligible third-party food delivery app. The rest hub will offer attendees access to bathrooms, bike storage, outlets for phone chargers, comfortable seating, Wi-Fi and beverages.
Joe Saracino, Senior Vice President of Brand Strategy, Advertising and Media at Chick-fil-A, adds, "Every day, Chick-fil-A Operators look to show care for their Team Members and the communities in which their restaurants are located. The food delivery community is an extension of the same experience Chick-fil-A restaurants provide our guests, and an increasingly significant part of the business. We created The Brake Room as a small gesture, a little thing to thank them for all they do to serve our guests, especially in a market experiencing high demand in sometimes harsh winter weather conditions."
More information on Chick-fil-A is available at www.chick-fil-a.com and @ChickfilANews. 
### 
About Chick-fil-A, Inc. 
Atlanta-based Chick-fil-A, Inc. is a restaurant company known for the Original Chick-fil-A® Chicken Sandwich and signature hospitality. Represented by more than 170,000 Team Members, Operators and Staff, Chick-fil-A® restaurants serve guests freshly prepared food at more than 2,700 restaurants in 48 states, Washington, D.C., Puerto Rico and Canada. The family-owned and privately held restaurant company was founded in 1967 by S. Truett Cathy and is committed to serving the local communities in which its franchised restaurants operate.
Known for its leadership and growth opportunities, in 2022 Chick-fil-A was named a Best Employer in America by Forbes and a top company for career opportunities for Black employees by Glassdoor. The company was also awarded the Employee's Choice by Glassdoor honoring top CEOs and was named a Culture 500 Culture Champion in 2020. A leader in customer service, Chick-fil-A was named QSR Magazine's Drive-Thru Restaurant of the Year for 2021. More information on Chick-fil-A is available at www.chick-fil-a.com and @ChickfilANews.
Contact: Media Hotline: (800) 404-7196
Email: cfapressroom@chick-fil-a.com
Twitter: @ChickfilANews