The fast food company with the best culture? It's Chick-fil-A, according to popular job website Glassdoor. Chick-fil-A is proud to announce its ranking as a Top Company for Culture and Values, according to anonymous employee feedback shared on jobs site.
The list is GlassDoor's first report on companies with the best work culture and values. Chick-fil-A ranked seventh and was the only quick-service restaurant named in the list.
Culture and values ratings are gathered through Glassdoor's online company review survey, which seeks to gain employee sentiment about the work environment and CEO approval rating of their current or recent employers. Employees are asked to rate a number of factors including how satisfied they are with the job and company along with key workplace facets like compensation and benefits, work-life balance and of course, culture and values.
"Cultivating culture takes a tremendous amount of effort both in designing great values and sticking to them," said Will Staney, head talent warrior at Glassdoor. "To be recognized by employees for these efforts is a true honor and I'm happy to celebrate the companies that have achieved this status today."
According to GlassDoor, Chick-fil-A and the other top 25 companies share some themes, including having a supportive, team-oriented atmosphere and a family-like environment as well as standing behind company values.
Read the full report on GlassDoor.com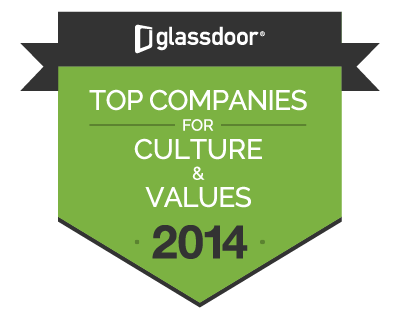 About Chick-fil-A, Inc.
Atlanta-based Chick-fil-A, Inc. is a family owned and privately held restaurant company dedicated to serving the communities in which its restaurants operate. Known for its original chicken sandwich, Chick-fil-A serves nutritious, freshly prepared food in more than 1,800 restaurants in 39 states and Washington, D.C.
Founded by S. Truett Cathy in 1967, Chick-fil-A produced sales of $5 billion in 2013. Chick-fil-A was recognized in 2014 as one of America's "Top 20 Most Admired Brands" by The Harris Poll and "Top Fast Food Chicken Chain" by Consumer Reports, among other honors. More information on Chick-fil-A is available on the chain's website, located at www.chick-fil-a.com.
About Glassdoor
Glassdoor, founded in 2007, is the leading career community designed to help job seekers find jobs and address critical questions that come up during the search, application, interview and negotiation phases of employment. Glassdoor provides the most transparent look at company culture, work environment, salary and compensation and the interview process thanks to the millions of insights shared by employees, job candidates and employers. For employers, Glassdoor offers recruiting and employer branding solutions to help maximize talent acquisition strategies and optimize results. As of August 2014, Glassdoor now welcomes more than 25 million members to its desktop and mobile platforms. Glassdoor is backed by Benchmark, Sutter Hill Ventures, Battery Ventures, DAG Ventures, Dragoneer Investment Group and Tiger Global. Glassdoor.com is a registered trademark of Glassdoor, Inc.