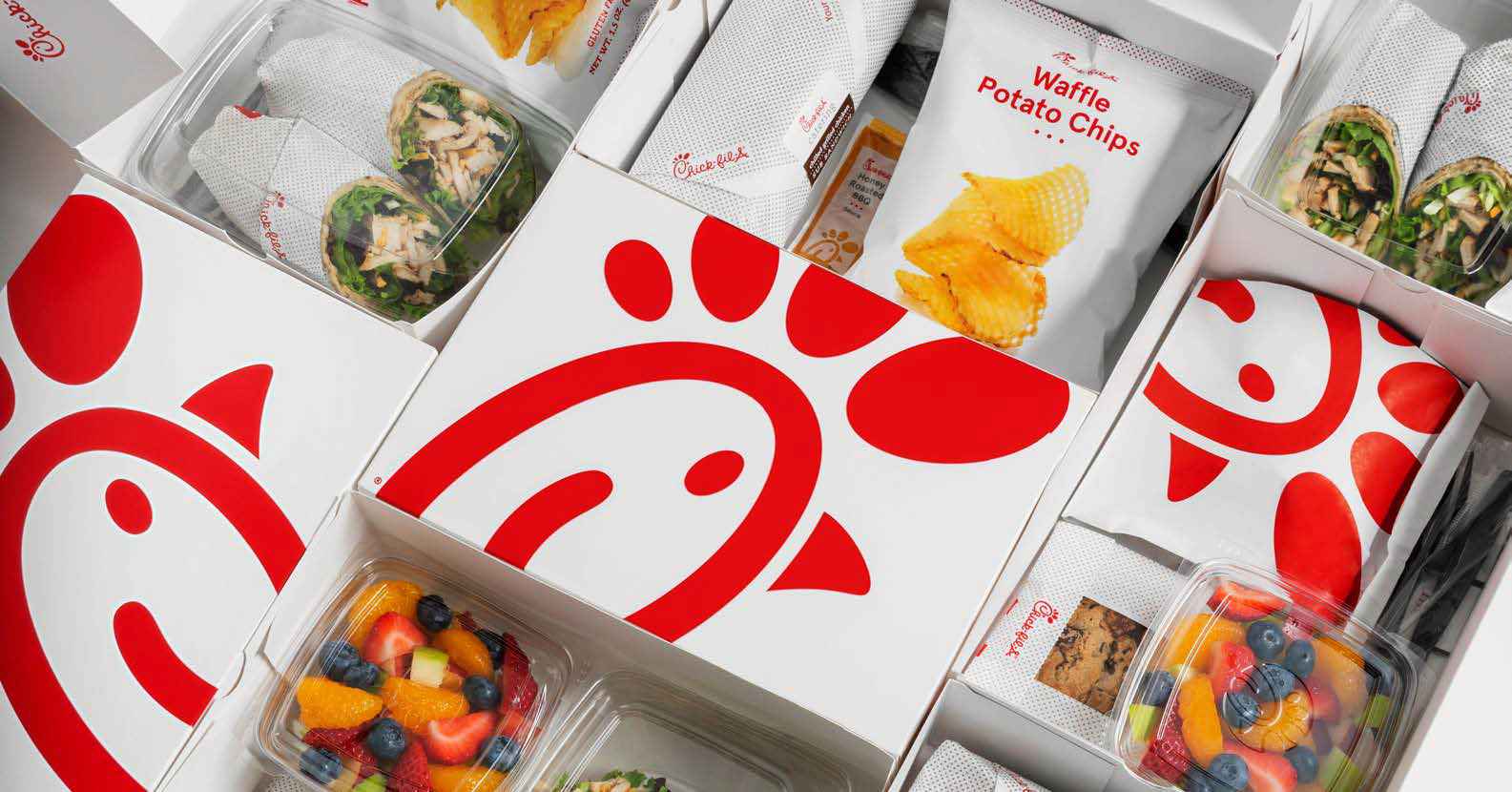 Let us take care of the food so you can enjoy the party
If you want to be the most popular person at any office party, baby shower or teachers' breakroom, we have three words for you: Chick-fil-A® Nuggets Tray. If you show up with a platter of delicious Chick-fil-A Nuggets, you will be loved. It's as simple as that.

Many of you are well versed in the power of a Nuggets Tray, but did you also know that Chick-fil-A® has a full catering menu that's perfect for all types of events? From Cool Wraps® to Chick-fil-A® Chicken Biscuits to packaged meals, we have options for any party – large or small – and many Chick-fil-A locations will deliver right to your event.

Here are all your questions answered about Chick-fil-A Catering:

What can I order?
There are three ways to think about Chick-fil-A Catering: Trays, Packaged Meals and ordering your favorite individual menu items in the amount that you need for your group.

Trays
Participating Chick-fil-A restaurants offer these trays: Chick-fil-A Nuggets, Chick-n-Strips™, Cool Wrap, Mac & Cheese, Fruit, Garden Salad, Kale Crunch, Chilled Grilled Chicken Sub Sandwiches and Spicy Chilled Grilled Chicken Sub Sandwiches.
For a sweet finish to a meal or an easy snack, try the Chocolate Chunk Cookie and Chocolate Fudge Brownie Trays. Some of the trays come in varying sizes, so make sure to have a headcount before you order.

Packaged meals
Chick-fil-A offers six different types of packaged meals: Chick-fil-A Chicken Sandwich, Spicy Chicken Sandwich, Chilled Grilled Chicken Sub Sandwich, Spicy Chilled Grilled Chicken Sun Sandwich, Cool Wrap and 8-ct Chick-fil-A Nuggets. These are perfect for office lunch meetings.

Individual items
You also have the option of ordering these individual menu items for your group: Chick-fil-A Chicken Sandwich, Chick-fil-A Nuggets, Chilled Grilled Chicken and Spicy Chilled Grilled Chicken Sub Sandwich, Spicy Southwest Salad, Cool Wrap, Market Salad, Cobb Salad, Fruit Cup, Side Salad, Greek Yogurt Parfait, Kale Crunch Side, Waffle Potato Chips, Chocolate Fudge Brownie and Chocolate Chunk Cookie.
I'm having an event in the morning. What breakfast options do I have?
You can order individual breakfast menu items: Buttered Biscuit, Chicken Biscuit, Spicy Chicken Biscuit, Bacon Biscuit, Sausage Biscuit, Fruit Cup, and Greek Yogurt Parfait. You can also order a Chick-n-Minis® Tray in small and large. Also, restaurants can provide jelly, silverware and napkins, as needed.

What about drinks?
Again, we've got you covered. A popular choice are our gallon-sized drinks: Freshly-Brewed Sweetened and Unsweetened Iced Tea, our Sunjoy® beverage and Chick-fil-A® Lemonade in diet or regular. You can also order individual servings of water, Honest Kids® Apple Juice and milk. In addition, we have 96-oz. boxes of coffee. Eliminate a trip to the store by ordering a 5-lb. bag of ice, ice bucket and scoop so your drinks stay chilled.

What about sauces and dressings?
Chick-fil-A Nuggets and Chick-fil-A Chick-n-Strips® include one 8-oz. sauce for dipping – and two sauces for large trays. The Garden Salad Tray comes with six dressing packets, so you can choose your favorites from the seven available options. If you can't get enough of your favorite sauce, we also offer 8-ounce bottles for purchase.

So how do I order?
Once you've checked out the menu and you're ready to order, just click over to chick-fil-a.com/catering. To start, you'll be prompted to put in your address so we can find your nearest Chick-fil-A restaurant. You can also call a participating restaurant directly to place your order – click here to find a Chick-fil-A restaurant near you. Good news – Chick-fil-A One® members receive points with every qualifying catering purchase (so yes, Chick-fil-A Nugget trays can help you get to the next tier!)
What if my event is happening when Chick-fil-A is closed?
No problem! We also have reheatable Chick-fil-A Nuggets Trays and Chick-n-Strip™ trays – in small, medium and large – available at participating locations. Just pick it up the day before and reheat on a cookie sheet in the oven according to package instructions.
Can Chick-fil-A deliver my Catering order?
Most Chick-fil-A locations offer delivery. This is the first question we'll ask when we start your order: delivery or pick up? For pick up, you'll schedule a time when placing your order. When you arrive, just tell a Team Member that you are ready to pick up your Catering order.
Can I order a Nugget Tray just for myself?
Yes, you can. Order 30-count Chick-fil-A Nuggets from the regular menu or larger sizes from the catering menu.