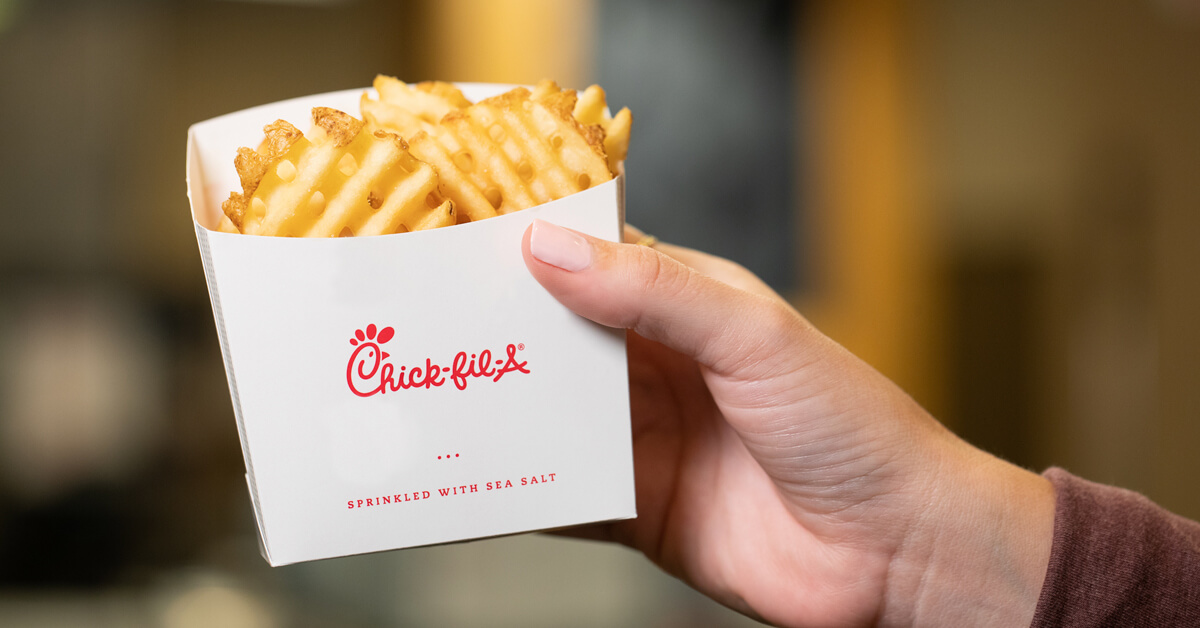 See what topped the list in your part of the country.
No matter where you live, one thing is for certain: You love our Chick-fil-A Waffle Potato Fries®. From Miami to Seattle and everywhere in between, our crispy-on-the-outside and tender-on-the-inside waffle-cut potatoes were just what we all needed to curb an afternoon craving or serve as the perfect complement to our meal.
Did your favorite make it on the list? Check out the most-ordered menu items by region below.
Southeast region:
Soft Drinks
Atlantic region:
Waffle Potato Fries
Soft Drinks
Chick-fil-A Chicken Sandwich
Chick-fil-A Nuggets
Sweet Iced Tea
Hash Browns
Regular Lemonade
Spicy Chicken Sandwich
Chick-fil-A Chicken Biscuit
Chick-n-Minis
Mac & Cheese
Northeast region:
Waffle Potato Fries
Soft Drinks
Chick-fil-A Nuggets
Chick-fil-A Chicken Sandwich
Regular Lemonade
Sweet Iced Tea
Spicy Chicken Sandwich
Hash Browns
Mac & Cheese
Midwest region:
Waffle Potato Fries
Soft Drinks
Chick-fil-A Nuggets
Chick-fil-A Chicken Sandwich
Regular Lemonade
Spicy Chicken Sandwich
Mac & Cheese
Spicy Deluxe Sandwich
Sweet Iced Tea
Hash Browns
Chick-fil-A Deluxe Sandwich
Southwest region:
Waffle Potato Fries
Soft Drinks
Chick-fil-A Nuggets
Chick-fil-A Chicken Sandwich
Sweet Iced Tea
Regular Lemonade
Hash Browns
Spicy Chicken Sandwich
Spicy Deluxe Sandwich
Mac & Cheese
Chick-fil-A Chick-n-Minis
West region:
Waffle Potato Fries
Soft Drinks
Chick-fil-A Nuggets
Chick-fil-A Chicken Sandwich
Spicy Deluxe Sandwich
Regular Lemonade
Spicy Chicken Sandwich
Mac & Cheese
Chick-fil-A Deluxe Sandwich
Hash Browns
Sweet Iced Tea