Chick-fil-A, Inc. Internship & Co-Op roles offer hands-on experience in different aspects of the business
Chick-fil-A, Inc. is a family-owned restaurant company founded in 1967 by S. Truett Cathy. It serves freshly prepared food at more than 2,800 locations in 48 states, Washington, D.C., Puerto Rico and Canada. Known for the Original Chick-fil-A® Chicken Sandwich and signature hospitality, it also supports the local communities where its franchised restaurants operate.
At its Atlanta headquarters, known as the Support Center, Chick-fil-A offers internships and multi-semester co-ops in various fields such as accounting, finance, tax & analytics; IT business analyst; software engineering; customer & market Insights; restaurant development & design, and more. These positions provide real business challenges and solutions that impact all areas of the company, while developing the skills needed to succeed in the modern workplace.
Connect with Chick-fil-A, Inc.
Want to keep up with everything happening at Chick-fil-A? Follow us on LinkedIn! You'll find the latest news about Chick-fil-A, Inc. and resources on crafting a great resume, interviewing like a pro, and building your network that we hope will serve you well as you begin your career journey.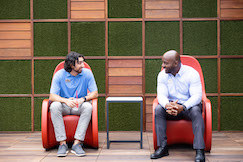 Grow with Us
We're ready to invest in you. Explore our current opportunities

View Co-Op and Intern Positions

View Entry Level Positions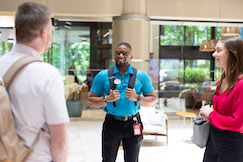 Interns/Co-Ops Talk Chicken
Want to know what it's really like to be an intern at Chick-fil-A? Our intern alums share their experiences on how they gained real-world expertise and built new relationships, and offer insights into how their internship projects impacted the future of Chick-fil-A. A program worthy of consideration, it has been a WayUp Top-100 Intern Program Honoree. Be sure to follow us on the Chick-fil-A Support Center LinkedIn page to hear more about past participants' experiences.
Former International Intern Testimonial