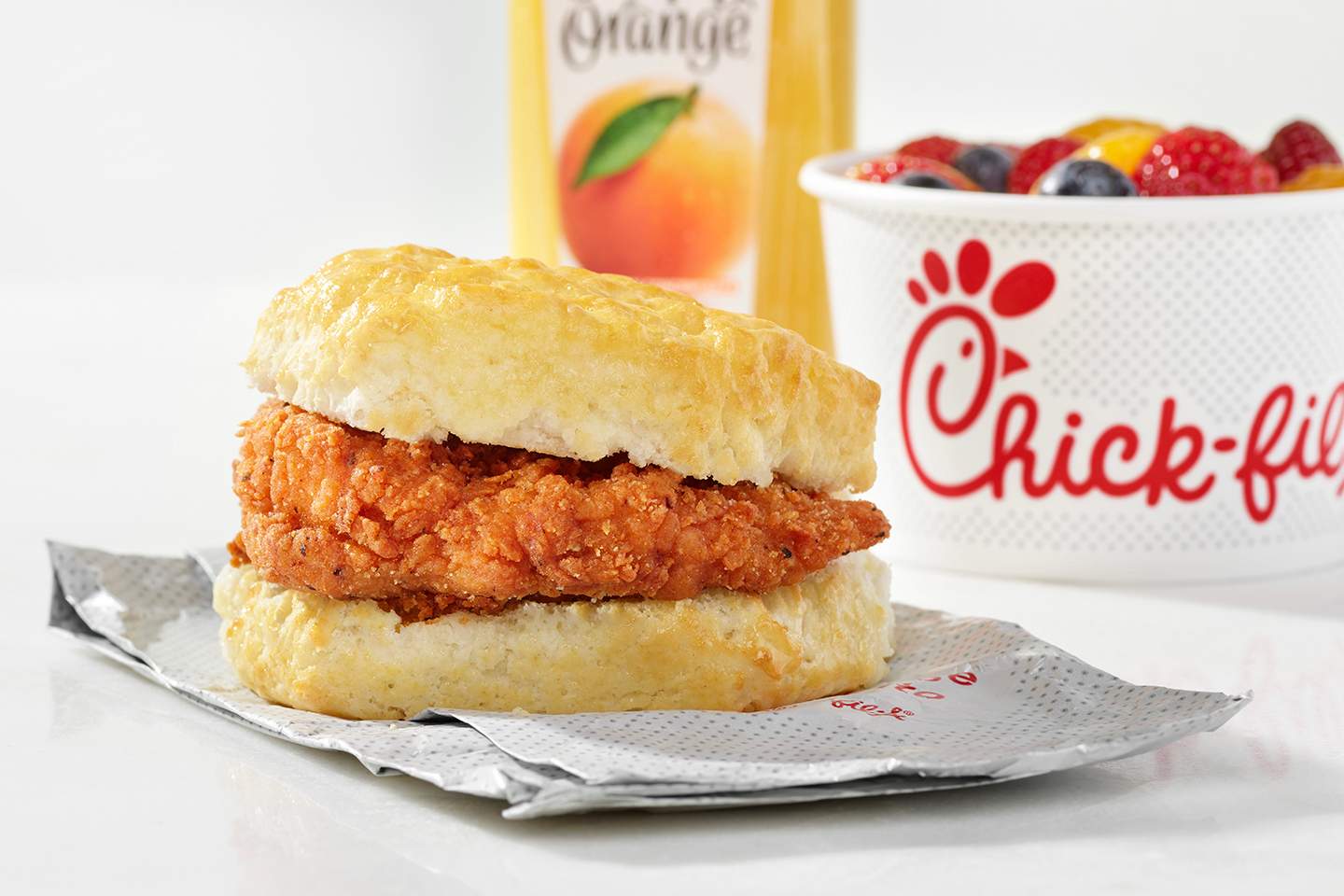 Disclaimer: Contents hot, proceed with caution
When the Spicy Chicken Biscuit rolled off of the menu in 2016 to make way for new offerings, guests lamented the loss of a breakfast favorite. Since then, the entrée has been reintroduced at a number of restaurants nationwide. And now, we have good news hot out of the oven: the Spicy Chicken Biscuit is now permanently available at Chick-fil-A® restaurants nationwide starting June 12, 2023 to heat up breakfast routines. Get fired up for adventurous flavor that's here to kick-start your morning year-round.
It may be a simple breakfast item, but it definitely isn't boring . Although just two components: a classic Chick-fil-A buttermilk biscuit and a breakfast portion of boneless breast of chicken, seasoned with a spicy blend of peppers, the Spicy Chicken Biscuit gives the ultimate wake up call to your palate.
Fresh out of the oven
Upon first bite, spice-lovers are met with a flaky, delectable biscuit – fresh-baked and handmade at all free-standing restaurants, the same way they have been since 1986. Biscuits take longer to make than any other Chick-fil-A breakfast item, meaning that Team Members at free-standing restaurants are hand rolling biscuits sometimes before 5:30 a.m. Several batches of biscuits are made fresh throughout the morning, hot and ready to serve until breakfast ends. When one tray is removed from the oven, another is immediately placed inside. The result is a biscuit that's tender and flaky, yet sturdy enough to house the spicy filet. So, as you sink your teeth into the buttery layers, take a minute to appreciate the TLC given to your morning meal.
Disclaimer: Contents hot, proceed with caution
Nestled between two halves of a classic Chick-fil-A Biscuit sits the star of the show, a breakfast portion of our spicy chicken filet. Perfectly seasoned with a savory blend of peppers, freshly breaded and pressure cooked in 100% refined peanut oil, this tender and juicy filet is sure to ignite your taste buds.
Pro Tip: Want to add an extra layer of flavor? Try spreading some honey on your filet for a savory-sweet start to your morning or pair the breakfast entrée with a Fruit Cup and a Frosted Coffee as a cool complement to your meal. Feeling bold and looking to boost the spice? Order Zesty Buffalo Sauce to dunk or drizzle on extra heat.

Easier than ever to pack flavor into your breakfast routine

Handheld and perfect for a savory on-the-go breakfast, the Spicy Chicken Biscuit can heat up your morning wherever you choose to enjoy it. Whether you sneak a bite in the car during carpool or savor the flavor in the comfort of your home, the breakfast entrée is an easy and convenient way to start your day.
You can enjoy the Spicy Chicken Biscuit year-round at Chick-fil-A restaurants nationwide, starting June 12, 2023. The entrée is available for pickup, delivery and catering. Order ahead through the Chick-fil-A® App, online or visit a Chick-fil-A restaurant to get this breakfast favorite while it's hot.