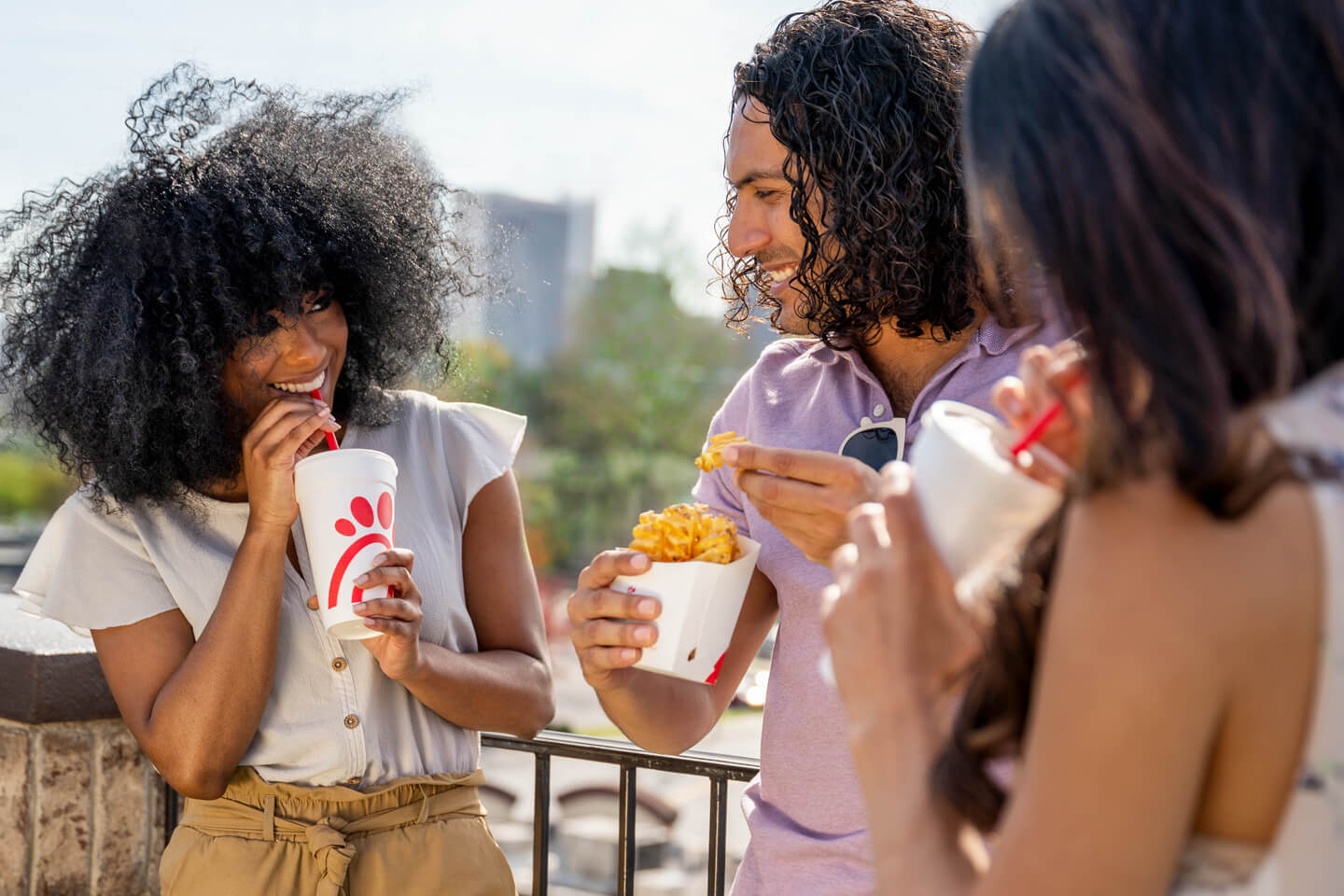 As summer heats up, these cities are cooling down with our Peach Milkshake.
At Chick-fil-A, two sweet signs always mark the official start of summer: warmer weather and the return of our beloved Peach Milkshake. Handspun with our signature vanilla Icedream® dessert and peaches, the classic summer treat is back for a limited time starting June 13.

Our Peach Milkshake was introduced back in 2009, and it has become a much-anticipated summer tradition for guests. But who can be hailed as Peach Milkshake enthusiasts? With the sweet arrival of Peach Milkshake season, we're sharing the top 10 cities that enjoyed the hand-spun treat the most, based on restaurant orders in 2021:
10. Greenville, South Carolina

Did you know that the peach is South Carolina's official state fruit? It's no wonder so many Greenville locals choose to cool off with our delicious, peach-flavored tradition.

9. Klamath Falls, Oregon
Boasting 300 days of sunshine a year, days in Klamath Falls are often spent sight-seeing at the stunning waterfalls in Crater Lake National Park. When residents aren't enjoying the great outdoors, they like to cool off with a hand-spun refreshing milkshake.

8. Boise, Idaho
Known as the City of Trees, Boise has over 4.7 million acres of combined wilderness. During the summertime, the city is also home to some of the biggest Peach Milkshake lovers.

7.Cheyenne, Wyoming
Cheyenne is the host of the world's largest outdoor rodeo, Cheyenne Frontier Days. Based on the number of avid fans in this town, it definitely isn't their first rodeo slurping on this chilly treat.
6. Macon, Georgia
Known for its diverse architecture and outdoor trails, the city is also known for slurping a high number of Peach Milkshakes during the summer.
5. Lancaster, Pennsylvania
Did you know that America's first pretzel bakery is located in Lancaster? When it comes to Peach Milkshakes, these Pennsylvanians don't get it twisted when the opportunity comes to get a taste of our peachy goodness.
4. Meridian, Mississippi
The second largest city in Mississippi is known for its live music scene, rich history and plethora of railroads. Known as "The Queen City," the Peach Milkshake wears the crown in Meridian during the warmer months.
3. Spokane, Washington
Spokane is home to extensive cuisine options and dining destinations, making it a top spot for foodies. It's no surprise that in the summertime, residents head to their local Chick-fil-A restaurant to enjoy our famous peach-flavored tradition.
2. Idaho Falls, Idaho
While Idaho is known as the "Potato State," it's clear that even Chick-fil-A Waffle Potato Fries® may take a backseat to the Peach Milkshake during summer in Idaho Falls.
1. Lafayette, Indiana
Nicknamed the "Star City," residents in Lafayette hail the peachy goodness as the star of the show in their city.

When our Peach Milkshake isn't available or you can't find it at a restaurant location near you, try our Vanilla Milkshake, Chocolate Milkshake, Strawberry Milkshake or Cookies & Cream Milkshake.