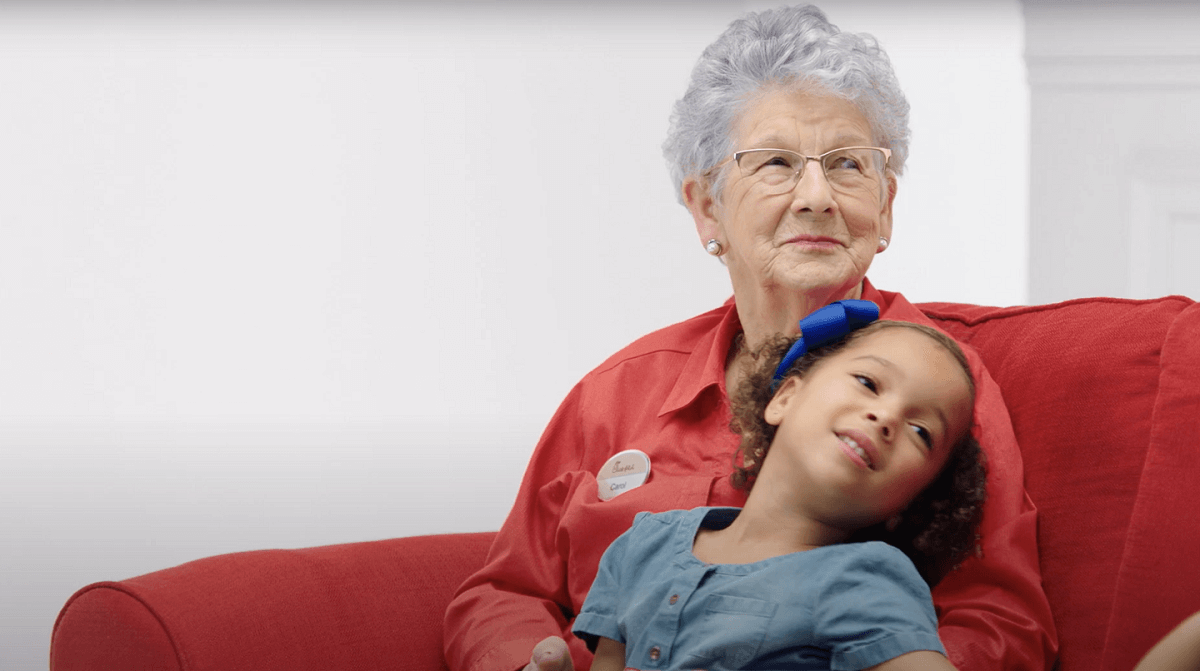 'Ms. Carol' Beck serves up smiles and a helping hand at Chick-fil-A Guntersville and lands a spot on The Little Things commercial
Carol Beck—or Ms. Carol, as guests at Chick-fil-A® Guntersville (Alabama) have affectionately called her for more than 14 years—is a self-described "people person."

As the restaurant's hospitality director, she welcomes breakfast and lunch crowds, keeps the dining room in order, and makes sure everyone has the sauces and drink refills they need.

"I love my job, because I get to meet so many nice people I wouldn't otherwise have the opportunity to talk to," Ms. Carol, 82, said with a warm Southern accent. "I take care of guests from the moment they walk through the door until they leave."
A warm addition to the team
Ms. Carol joined the team in 2006 shortly after retiring from NASA in Huntsville, Alabama, where she spent 23 years working in finance. "Bob and Vicky Moore had just opened Chick-fil-A Guntersville, which just happens to be about three quarters of a mile from my house," recalled the widowed mother of two and grandmother of three.
She was hired as marketing director, then transitioned to her current role when her husband got sick. It's the ideal role for Ms. Carol, who has never met a stranger and greets regulars and first-timers with the same hospitable smile and friendly banter. She has made several close friends through her job and often brings food to the homes of elderly guests.
"I love it most when we're busy," she added. "If we have three or four ball teams in here, I'm happy."
Speaking of ball teams, the Central High School softball squad from Phenix City, Alabama stopped in recently on their way to a tournament in nearby Albertsville and quickly bonded with Ms. Carol. On their way out, the teenage girls serenaded their new friend by singing "Goodbye Ms. Carol" and invited her to watch their game. She happily accepted.

"And you'd have thought I was the Queen of England when I got there," Ms. Carol said with a laugh. "They were thrilled to death to see me."
After winning the championship, the team presented Ms. Carol with an autographed game ball and a special cheer. "I get such joy out of little things like that," she said, "just knowing I might have made a small difference in someone's life."
A local star
This commitment to #thelittlethings landed Ms. Carol a starring role in a new Chick-fil-A TV commercial. The spot recalls how Marketta Moore stopped at Chick-fil-A Guntersville with her three young children on the way to see her husband, who was training in Huntsville (both are in the U.S. Army and had just returned to the United States from Germany).
Ms. Carol, seeing that Marketta's hands were full, brought her a cup of water as soon as they sat down and continued to check in throughout the meal. When Marketta was trying to help get one of her kids ready to leave, she looked up to find Ms. Carol putting on another's socks and shoes. The 2-year-old girl even asked if Ms. Carol could carry her to the car. As they were leaving, Marketta took a photo.

"That next day, she came back to the restaurant and gave me the sweetest card thanking me and sharing how much my help meant to her," Ms. Carol recalled.

Marketta's Facebook post about the experience was a big hit in the Guntersville community and was shared nationally. While Ms. Carol gets a chuckle out of her celebrity status, she insists she's just doing her job.

"A lot of people ask me why I'm still working, and I tell them I'm enjoying life. Because If I'm sitting at home, the four walls don't talk to me," she recalled. "Customers do."