From Chick-fil-A Restaurant Team Member to Owner/Operator
Caitlin Chavez inherited a spirit of pursuing new opportunities from her father, who left El Salvador in search of a better future. From her mother, an English as a Second Language teacher, Caitlin carries a constant desire to keep learning. "My mom's heart, combined with my dad's perseverance, really shaped me into who I am today," Caitlin shared. Now, she is charting her own path as a business owner and the first Chick-fil-A® restaurant Owner/Operator in Puerto Rico.

From living in Bogotá, Colombia to South Florida, Caitlin brings respect, knowledge and experience from different cultures. Her pride in her Hispanic roots, along with her desire to make a positive impact in Puerto Rico, come together as she prepares to serve as the Owner/Operator of Chick-fil-A Los Filtros, opening in early 2022.

Growing as a Team Member

At the age of 15, Caitlin was looking to help out her family by getting a part-time job. While at a summer camp, she overheard some of her friends talking about job opportunities at their local Chick-fil-A restaurant. She decided to apply and soon began working at Chick-fil-A Oak Ridge in Oak Ridge, Tennessee as a part-time Team Member.

"Right away, I loved the fast-paced environment and the camaraderie experienced among my fellow Team Members," Caitlin shared. "I had no idea that my first job would open up so many opportunities and ultimately define my career."

After high school, Caitlin left Oak Ridge and moved to Chattanooga, Tennessee to continue her education. While in college, Caitlin was considering nursing school and needed a second job to help pay for her studies. One day, while sitting in the cafeteria, she saw a "Chick-fil-A Coming Soon" sign, and remembered how much she enjoyed her experience as a Team Member. She reapplied, unaware of where this decision would lead.

The impact of mentorship

While working at Chick-fil-A Brainerd Village in Chattanooga, Caitlin worked for Operator Nick Goebeler, who, over the next seven years, became a close mentor and taught Caitlin about the business of Chick-fil-A restaurants. Through Nick's leadership and guidance, Caitlin learned every area of the restaurant, and found professional growth opportunities, including her role as the restaurant's Executive Director.

At the same time, Caitlin had changed her college major four times and was still undecided on her profession. Nick encouraged her to try to become an Operator.

"That was the moment everything became clear," Caitlin said. "Through seasons of adversity and uncertainty, I'd always been called back to Chick-fil-A and to serve others. I knew this was my future."

Charting her path

After enrolling in business classes and earning her degree in 2017, Caitlin began looking for an opportunity to become an Operator in a Spanish-speaking community.

"I wanted to use my experience growing up to inspire the next generation of business leaders, while building a culture of kindness," Caitlin said.

Over the course of two years, Caitlin served as a Grand Opening Trainer where she supported 10 restaurant openings, including the first Chick-fil-A restaurant in Canada, where she experienced the excitement and opportunity to introduce the brand to a new market.

Without hesitation, at just 27 years old, she applied to the Chick-fil-A® Leadership Development Program, an experience that instills leadership skills in potential future Operators. She was accepted, bringing her one step closer to her true dream: becoming a Chick-fil-A Operator before her 30th birthday, which she accomplished at the age of 29.

Turning a dream into reality
She soon learned that Chick-fil-A restaurants were expanding to Puerto Rico, and thought, "I would love to see a woman in that position, and then I realized that woman was me."
"There are once-in-a-lifetime opportunities, and opening the first restaurant in Puerto Rico is an incredible privilege and highlights the thousands of opportunities to grow with Chick-fil-A," Caitlin said. "What excites me the most is being able to work alongside a great team and to bring the service and hospitality of the Chick-fil-A brand to an island known for its rich culture and welcoming people."

Honoring her family

While Caitlin wishes her dad could see her open the first Chick-fil-A restaurant in Puerto Rico, she knows she is honoring his legacy and making her family proud.

"Like so many immigrant families, my dad sacrificed so much, and instilled in us the importance of perseverance," Caitlin shared. "Opening this restaurant is a reminder that you can definitely achieve anything you want by working hard, and anything, absolutely anything, is possible."

As the first Operator on the island, with the support of her husband, family and friends, she hopes her testimony of pursuing her passion will inspire others to follow their dreams, too.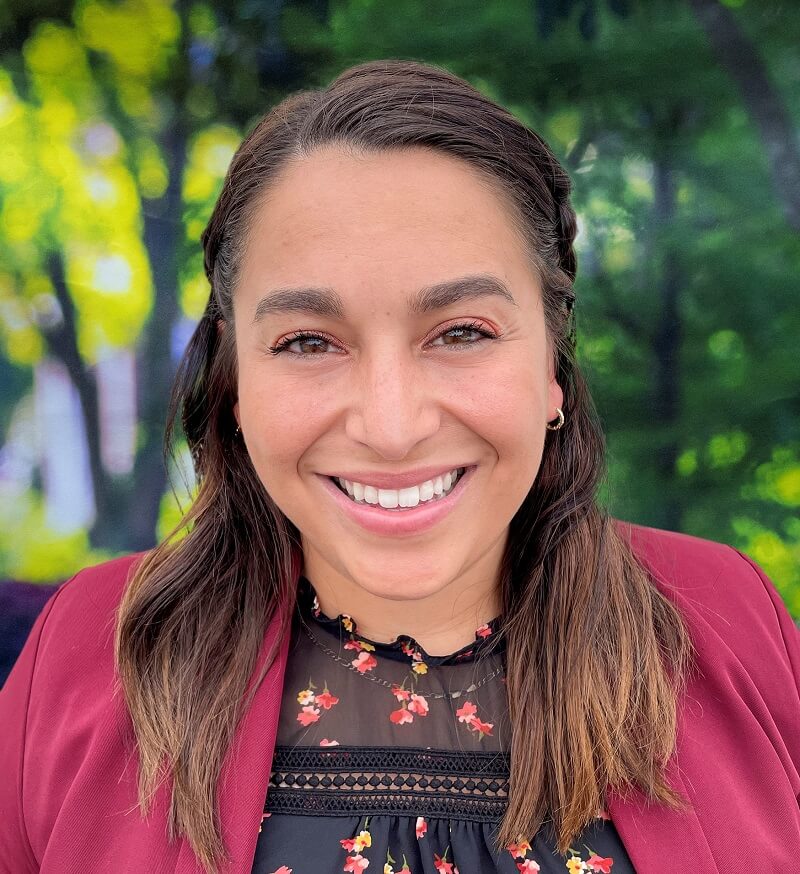 ---
De Team Member de Restaurantes Chick-fil-A a Propietaria/Operadora: Te presentamos a Caitlin Chávez, la primera Operadora en Puerto Rico
Caitlin Chávez heredó de su padre, quien dejó El Salvador en busca de un futuro mejor, el espíritu de buscar nuevas oportunidades; de su madre, una profesora de inglés como segunda lengua, Caitlin trae el deseo constante de seguir aprendiendo. "El corazón de mi madre combinado con la perseverancia de mi padre, me han convertido en la persona que soy hoy", dice Caitlin. Ahora, está trazando su propio camino como propietaria de un negocio, siendo la primera Propietaria/Operadora del restaurante Chick-fil-A® en Puerto Rico.

Desde vivir en Bogotá, Colombia al sur de la Florida, Caitlin trae respeto, conocimiento y experiencia de diferentes culturas. Su orgullo por sus raíces hispanas junto con su deseo de crear un impacto positivo en Puerto Rico, se unen mientras se prepara para servir como Propietaria/Operadora de Chick-fil-A Los Filtros, que abrirá sus puertas a principios del 2022.

Creciendo como Team Member

A los 15 años, Caitlin quería ayudar a su familia consiguiendo un trabajo de part time. Mientras estaba en un campamento de verano, escuchó a algunos de sus amigos hablar de oportunidades de trabajo en su restaurante local Chick-fil-A. Decidió aplicar y pronto comenzó a trabajar medio tiempo en el Chick-fil-A Oak Ridge en Oak Ridge, Tennessee como Team Member.

"De inmediato me encantó el ambiente de ritmo rápido y la camaradería experimentada entre mis Team Members", compartió Caitlin. "No tenía ni idea de que mi primer trabajo me abriría tantas oportunidades y acabaría definiendo mi carrera".

Después de la escuela secundaria, Caitlin dejó Oak Ridge y se mudó a Chattanooga, Tennessee para continuar su educación. Mientras estaba en la universidad, Caitlin estaba considerando la posibilidad de estudiar enfermería y necesitaba un segundo trabajo para ayudar a pagar sus estudios. Un día, mientras estaba sentada en la cafetería, vio un cartel que decía "Chick-fil-A Coming Soon" y recordó lo mucho que había disfrutado de su experiencia como Team Member. Volvió a presentar su solicitud de trabajo, sin saber a dónde la llevaría esta decisión.

El impacto de la mentoría

Durante su trabajo en el Chick-fil-A Brainerd Village en Chattanooga, Caitlin trabajó para el Operador Nick Goebeler, quien, durante los siguientes siete años, se convirtió en un mentor cercano y le enseñó a Caitlin sobre el negocio de los restaurantes Chick-fil-A. A través del liderazgo y la orientación de Nick, Caitlin aprendió todas las áreas del restaurante y encontró oportunidades de crecimiento profesional, incluyendo su rol como Directora Ejecutiva del restaurante.

Al mismo tiempo, Caitlin había cambiado ya cuatro veces de carrera universitaria y seguía sin decidirse por su profesión. Nick la animó a tratar de convertirse en Operadora.

"Ese fue el momento en que todo se aclaró", dijo Caitlin. "A través de temporadas de adversidad e incertidumbre, siempre me habían llamado para volver a Chick-fil-A para servir a los demás. Sabía que este era mi futuro".

Trazando su camino

Después de inscribirse en clases de negocios y obtener su título en el 2017, Caitlin comenzó a buscar una oportunidad para convertirse en Operadora en una comunidad de habla hispana.

"Quería utilizar mi experiencia de crecimiento para inspirar a la próxima generación de líderes empresariales, mientras construía una cultura de bondad", dijo Caitlin.

En el transcurso de dos años, Caitlin trabajó como Entrenadora para Inauguraciones donde apoyó la apertura de 10 restaurantes, incluyendo el primer restaurante Chick-fil-A en Canadá, donde tuvo la oportunidad de sentir la emoción de introducir la marca en un nuevo mercado.

Sin dudarlo, con tan solo 27 años se presentó al Leadership Development Program de Chick-fil-A®, una experiencia que inculca habilidades de liderazgo a los futuros Operadores en potencia. Fue aceptada, acercándola un paso más a su verdadero sueño: convertirse en Operadora de Chick-fil-A antes de cumplir los 30 años, algo que logró a los 29.

Convirtiendo un sueño en realidad
Pronto se enteró de que los restaurantes Chick-fil-A se estaban expandiendo a Puerto Rico y pensó: "Me encantaría ver a una mujer en ese puesto y entonces me di cuenta de que esa mujer era yo".

"Hay oportunidades que se presentan una vez en la vida y abrir el primer restaurante en Puerto Rico es un privilegio increíble y destaca las miles de oportunidades de crecimiento con Chick-fil-A", dijo Caitlin. "Lo que más me emociona es poder trabajar junto a un gran equipo y llevar el servicio y la hospitalidad de la marca Chick-fil-A a una isla conocida por su rica cultura y su gente acogedora".

Honrando a su familia
Aunque Caitlin desearía que su padre pudiera verla abrir el primer restaurante Chick-fil-A en Puerto Rico, ella sabe que está honrando su legado y haciendo que su familia se sienta orgullosa.

"Como tantas familias de inmigrantes, mi padre se sacrificó mucho y nos inculcó la importancia de la perseverancia'', compartió Caitlin. "Abrir este restaurante es un recordatorio de que definitivamente se puede lograr cualquier cosa que quieras, trabajando duro y todo, absolutamente todo, es posible".

Como la primera Operadora en la isla, con el apoyo de su esposo, familia y amigos, espera que su testimonio de perseguir su pasión inspire a otros a seguir sus sueños.


# # #