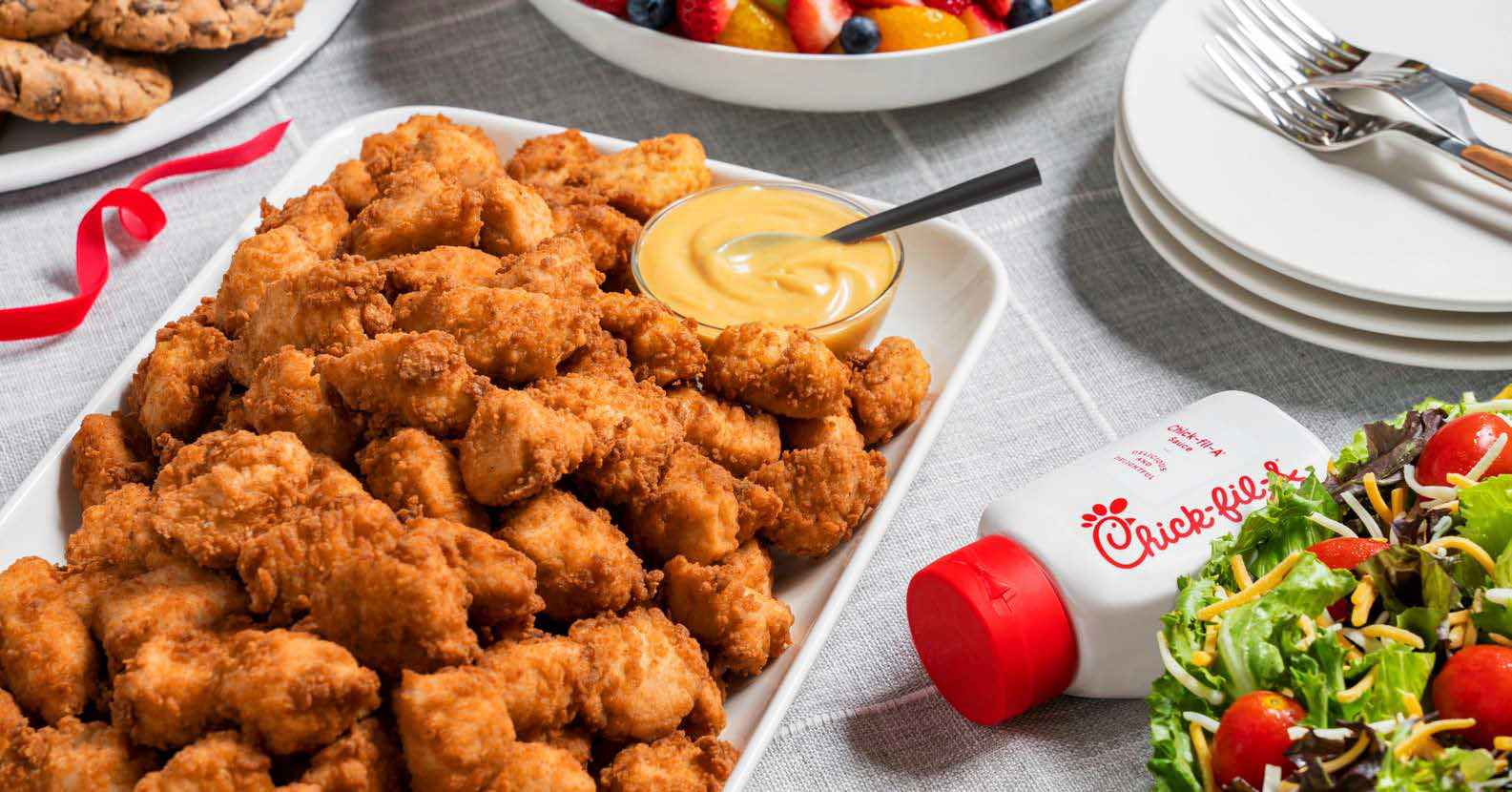 Make your summer stress-free  
From backyard barbecues and graduation parties to swim meets, summer weather brings an endless list of fun outdoor activities — and they often call for feeding a crowd. Knowing how much food to bring can be a challenge, though, which is why we created this handy guide for catering your next summer gathering.

Graduation celebrations

Turn the tassel with chicken in tow! The end of the school year calls for celebrating graduates' hard work and dedication towards their academics. Make the graduate's day effortlessly with fan-favorite catering trays like the Chick-fil-A Cool Wrap® Tray. When different dietary preferences come into play, try a Mac & Cheese Tray for a vegetarian option or a Garden Salad Tray for a gluten-friendly option. Elevate your buffet spread by transferring catered items to serving platters that embody your school colors.

Backyard barbeques

Ditch the burgers and hotdogs and take your backyard barbeque to the next level without the stress this summer. When it's too hot to be standing over the grill, enjoy your company and cater Chick-fil-A® Chicken Sandwiches instead. Pair the sandwiches with your favorite sides, like the Kale Crunch Side Tray, and finish off the meal with an ice-cold glass of Chick-fil-A® Lemonade with gallons available for pickup.

End-of-year parties

School's almost out, and it's time to kick off the summer. Between planning vacation and balancing the whole family's summer schedules, you've got more than enough on your plate. Let us make filling the plates at the end-of-year party easy. Order Chick-fil-A® Catering picks that are sure to be a hit, like a Chick-fil-A® Nuggets Tray and Fruit Tray (perfect for picky eaters!). Not sure how many mouths you'll have to feed? Add a medium Chick-n-Strips™ Tray. Just don't forget the sauce on the side!

Beach picnic

Make your beach vacation a breeze by ordering Chick-fil-A Catering for an evening beach picnic. Individual packaged meals make it easy for each person to personalize their picnic experience with their favorite Chick-fil-A entrée. Options include Chick-fil-A Chicken Sandwiches, Chick-fil-A Nuggets and Grilled Chicken Subs, always accompanied by a bag of Waffle Potato Chips and a Chocolate Chunk Cookie. Add a gallon of our Chick-fil-A Sunjoy® beverage for refreshments to sip on while you watch the sunset.

Swim meets

Whether a victory or consolation prize, the snacks waiting for the team after the meet are almost as fun as the meet itself. The Chocolate Chunk Cookie Tray will take post-swim snacks to the next level with large chunks of semi-sweet dark and milk chocolate combined with wholesome oats. You can even add single-serving milks, juices or waters to your catering order when you don't have a moment to spare.

Fourth of July

There are so many things to enjoy about the Fourth of July, including picnics, parades, fireworks and family time. Enjoy the activities throughout the day and make feeding the crowd easier. Order the Grilled Chicken Bundle, a spread that includes tender Chick-fil-A Grilled Chicken breasts, multigrain brioche buns, green leaf lettuce, tomatoes, Colby Jack cheese, applewood smoked bacon and Honey Roasted BBQ Sauce. Everyone can build their own grilled chicken sandwiches, which are packed with flavor and satisfy just about anyone. Eliminate a trip to the store by ordering a 5-lb. bag of ice, ice bucket and scoop so your drinks stay chilled.

Your day off

While summer is a time to slow down and relax, sometimes that isn't the reality. When your schedule gets hectic or you simply need a break from cooking, a Chick-fil-A Nugget Tray will suffice for lunch or dinner. Need an easy option that everyone will love on a Sunday? Just pick up a reheatable Chick-fil-A Nugget Tray the day before to heat and serve at your convenience.

Keep your summer simple

Catering orders are easy to place. Simply order online, in the Chick-fil-A® App or call your local restaurant to order all of your Chick-fil-A favorites for pickup or delivery. Whether using the app or ordering online, you can receive points with every qualifying purchase by logging into your Chick-fil-A One® account. After a couple of family gatherings, you will be a Chick-fil-A One Red Member in no time. For more information, visit our Catering FAQs.