ATLANTA (September 21, 2015) – Chick-fil-A announced today the rollout of a new Sweet & Spicy Sriracha dipping sauce, and customers in South Georgia, Florida, South Alabama and South Mississippi will be the first in the country to taste the spicy new menu addition. The Sweet & Spicy Sriracha Sauce will be available in select restaurants in Jacksonville, South Florida, South Georgia, Mobile, Ala., the Panhandle of Florida and South Mississippi, along with three new and improved sauce flavors: Smokehouse BBQ, Garlic & Herb Ranch and Zesty Buffalo.
The sauces will feature the following flavor profiles:
Sweet & Spicy Sriracha – A sweet and tangy sauce made with chili peppers for a spicy twist
Smokehouse BBQ – A smoky honey barbeque sauce, seasoned with a kick of black pepper
Garlic & Herb Ranch – A creamy buttermilk ranch with savory garlic, onion and herb flavors
Zesty Buffalo Sauce – A flavorful hot sauce with smooth, bold flavor
Chick-fil-A developed the sauces in a continued effort to meet changing customer preferences and flavor trends. The new sauces will replace the restaurants' current Ranch, BBQ and Buffalo sauces. The original Chick-fil-A Sauce and Polynesian Sauce will remain on the menu.
"We know customers are really passionate about our sauces, and Chick-fil-A is always looking to enhance its menu options to better suit our guests," said Amanda Norris, senior director of product development. "We think our new Sweet & Spicy Sriracha sauce, along with our other improved sauces, will be a delicious addition to our menu."
Earlier this year, Chick-fil-A announced that it would remove all high fructose corn syrup and artificial coloring from its sauces and dressings. Although only currently available in select South Georgia, Florida, South Alabama and South Mississippi restaurants, the new sauces are expected to be available nationwide by late 2016.
For more on Chick-fil-A's signature dipping sauces, please read more about "Which Sauce is Your Perfect Match."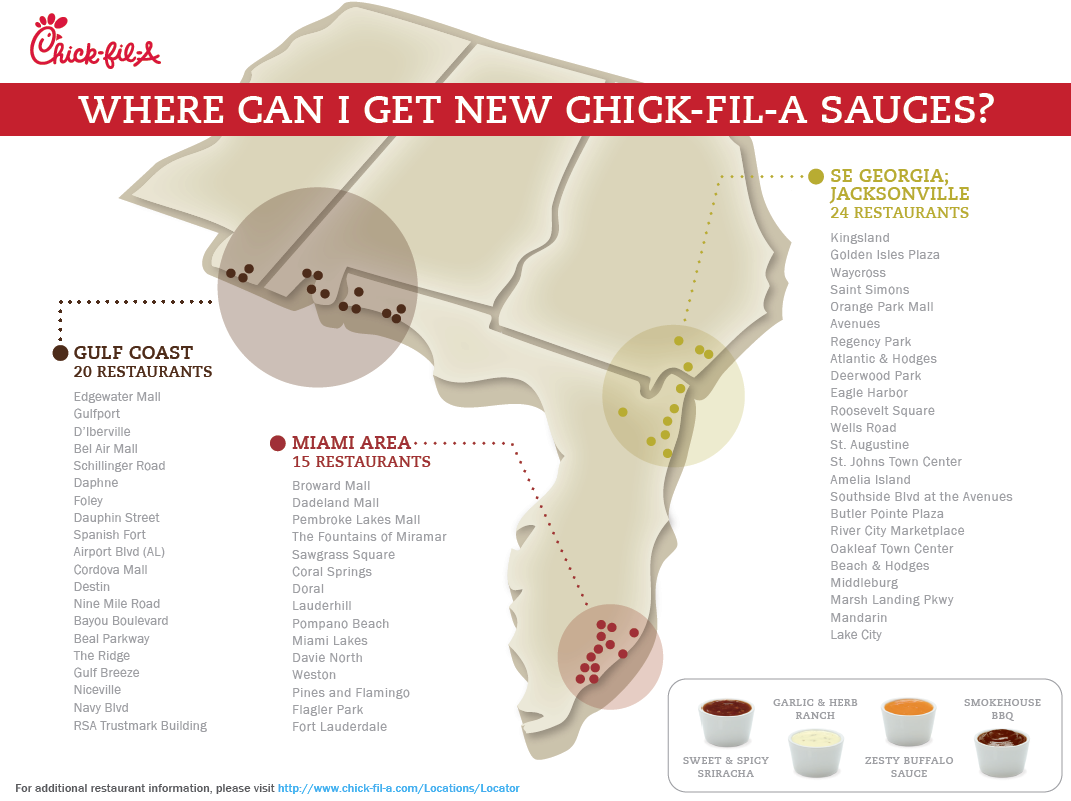 About Chick-fil-A, Inc.
Atlanta-based Chick-fil-A, Inc. is a family owned and privately held restaurant company founded in 1964 by S. Truett Cathy. Devoted to serving the local communities in which its franchised restaurants operate, and known for its original chicken sandwich, Chick-fil-A serves freshly prepared food in more than 1,900 restaurants in 42 states and Washington, D.C.
Chick-fil-A system sales reached nearly $6 billion in 2014, which marks 47 consecutive years of sales growth. Chick-fil-A ranked first for customer satisfaction in the Limited Service Restaurants industry according to the 2015 American Customer Satisfaction Index and received the highest ACSI score ever in the industry. The company was also recognized in 2015 as America's "Top Chicken Restaurant Brand" by The Harris Poll and the only restaurant brand named to the Top 10 "Best Companies to Work For" by 24/7 Wall Street. More information on Chick-fil-A is available on the chain's website located at www.chick-fil-a.com.