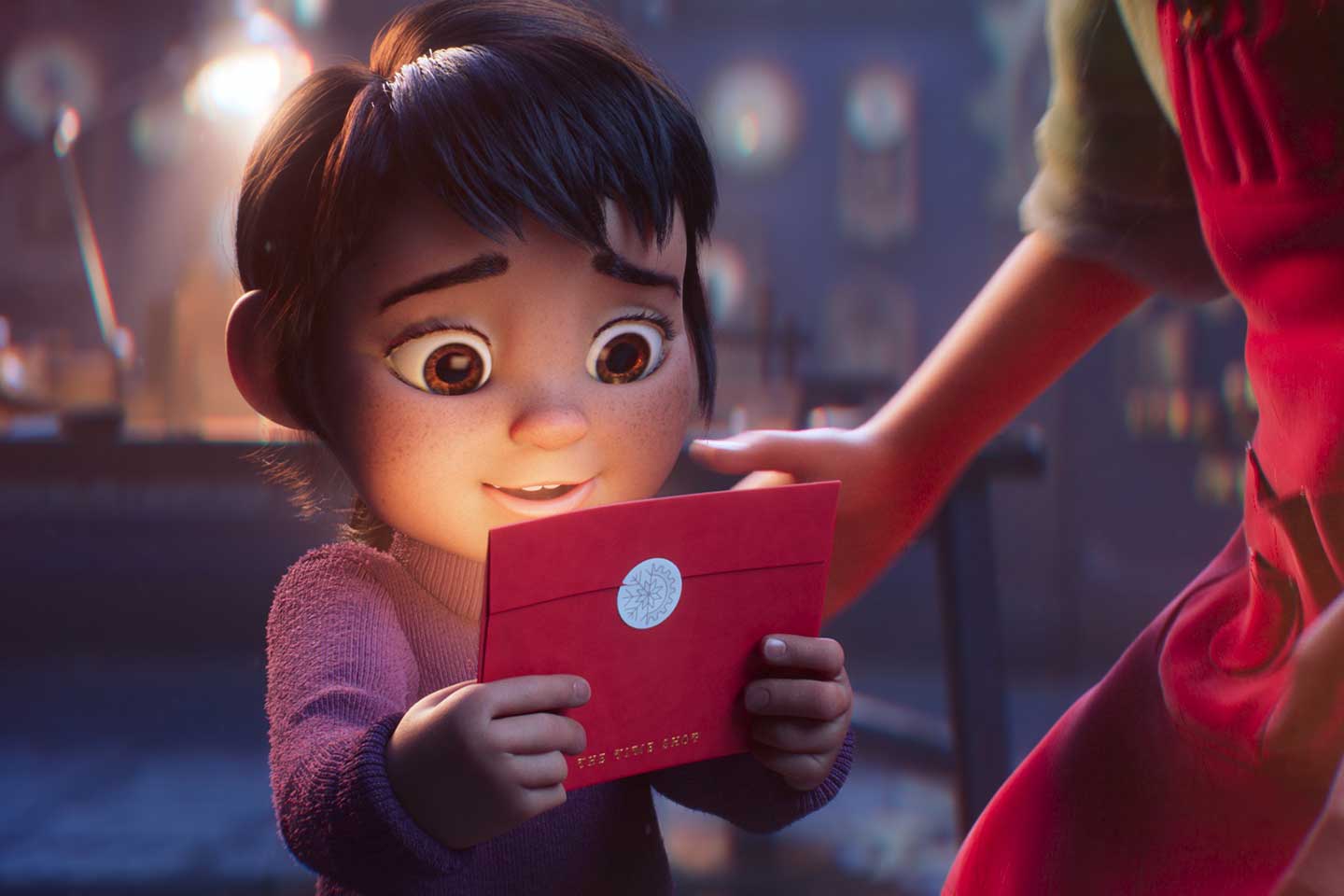 A recent survey reveals ¾ of people want time with the people they love more than presents.
Since first opening its doors, Chick-fil-A has valued quality time together. From building relationships with guests, to encouraging shared moments between friends and families, togetherness has been at the core of our business. And this holiday season, we wanted to extend that spirit of "Together Time" even further.
We are doing that through our first ever animated short film, launched on Thanksgiving Day and introducing the idea of Together Time—an affectionate term for quality time and the foundation for this year's campaign to inspire people to gift time during a notoriously hectic season.
The film follows Sam, a child eager to spend time with her kind, but distracted family. Once she discovers The Time Shop, a magical world she enters through her family's grandfather clock, she's introduced to a timekeeper who ultimately gifts her family what she dreamt of all along: a chance to make a snowman — together.
The story is woven throughout Chick-fil-A's newest campaign, which comes to life both online and in New York City. Virtually through www.chick-fil-a.com/timeshop anyone can submit and gift custom Time Cards (a written commitment to spend quality time together) to loved ones and Chick-fil-A will handle printing and shipping the cards at no cost. In New York City, people can experience the real Time Shop Pop Up in SoHo open December 4-17 (closed on Sundays). Inside guests can move among time zones themed around "Story Time," "Play Time," "Snack Time" and "Giving Time" where they can make their time card requests in-person to on-site calligraphers.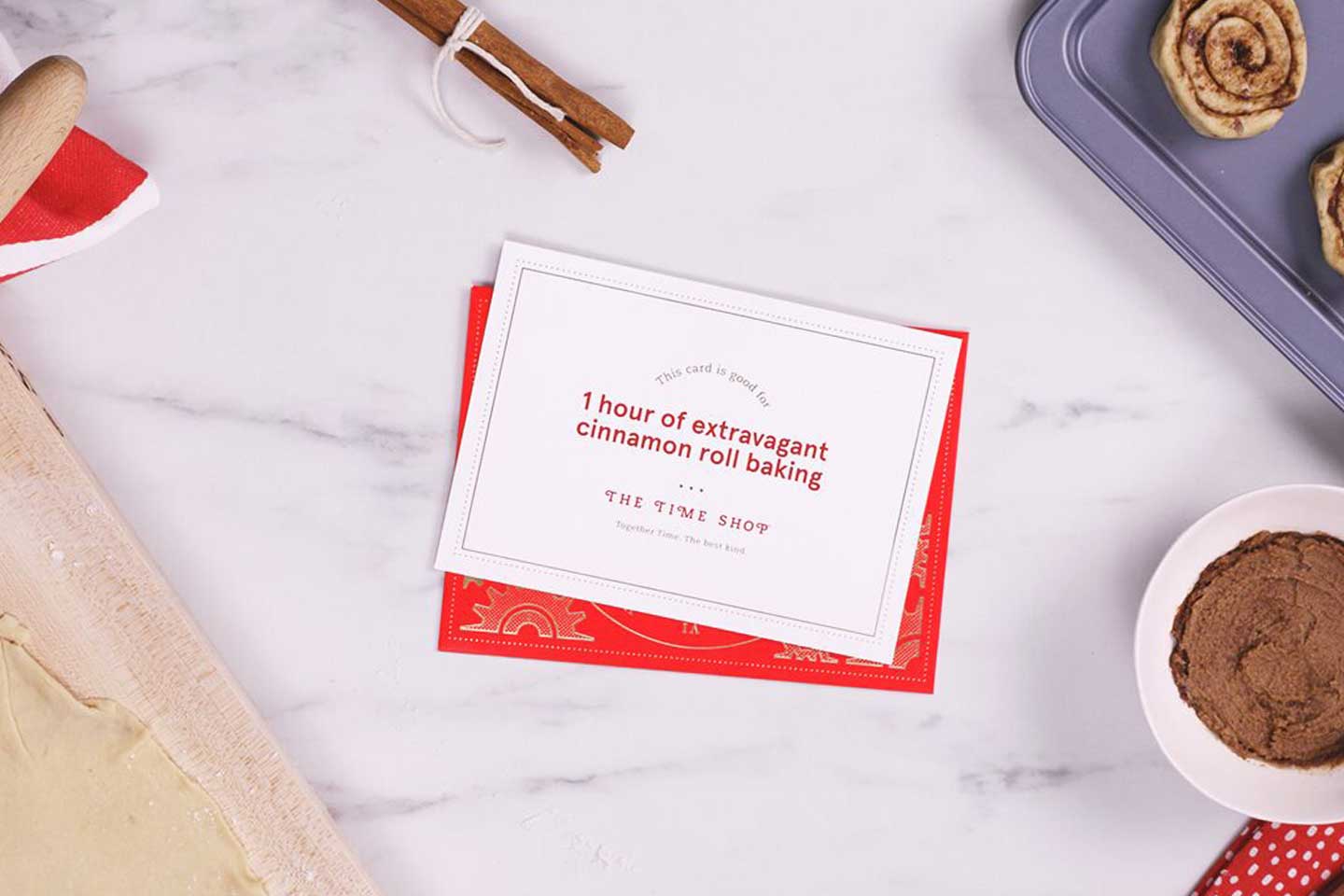 The Gift of Time
The campaign explores a new approach to celebrating the holidays for Chick-fil-A.
"Our goal is to help people find time for each other especially during the holidays and Christmas when there are so many distractions and demands competing for our time," says Ashley Callahan, Chick-fil-A senior marketing director.
The campaign is rooted in research, with a recent survey commissioned by Chick-fil-A revealing that 93-percent of respondents said quality time together is the single most important ingredient to creating favorite holiday memories, in front of food, decorating, music, parties and gifts.
"The research confirms what we see every day in our restaurants. From parents with kids and bags in tow, to folks trying to get to out the door to work, we're all strapped for time and longing for meaningful, human connection." says Callahan. "And It's really in the DNA of our business to try and give people time back."
While the campaign presents the company's first time-centered messaging, in practice Chick-fil-A restaurants are closed every Sunday to give local franchise Operators and their Team Members quality time back with their family and friends, and drive-thru iPad ordering and the Chick-fil-A app are designed to give guests minutes back in their day.
Time to Remember
Nearly everyone is time-starved these days, with 73-percent of survey respondents saying they want more time together with people they care about. More than half (57-percent) of Millennials say they would sacrifice social media to spend more quality time with people they care about and nearly half (48-percent) of parents said they would be willing to work less to spend more quality time with people they care about.
"Years from now we might not remember what gifts we received, but we will remember how it felt to be with the people we love," added Callahan.
And the benefits of together time are endless, with 56-percent of people saying quality time together brightens their day and 42-percent saying it reduces stress.
The Time is Now
While Sam may be the face of the animated film, the intent is to inspire real people to make meaningful time commitments with friends and family.
For Callahan, a mother of two small children, time is always ticking. "I'm a working mom too and I don't want to miss it. It's hard to create uninterrupted time to spend together. Sometimes we all just need a little inspiration, and that's what we hope to give to people this December."
Experience the campaign and create your own gift of time card at www.chick-fil-a.com/timeshop.
Participating restaurants nationwide will also offer time cards for customers to fill out in person, while supplies last.