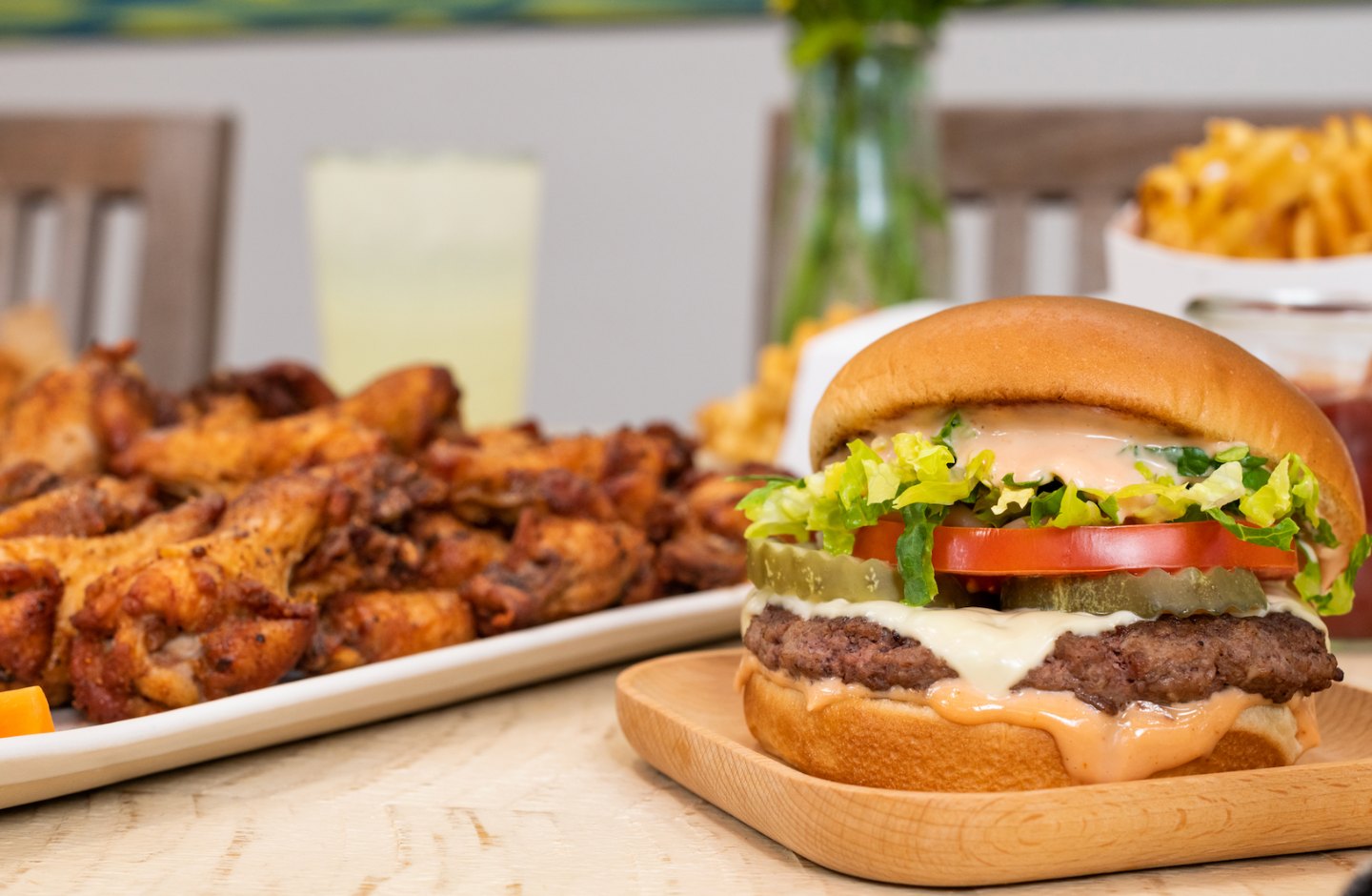 COLLEGE PARK, Md. (Sept. 7, 2023) – Little Blue Menu®, created by Chick-fil-A®, is delighted to announce the opening of its College Park location on Thursday, Sept. 14. A nod to Chick-fil-A Founder S. Truett Cathy's original blue menu at the first Chick-fil-A location, Little Blue Menu allows guests to order Chick-fil-A classics alongside soon-to-be favorites like wings and burgers. Through digital ordering only, guests can enjoy Little Blue Menu for pick-up, delivery and catering.
The food: Familiar favorites + new noshes

Created to test and innovate new menu items, Little Blue Menu offers a variety of tastes, including Chick-fil-A favorites, all prepared under one roof. With a delectable array of culinary delights, ranging from crispy chicken wings to no-fuss burgers, complemented by a selection of sides such as golden-brown onion rings, sweet potato tots and crispy brussels sprouts, mealtime decisions have never been easier… or more flavorful.

Senior Culinary Lead Developer Stuart Tracy created the menu from scratch, testing hundreds of recipes until the new menu items were born.

"Little Blue Menu is a great opportunity to expose people to new flavors," said Tracy. "Now more than ever, people are looking for easy, convenient and most importantly, delicious delivery options, and we're excited to provide that in College Park."

The digital download

Little Blue Menu will offer multiple options for guests to experience our food, including Little Blue Menu delivery, third-party delivery (Chick-fil-A menu items only), mobile pick-up and catering pick-up. All orders will be placed through the Chick-fil-A® App.

Caring for the community

Nestled in the heart of College Park, Little Blue Menu aims to provide ever-changing, fresh culinary experiences to the vibrant community. Guest feedback will be a priority that will help evolve the thoughtfully curated menu and improve customer experience.

"College Park is a hub for innovation, so we can think of no better place to introduce Little Blue Menu and give customers more of what they want," said L.J. Yankosky, senior director of the innovation and new ventures team at Chick-fil-A. "We can't wait to serve the community and become an integral part of the local dining scene."

Little Blue Menu also aims to be a hub for employment for approximately 125 full- and part-time Team Members. As a highly valued part of the team, the restaurant will invest in its people by proudly offering flexible work hours and leadership growth, competitive wages and benefits, hands-on training and mentorship opportunities.

Linking up locally
To lean into a Maryland favorite, Little Blue Menu is excited to offer OLD BAY® as an option in the Sauces & Seasoning section of the menu. The tried-and-true seasoning is the perfect topping to menu items across the board from french fries to sweet potato tots to onion rings.

"Born on the bay and loved across the USA – nothing says Maryland pride like OLD BAY," said Senior Director of Marketing & E-Commerce Luna Ravenna of McCormick & Company. "We're thrilled to combine the beloved flavors Marylanders know and love with Little Blue Menu's offerings."

Additionally, giving back locally will be a priority for the Little Blue Menu team. In celebration of the opening, Chick-fil-A, Inc. will donate $25,000 to Feeding America to support local hunger relief efforts of Capital Area Food Bank, a certified member of Feeding America, in honor of the new restaurant.

Shortly after opening, Little Blue Menu will participate in Chick-fil-A Shared Table®, an initiative that redirects surplus food from the restaurant to local soup kitchens, shelters, food banks and nonprofits in need. To date, more than 20 million meals have been served nationwide from Chick-fil-A Shared Table donations.

Little Blue Menu College Park will be open from 6:30 a.m. to 10 p.m., Monday through Saturday. For the latest news and updates on Little Blue Menu, visit littlebluemenu.com or follow Little Blue Menu on Facebook or Instagram.

About Little Blue Menu

Little Blue Menu® is an innovative kitchen brand created by Chick-fil-A®, inspired by the founder of Chick-fil-A's first restaurant established in 1946, where he tested different menu items and presented them on a blue menu. Beyond the Chick-fil-A menu, the Little Blue Menu concept offers a variety of food options, ranging from smoked bone-in wings to no-fuss burgers, to satisfy multiple cravings in one order. Little Blue Menu offers digital ordering for pick-up, delivery and catering. For more information, visit littlebluemenu.com.
###
Contact: Media Hotline: (800) 404-7196
Email: cfapressroom@chick-fil-a.com
Twitter: @ChickfilANews