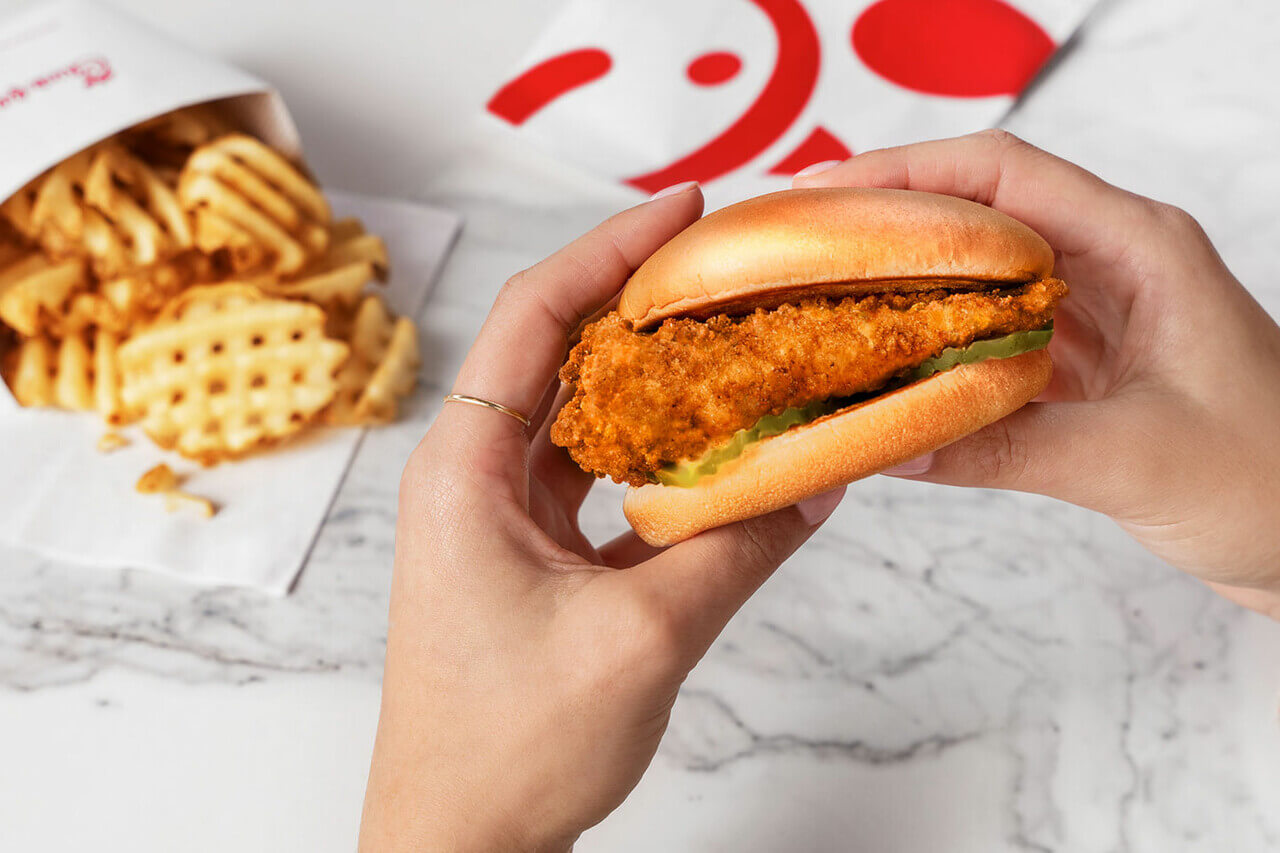 What makes it a Chick-fil-A original? Everything.
Since its debut in the early 1960s, the original Chick-fil-A® Chicken Sandwich has been a fan-favorite for millions of people nationwide. What's the secret to its popularity?
While it seems simple – just a lightly breaded chicken breast with two pickle chips between a toasted, buttery bun – every part of the Chick-fil-A Chicken Sandwich is truly an original at Chick-fil-A. And it all goes back to the creation of this sandwich more than 50 years ago.

How it all began

The invention of the Chick-fil-A Chicken Sandwich began as the solution to an interesting problem. In the early 1960s, Truett Cathy was running a successful restaurant called The Dwarf Grill (now called The Dwarf House®) in the Atlanta suburb of Hapeville, Georgia, when he was approached with an offer.

A local poultry supplier had been tasked by an airline to provide a boneless, skinless chicken breast that would fit in the trays of in-flight meals. The supplier met the challenge but ended up with quite a few chicken breast pieces that didn't meet the airline's size requirements. The supplier asked Truett if he could use them. Determined not to let the opportunity pass him by, Truett accepted the order.

An innovative cooking method

Truett had considered adding chicken to the menu at The Dwarf Grill before, but it took too long to cook for his time-crunched lunch patrons – mostly nearby shift workers. What he needed was a new way to cook it.

Truett thought back to his mother's method of cooking chicken, in which she would cover the pan with a heavy top to simulate a pressure cooker. When Truett tried this in his own restaurant, he found that the chicken cooked faster while remaining tender. So he purchased a commercial pressure cooker that could cook a juicy, tender boneless chicken breast from start to finish in just four minutes.

Quality ingredients

The cooker itself is only part of what made Truett's chicken unique. Since the very beginning, Chick-fil-A's chicken has been cooked in peanut oil. Truett preferred the flavor of peanut oil because it didn't overpower the taste of the chicken. More than 50 years later, Chick-fil-A still uses this method.

The secret breading recipe

When Truett first started developing his chicken recipe, he experimented with many different seasonings – always searching for the perfect combination. Each time, he would ask his customers to taste it and offer feedback, until he finally developed the perfect mixture of spices – more than 20 in all!

Don't change it again

Once Truett had his perfectly seasoned chicken breast, he needed to find the best way to serve it. His decision to put the smaller cut of meat between two buttered buns and serve it as a sandwich was a game changer. But it wasn't complete yet. When he finally added two crucial dill pickle chips, his customers said it was just the right touch.

After countless experiments in The Dwarf Grill, Truett knew he had the perfect sandwich when he got his final round of feedback from customers: "We like it. Don't change it again."

Truett folded up the recipe and put it in his pocket. From there, the Chick-fil-A Chicken Sandwich was born. Today, Truett's recipe – still unchanged – is locked in a vault at the Chick-fil-A corporate Support Center in Atlanta, Georgia.

What is it that makes this simple sandwich a Chick-fil-A original? Every single part of it.