Become an Operator
Our franchised Operators are the backbone of the Chick-fil-A chain. Chick-fil-A, Inc. stands ready to support each franchisee and to honor our heritage by fostering their dreams. Taking that commitment seriously, we are looking for long-term partners who are a good fit–and we know our Operators are, too.
Express Domestic interest here
Express Canadian interest here
Take the next step
The Chick-fil-A franchise opportunity represents an exceptional offering in the quick-service restaurant industry. For an initial financial fee of $10,000 selected franchisees (who we call Operators) are granted the rights necessary to operate a franchised Chick-fil-A Restaurant business. Chick-fil-A, Inc. is also looking for people interested in franchised locations in Canada for an initial investment of $15,000 (CAD). The Chick-fil-A franchise opportunity requires that the individual be free of any other active business ventures and operate the restaurant on a full-time, hands-on basis.

Chick-fil-A Operators must successfully complete an extensive, multi-week training program prior to taking over operation of a franchised Chick-fil-A restaurant business. With additional development courses and franchise support available, Chick-fil-A Operators are equipped to handle decisions and reap the rewards of a challenging business.
You might be a great fit with
Chick-fil-A

if you:
Are looking for a full-time, "hands-on" business opportunity.
Have a proven track record in business leadership.
Have successfully managed your personal finances.
Are a results-oriented self-starter interested in starting and growing a business.

Are prepared to have no other active business venture.
This is not the right opportunity for you if you:
Are seeking a passive investment in a business.
Want to sell property to

Chick-fil-A

, Inc.
Are requesting that

Chick-fil-A

, Inc. build at a specified location.
Are seeking multi-unit franchise opportunities.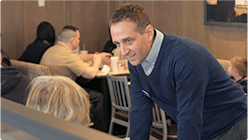 Opportunity Awaits
Ready to jump in? The first step is to complete our Franchise Expression of Interest Form.

Express Domestic Interest Here

Express Canadian Interest Here
Operator Stories
Restaurant Operators come from a variety of backgrounds and work experiences. Learn firsthand what it's like to be a Chick-fil-A franchisee.
It's no wonder Chick-fil-A Team Members are always smiling!
Working at a Chick-fil-A restaurant may include a few things one would expect – preparing food, taking orders and serving guests. However, Chick-fil-A Team Members tell us that it's the unexpected experiences that makes the real difference.
Read 4 perks of working at Chick-fil-A's
Webinars
*Webinar details are disclosed at time of registration. Your health and safety are our first priority, so we've converted all March and April Information Sessions to Webinar events.
Emerging Markets
Future Chick-fil-A restaurant locations are determined solely by Chick-fil-A, Inc. based on the company's goals for system-wide expansion in specifically targeted markets. Below is a list of areas we're targeting in the coming 12-24 months.
Arizona
California

L.A. County
Orange County
San Diego County
San Francisco Bay

Colorado
Connecticut
Florida
Georgia
Illinois
Iowa
Kansas
Maine
Maryland
Massachusetts
Michigan
Minnesota
Missouri
Nebraska
Nevada
New Hampshire
New Jersey
New York

Long Island
New York City

North Dakota
California
Oregon
Pennsylvania
Rhode Island
Texas
Utah
Washington
Wisconsin
* All locations are disclosed at time of registration.
Show

Hide

All Target Areas