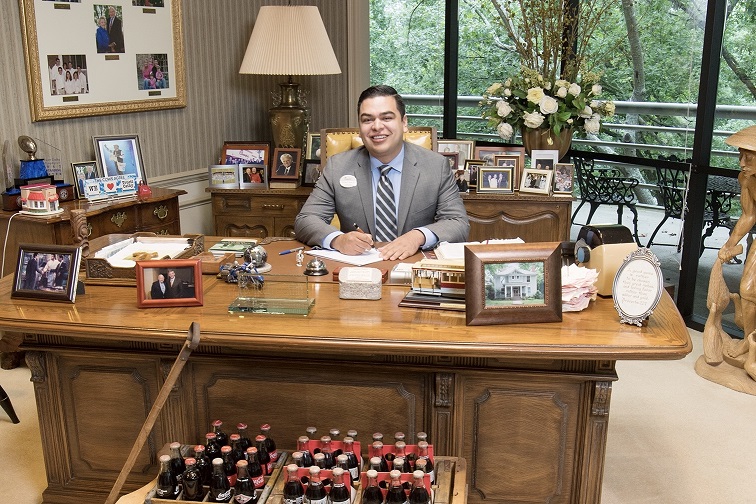 For Enrique Baca of Texas, being an Operator is about impacting others
Enrique Baca was nervous as he boarded an airplane. The 20-year-old was afraid of heights, but excited about what was to come.
It was 2016. Baca, a Chick-fil-A® restaurant Team Member from Laredo, Texas, was traveling to Atlanta to enter the restaurant chain's Leadership Development Program. He was leaving behind his hometown and entering a pipeline that would dispatch him to several cities over the next two years in support of various Chick-fil-A restaurant openings.
"I thought, 'What am I getting myself into?'" he recalled.
Charting a new path
It was on that first plane ride that Baca's life truly changed. "The most I had seen of the world was South Texas," he said. "Chick-fil-A gave me the opportunity to see so much more."
In the next 18 months, Baca would travel to Chicago; Oklahoma City; Stillwater, Okla.; Long Beach, Calif.; Houston; Santa Fe, N.M.; and San Antonio. Fast-forward to 2018, and Baca, at 24, became one of the youngest Chick-fil-A Operators in the company, at Chick-fil-A Cielo Vista Mall, in El Paso, Texas.
When he was selected to become an Operator, "I bought a car, filled it with everything I owned, drove to El Paso and started my new life," he said.
Another first-time flight
Baca didn't know it back then, but his maiden airplane voyage would put him in a position to impact the life of another person.
Like Baca, Rene Contreras was nervous as he boarded an airplane for the first time. The 23-year-old was afraid of heights, but excited about what was to come.
It was 2019. Contreras was traveling from El Paso to Guatemala. "I was so excited to travel, let alone fly," Contreras recalled.
Contreras was an assistant manager at Baca's El Paso restaurant. Baca invited Contreras to join him on a trip to Guatemala to tour the farms that supply THRIVE Farmers® coffee, which supplies Chick-fil-A with its entire stock of java.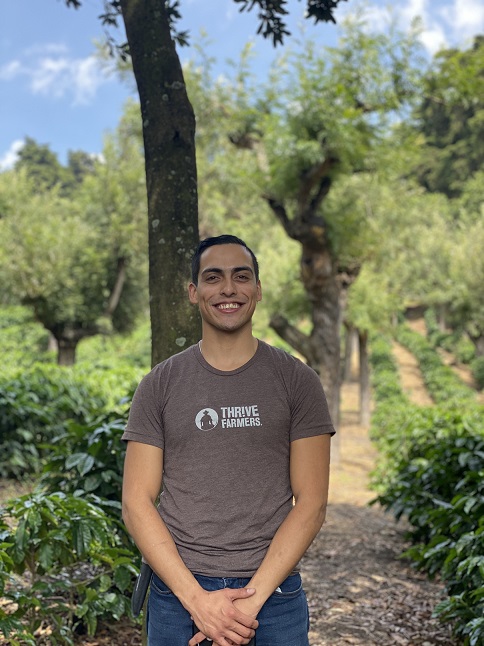 Just a year beforehand and before beginning work at Chick-fil-A, Contreras says he was struggling financially and emotionally, toiling in two jobs and caring for an infant son. One day, Baca walked into a steakhouse where Contreras was waiting tables. The two got to talking. Baca was impressed by the young waiter's charisma. Weeks away from his restaurant's grand opening, he offered Contreras a job on the spot.
Contreras reminded Baca of himself: a border-town Texan with a strong work ethic who had never left home despite ambitions to travel the world.
A year later, when Baca was tapped to travel to Guatemala on behalf of Chick-fil-A, he asked Contreras to join him.
"I knew this would be a life-changing trip for Rene," said Baca. "He's a great storyteller. This was an opportunity for him to bring back the stories of another community and share them with his own."
Impact beyond the restaurant
During the trip, Baca and Contreras met the farmers who harvest THRIVE Farmers Coffee. Chick-fil-A launched its partnership with THRIVE Farmers Coffee in 2014. Ever since, THRIVE Farmers have sourced coffee directly from individual farmers to supply Chick-fil-A proprietary blends.
"We learned how Chick-fil-A impacts more than customers, but an entire community of coffee farmers," recalled Baca. He noted that the values espoused by the farmers mirrored those of Chick-fil-A founder Truett Cathy. "They talked about being good stewards and managing resources that were entrusted to them. That was aligned with Truett's principles."
The experience was emotional for Contreras, who shed a few tears, moved by the kindness and tenacity of the farmers. He later celebrated his 24th birthday overlooking the Guatemalan mountains with a group of villagers. Baca surprised him with a cake. The trip, he said, "was one of the biggest highlights of my life."
Recently promoted to director of operations, Contreras credits Baca for turning his life around.
"He gave me a job that allowed me to take care of my son, and then he gave me that airplane ticket," Contreras said. "Having a mentor like Enrique to guide me has been such a privilege."
For Baca, being a mentor is something he takes pride in, and he cherishes the way he's able to invest in his Team Members' lives.
"I am no one without my Team Members," he said. "They inspire me every day."
---
Enrique Baca estaba nervioso cuando subió a un avión. El joven de 20 años tenía miedo a las alturas, pero estaba emocionado por lo que vendría.
Era 2016. Baca, un Team Member del restaurante Chick-fil-A® de Laredo, Texas, viajaba a Atlanta para ingresar al Programa de Desarrollo de Liderazgo de la cadena de restaurantes. Estaba dejando atrás su ciudad natal y entrando en un viaje que lo enviaría a varias ciudades durante los próximos dos años en apoyo de varias aperturas de restaurantes Chick-fil-A.
"Pensé, ¿en qué me estoy metiendo?", recuerda.
Trazando un nuevo camino
Fue en ese primer vuelo que la vida de Baca cambió de verdad. "Lo más que había visto del mundo era el sur de Texas", dijo. "Chick-fil-A me dio la oportunidad de ver mucho más".
En los próximos 18 meses, Baca viajaría a Chicago; Ciudad de Oklahoma; Stillwater, Oklahoma.; Long Beach, California; Houston; Santa Fe, N.M .; y San Antonio. Avancemos rápido hasta 2018, y Baca, a los 24 años, se convirtió en uno de los Operadores de Chick-fil-A más jóvenes de la empresa, en Chick-fil-A Cielo Vista Mall, en El Paso, Texas.
Cuando fue seleccionado para convertirse en Operador, "compré un automóvil, lo llené con todo lo que tenía, manejé hasta El Paso y comencé mi nueva vida", recuerda Baca.
Otro vuelo que cambia la vida
Baca no lo sabía en ese entonces, pero su primer viaje en avión lo pondría en una posición para impactar la vida de otra persona, de una manera muy similar.
René Contreras estaba nervioso cuando subió a un avión por primera vez. El joven de 23 años le tenía miedo a las alturas, pero estaba emocionado por lo que vendría.
Era el 2019. Contreras viajaba de El Paso a Guatemala. "Estaba tan emocionado de viajar, pero no de volar", recuerda Contreras.
Contreras era subgerente en el restaurante de Baca de El Paso. Baca invitó a Contreras a acompañarlo en un viaje a Guatemala para recorrer las fincas que abastecen de café THRIVE Farmers®, quienes abastecen a Chick-fil-A con todo su stock de café.
Solo un año antes y antes de comenzar a trabajar en Chick-fil-A, Contreras dice que estaba luchando financiera y emocionalmente, trabajando duro en dos trabajos y cuidando de su bebé. Un día, Baca entró en un restaurante de carnes donde Contreras estaba sirviendo mesas. Los dos se pusieron a hablar. Baca quedó impresionado por el carisma del joven camarero. A semanas de la gran inauguración de su restaurante, le ofreció un trabajo a Contreras en el acto.
Contreras le recordaba a Baca a sí mismo: un tejano de una ciudad fronteriza con una fuerte ética de trabajo que nunca había salido de casa a pesar de sus ambiciones de viajar por el mundo.
Un año después, cuando Baca fue elegido para viajar a Guatemala en representación de Chick-fil-A, le pidió a Contreras que se uniera a él.
"Sabía que este sería un viaje que cambiaría la vida de René", dijo Baca. "Es un gran narrador de historias. Esta fue una oportunidad para él de traer de regreso las historias de otra comunidad y compartirlas con la suya ".
Impacto más allá del restaurante
Durante el viaje, Baca y Contreras conocieron a los agricultores que cosechan THRIVE Farmers Coffee.
Chick-fil-A lanzó su asociación con THRIVE Farmers Coffee en 2014. Desde entonces, THRIVE Farmers ha obtenido café directamente de agricultores individuales para suministrar mezclas patentadas de Chick-fil-A.
"Aprendimos cómo Chick-fil-A impacta más que a sus clientes, sino también a toda una comunidad de productores de café", recordó Baca. Señaló que los valores defendidos por los agricultores reflejaban los del fundador de Chick-fil-A, Truett Cathy. "Hablaron de ser buenos administradores y administrar los recursos que se les confiaron. Eso estaba alineado con los principios de Truett ".
La experiencia fue muy emotiva para Contreras, quien derramó algunas lágrimas, conmovido por la amabilidad y tenacidad de los campesinos. Más tarde celebró su cumpleaños número 24 disfrutando de las montañas de Guatemala con un grupo de aldeanos. Baca lo sorprendió con un pastel. "El viaje", dijo, "fue uno de los momentos más importantes de mi vida".
Recientemente ascendido a director de operaciones, Contreras le da crédito a Baca por darle un giro a su vida.
"Me dio un trabajo que me permitió cuidar a mi hijo, y luego me dio ese boleto de avión", dijo Contreras. "Tener un mentor como Enrique para guiarme ha sido un privilegio".
Para Baca, ser un mentor es algo de lo que se enorgullece mucho y aprecia la forma en que puede invertir en la vida de los Team Members.
"No soy nadie sin los miembros de mi equipo", dijo. "Me inspiran todos los días".