Chick-fil-A awarded 6,000 scholarships in 2019.
Since 1973, Chick-fil-A has invested in the dreams and futures of restaurant Team Members through scholarships and educational grants. Forty-six years later, the commitment to Team Members remains the same – and this year, Chick-fil-A is proud to award $15.3 million in scholarships to more than 6,000 deserving Team Members across the country through the "Remarkable Futures" education initiative.
To kick things off, Chick-fil-A Chairman and CEO Dan Cathy surprised 12 Team Members at the company's annual conference, announcing that each would receive a $25,000 True Inspiration Scholarship.
But that was just the beginning.
The celebrations continued throughout March as local Chick-fil-A franchise Operators present $2,500 Leadership Scholarships to 6,016 additional Team Members across 47 states.
"Chick-fil-A Team Members provide incredible service to our restaurant guests every day, but we know their commitment to excellence extends far beyond those four walls," said Rodney Bullard, vice president of corporate social responsibility at Chick-fil-A and executive director of the Chick-fil-A Foundation. "Many Team Members work part- or full-time while also pursuing their education and serving in their communities. And that's why we award Team Member scholarships – we want to help these emerging leaders achieve their educational dreams and create their own remarkable futures."
The True Inspiration Scholarship was created to honor Team Members who exhibit outstanding leadership, academic achievement and community involvement. Learn more about this year's True Inspiration Scholarship winners below.
Amy Gutierrez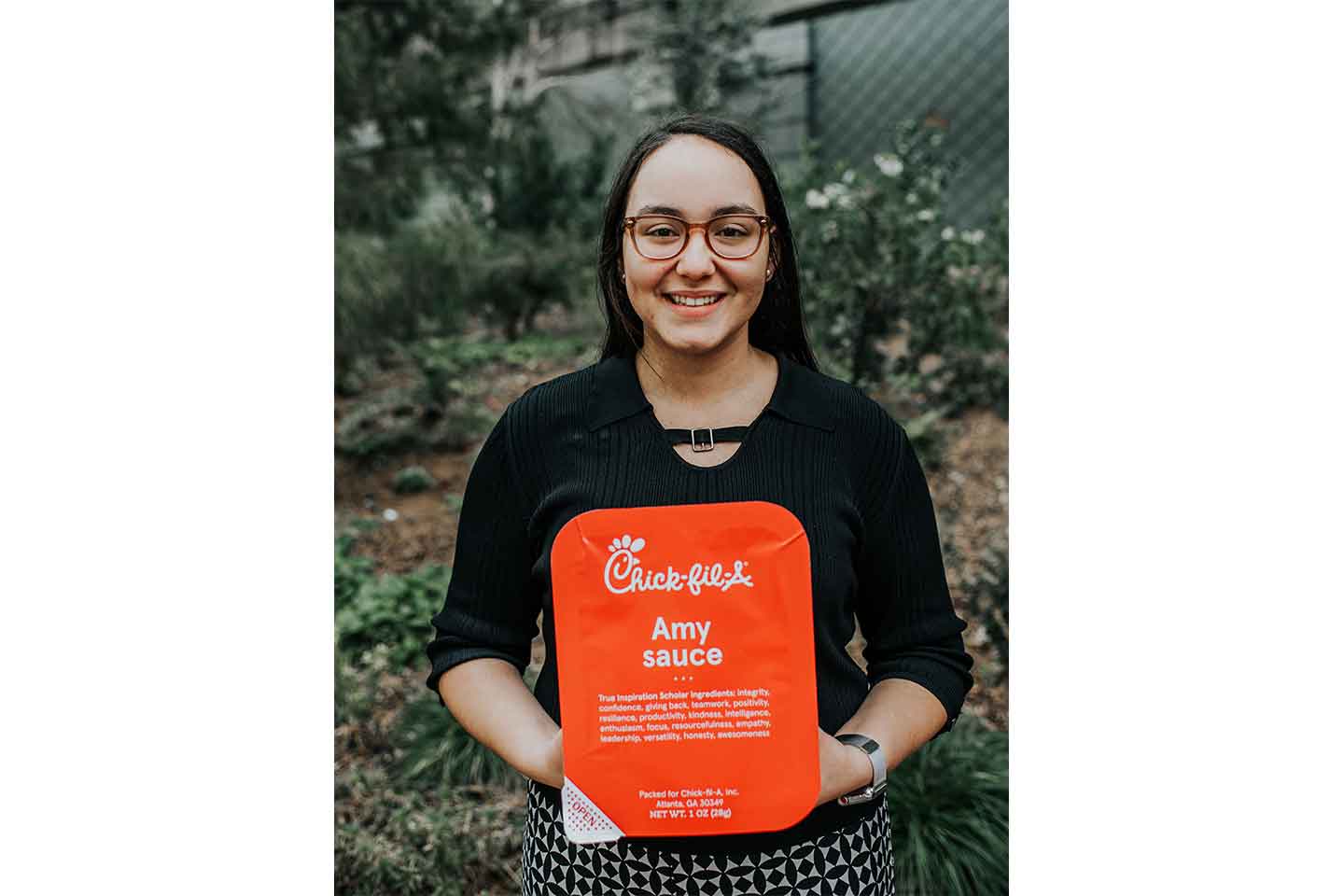 After losing her father to cancer as a child, Amy Gutierrez took on the responsibilities and displayed a level of motivation far beyond her years. She was determined to honor her father by creating a bright future for herself and her family, a goal that she achieves every day. In high school, Gutierrez maintained a perfect GPA, rose to the role of restaurant Team Lead after working just six months at Chick-fil-A Deerbrook Mall in Humble, Texas and was accepted to attend New York University, where she'll study mechanical engineering beginning fall 2019.
"You always hear about how Chick-fil-A takes good care of its customers, but as a Team Member, what I've experienced is how they take amazing care of us, too." says Gutierrez.
Corryn Barnes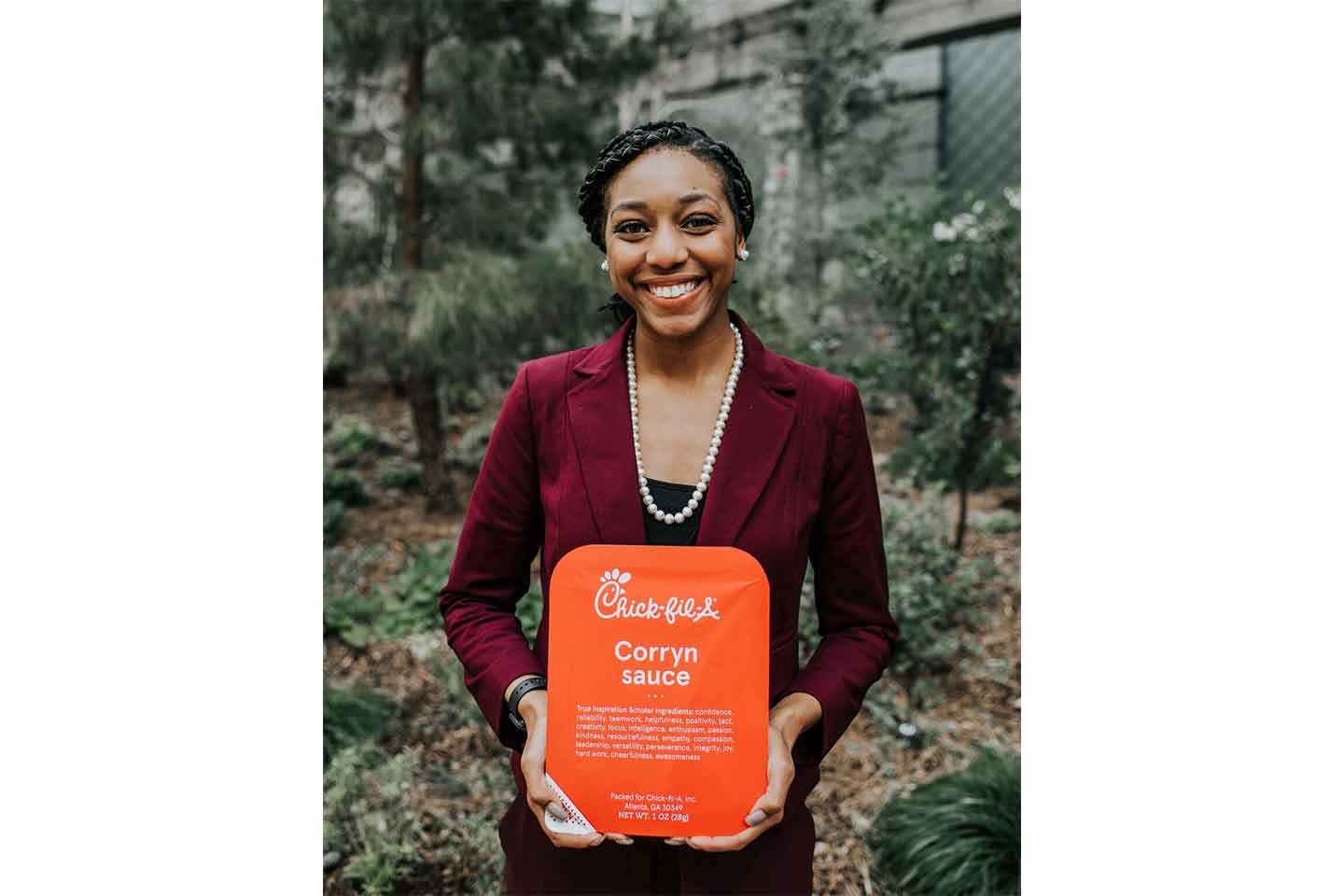 Corryn Barnes leads by example, and her contagious spirit continually sets the tone for those around her. She has worked at Chick-fil-A Western Boulevard in Jacksonville, North Carolina for three years as a Team Lead, ensuring her team provides guests with the best possible experience. Now, this scholar athlete has her sights set on the White House, with dreams of becoming a U.S. Ambassador and eventually running for president.
"This scholarship changes everything," says Barnes.
Barnes attends North Carolina State University, where she is studying political science with a focus on international politics as the first step in her journey to the White House.
Holmes Galiano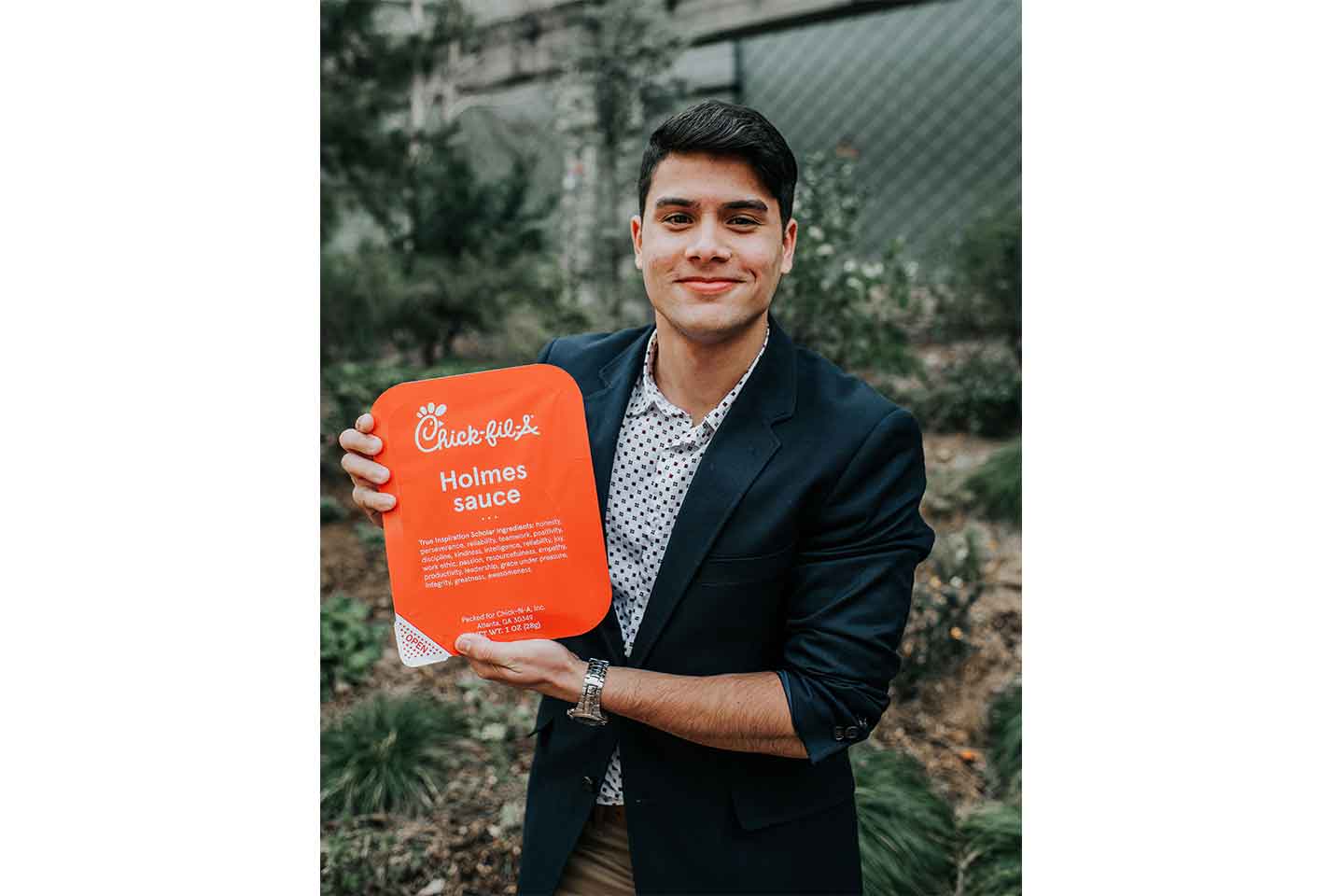 Holmes Galiano and his family left Cuba in search of a better life, arriving in the U.S. with their dreams and the determination to overcome the challenges of a new country. Over the next year, Holmes taught himself English, worked his way up to New Hire Trainer at Chick-fil-A Albany in Albany, Georgia, and logged 1,040 hours of community service.
"Chick-fil-A is more than a job to me," says Galiano. "It's the place where I made friends and where I learned English. They were there for me when I didn't have anything else."
Soon, Galiano will start classes at Lee University, where he will pursue his lifelong goal of becoming a doctor.
Jamie Oriente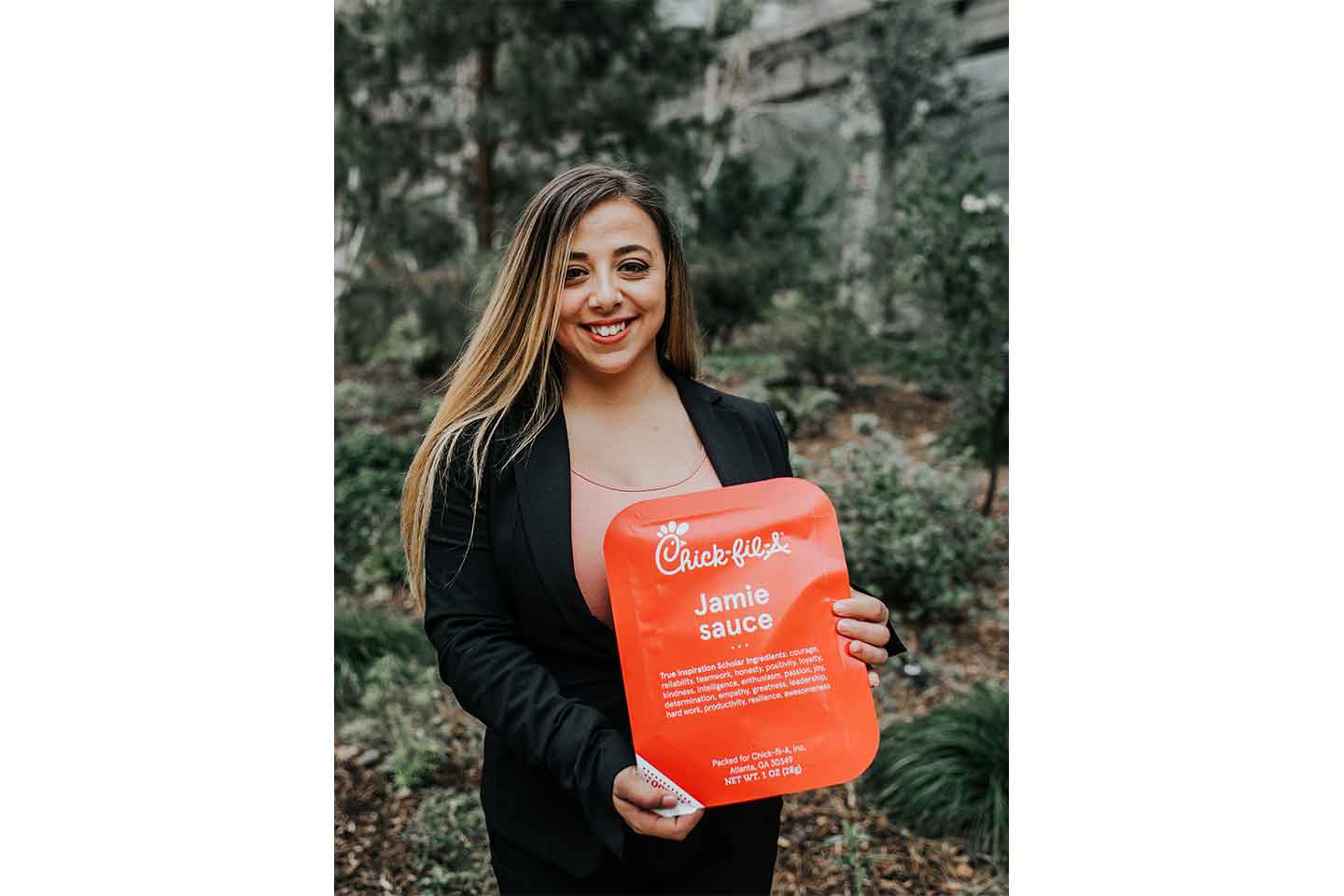 Two years after Jamie Oriente started college, looming student loans compelled her to put her dream of a degree on pause. She went to work at Chick-fil-A Fire Road in Egg Harbor Township, New Jersey, where she has spent the past year as the restaurant's New Hire Trainer and Team Leader.
"Someone saw my potential and how hard-working I am," says Jamie about winning the scholarship.
Jamie is looking forward to returning to school to complete her degree and, later, to pursuing a long-term career with Chick-fil-A.
Joshua David Lopez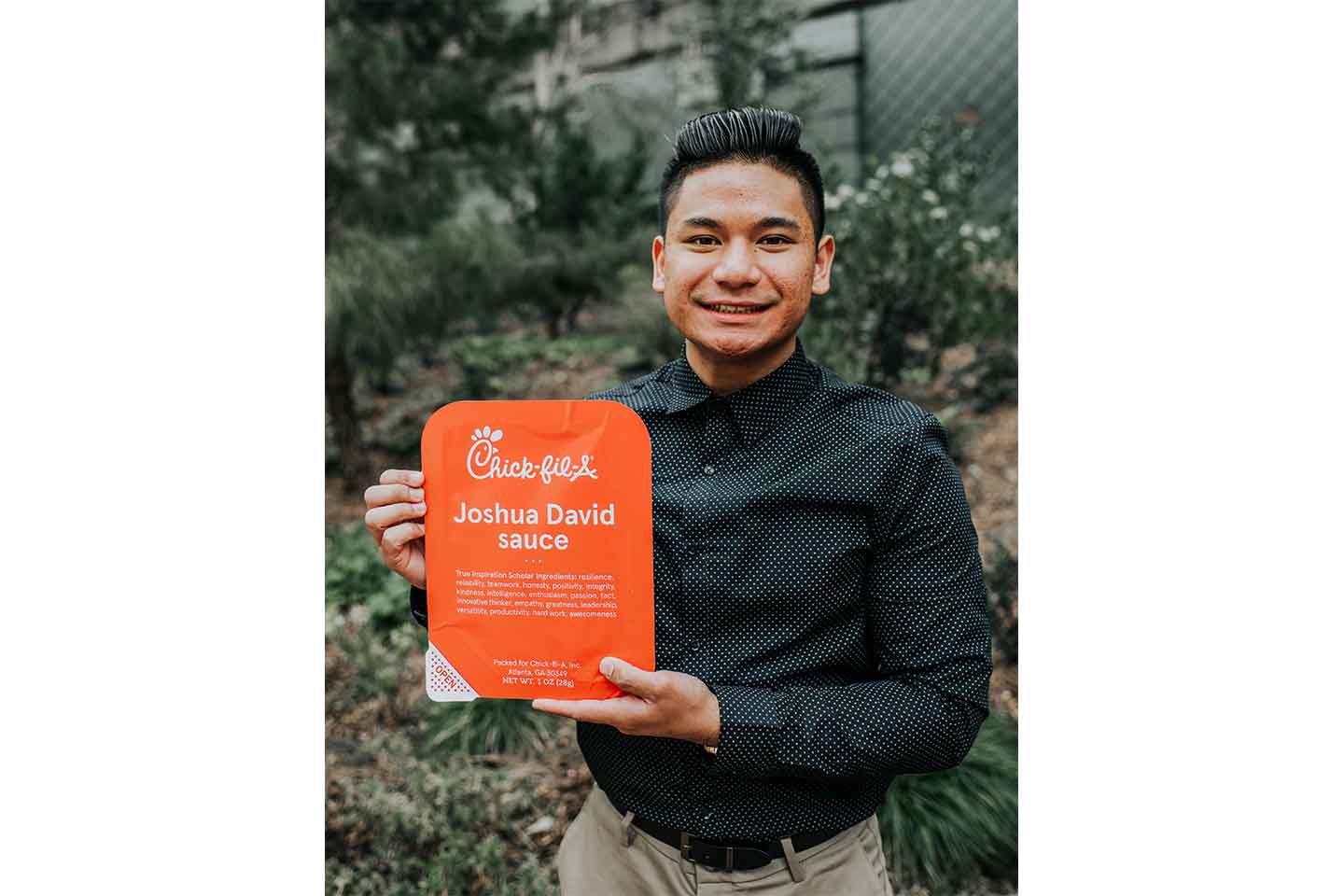 Joshua Lopez is a scholar athlete, devoted family member and a Team Member at Chick-fil-A Mowry Avenue in Fremont, California, where he has worked as the restaurant's Drive-Thru Director for two years. As Operator Daniel Kosin puts it, he is the kind of employee everyone wants, but few can find.
"It's a really humbling moment to know that the hard work and effort you put in gets rewarded," says Lopez.
Inspired by his own Operator, Lopez hopes to one day open a Chick-fil-A restaurant himself. He'll use this scholarship to pursue a degree in business administration, which he plans to utilize in future leadership roles at Chick-fil-A.
Kthi Aung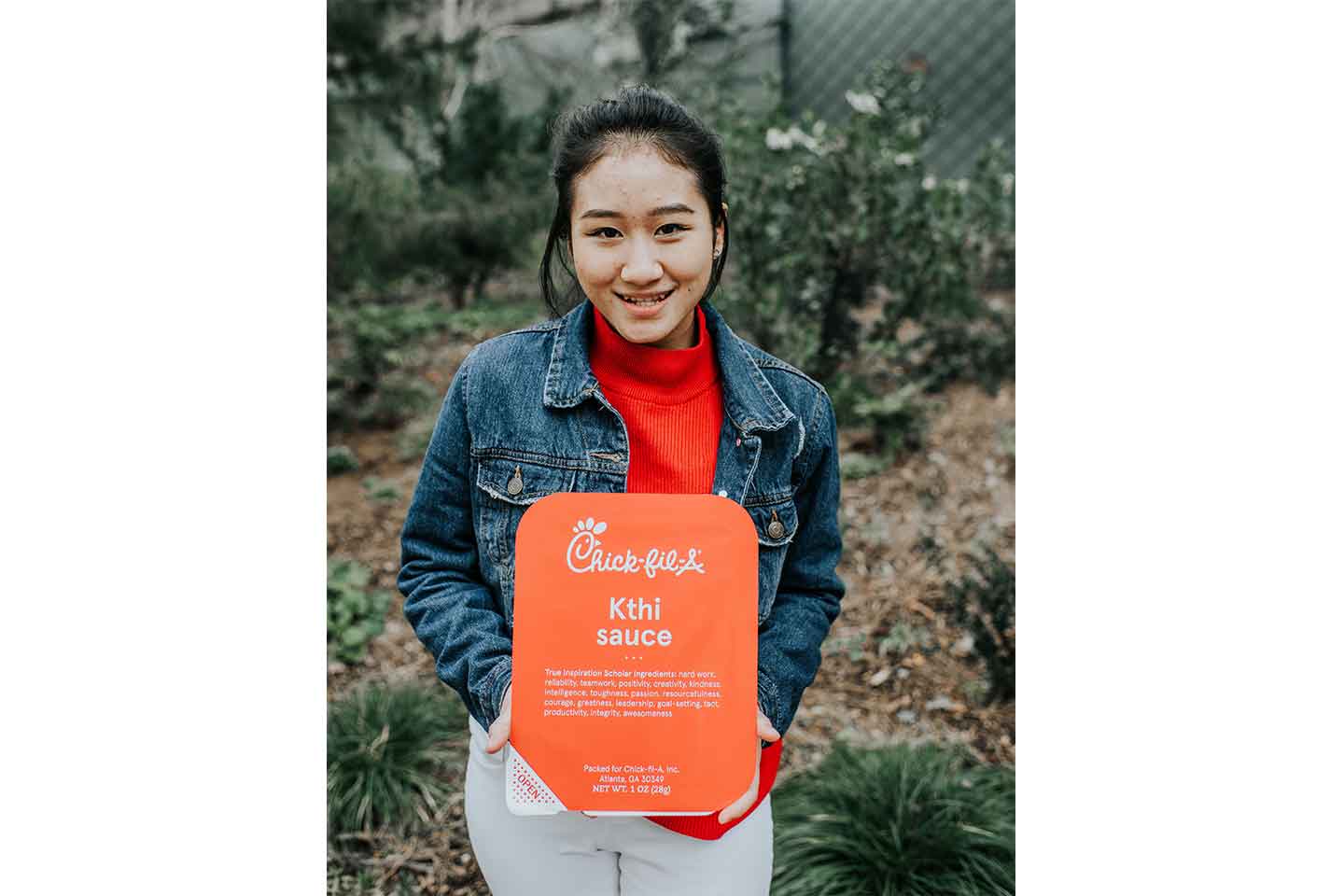 As a refugee from Thailand, Kthi Aung expected to face many challenges as she adapted to life in a new country. But she didn't expect to win a $25,000 scholarship to use for a college education.
"I was so surprised, I didn't know what to do!" says Aung.
Aung has been a Team Member at Chick-fil-A Davenport in Davenport, Iowa for two months, working as the sole provider for her family and saving what money is left in hopes that she could one day pay for college. With the help of the True Inspiration Scholarship, the price of a college education will be one less challenge for Aung to overcome.
Nathan Strong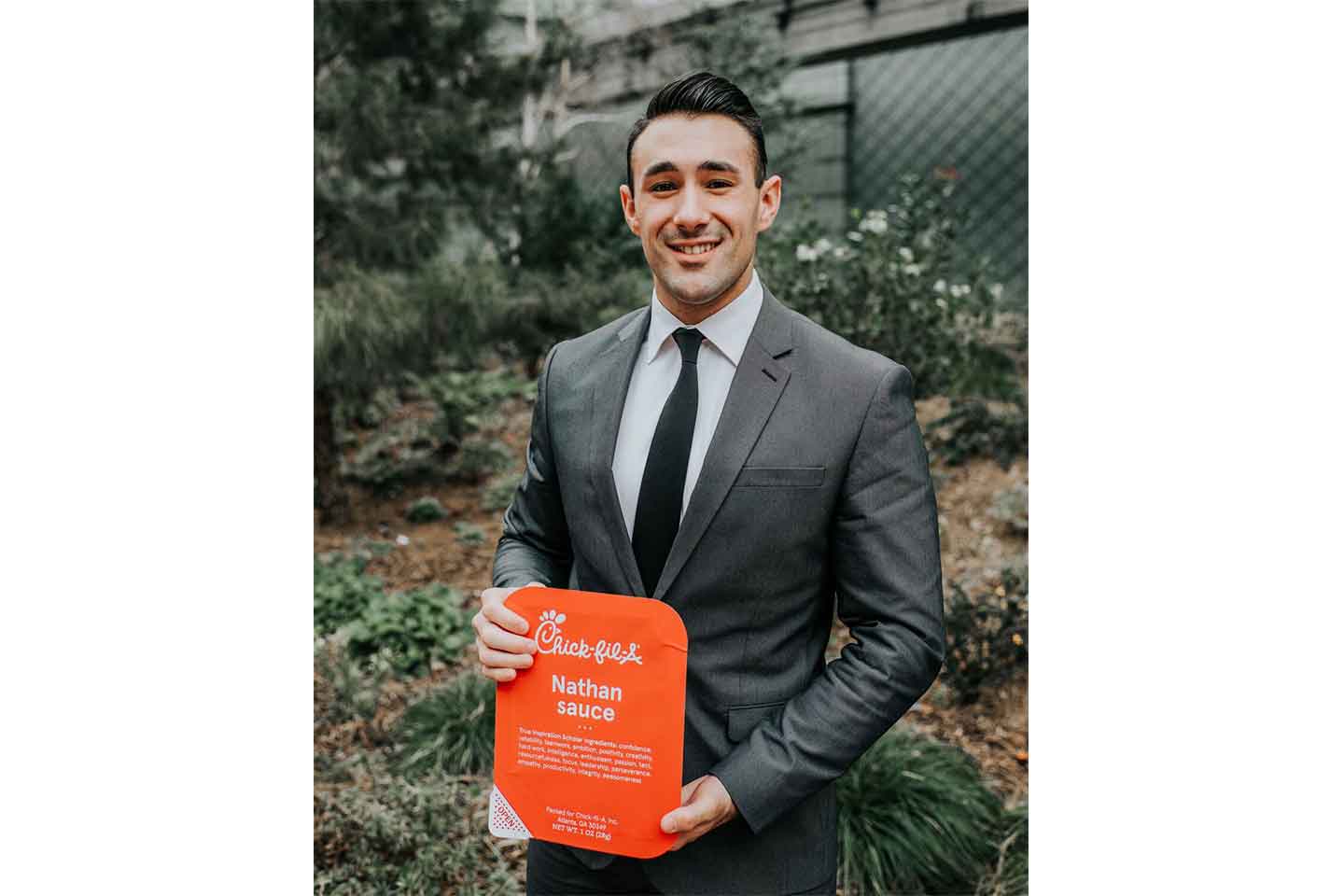 Nathan Strong has lived a life full of service, always putting the needs of others before his own. He is a proud member of the Army National Guard, a senior manager at Chick-fil-A Goose Creek in Goose Creek, South Carolina, and a disaster relief volunteer. As a Team Member of seven years, Strong says Chick-fil-A has changed his life in so many ways, but winning a $25,000 True Inspiration Scholarship was one he never saw coming. Now, he'll be able to return to school and complete the degree he's been saving for.
Nelson Rivera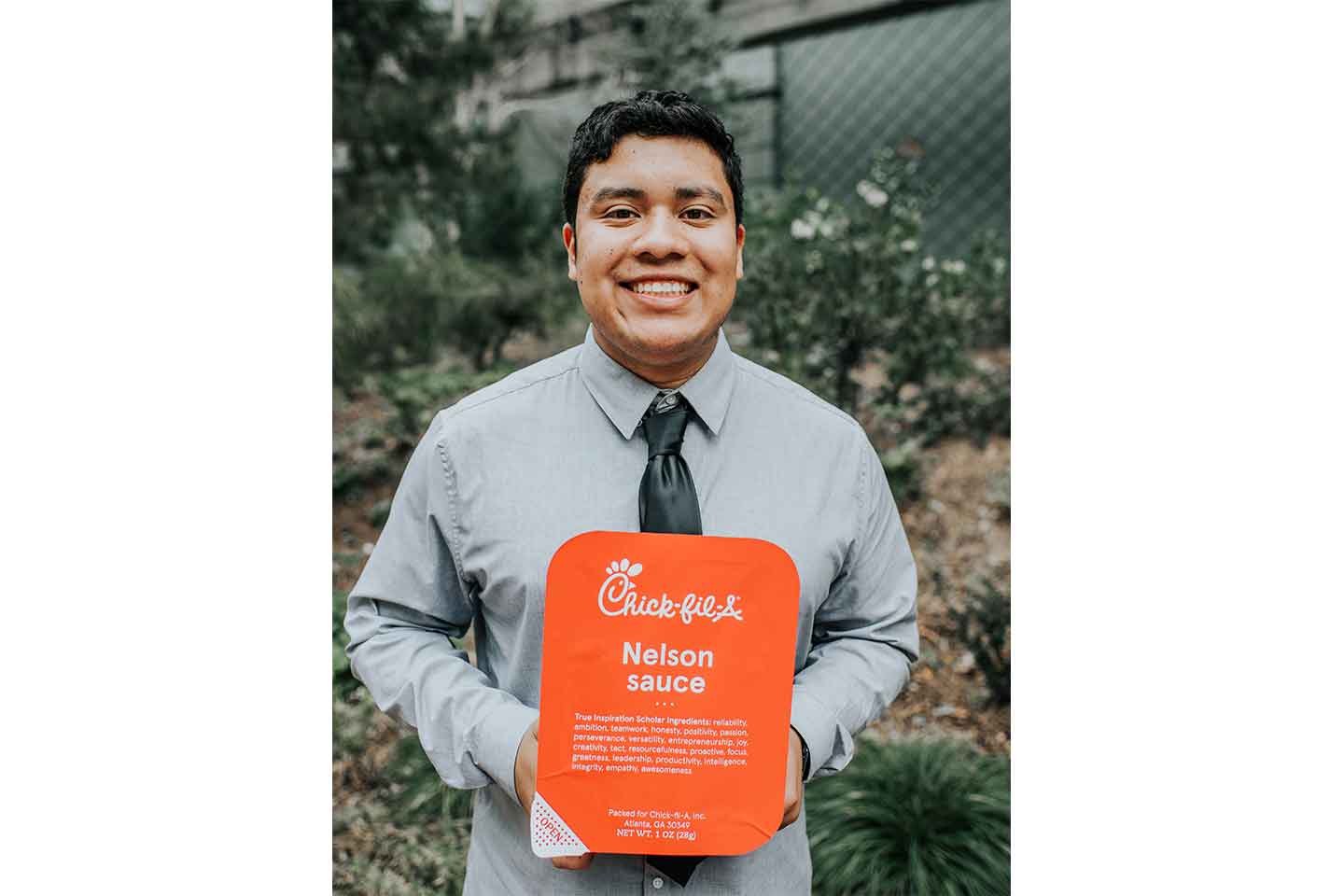 Nelson Rivera is a self-proclaimed people person who prefers to spend his free time serving the community. Throughout high school, Rivera worked almost every night for four years as a Team Member at Chick-fil-A Long Beach Traffic Circle in Long Beach, California, volunteered in numerous community organizations and still managed to graduate top of his class. Despite his tremendous academic record, the cost of college was just too much – until now.
"This scholarship means I get to go to school," says Rivera. "School has always been a priority, but I didn't know how I would be able to finish."
Now, this valedictorian will continue his journey to becoming a child psychologist by pursuing dual degrees in communications and psychology beginning this fall.
Rodolfo (Rudy) Villegas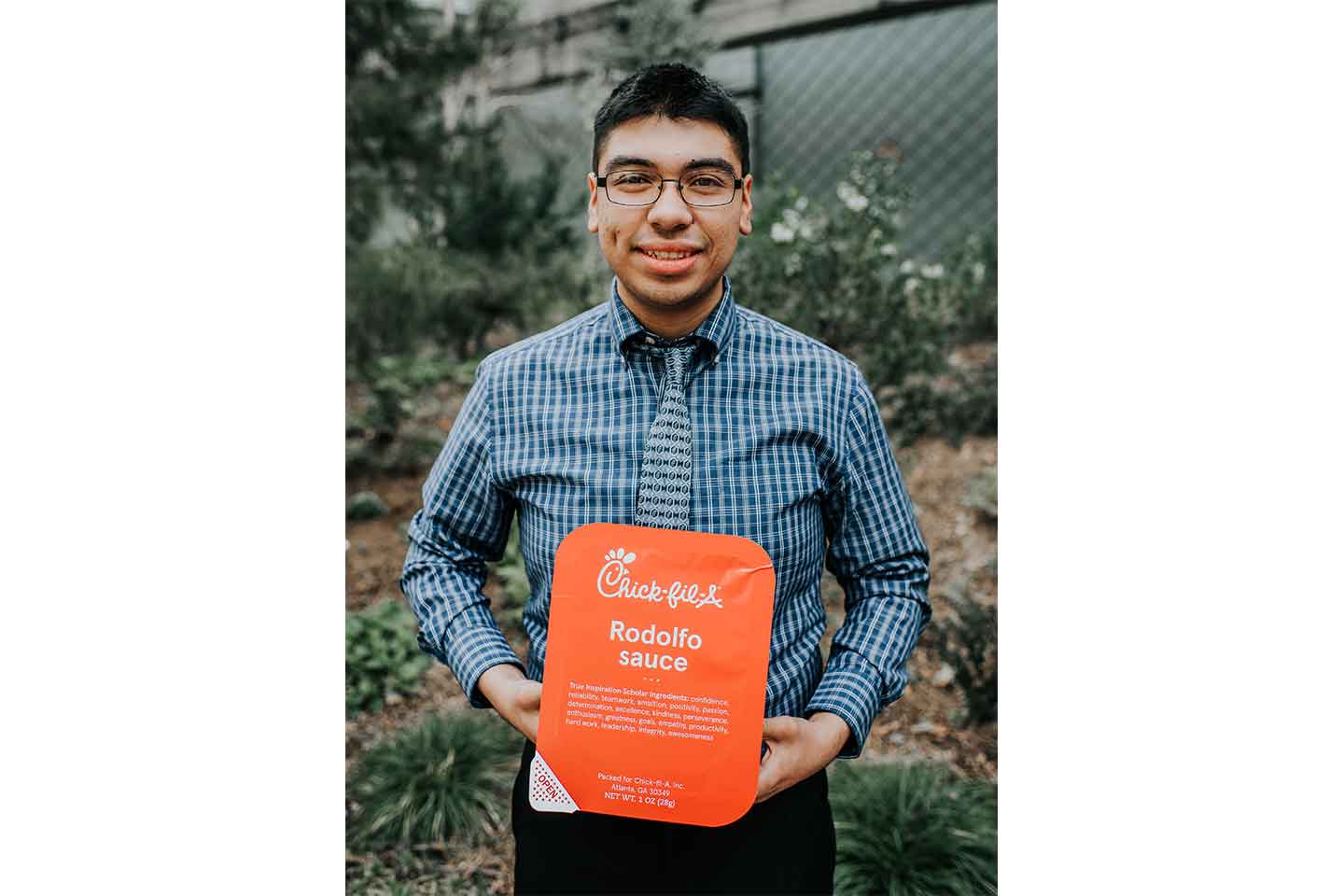 Rodolfo Villegas has always found a way to achieve success in the face of adversity. Raised in a Spanish-speaking home, he studied English in his free time until his vocabulary was up to par with his primarily English-speaking classmates. When his family was struggling financially, he took on odd jobs around the neighborhood to help with finances until he was old enough to apply at Chick-fil-A.
In his two years at Chick-fil-A Eagle Pass in Eagle Pass, Texas, Villegas has risen to the role of Assistant Director and set his sights on a long-term career at Chick-fil-A. Because of the scholarship, Villegas will be able to pursue a degree in business as the next step toward his dream of becoming a Chick-fil-A Operator.
"I see myself staying with Chick-fil-A," says Villegas. "I've grown from a Team Member to an Assistant Director and I hope I can come back one day as an Operator."
Shady Mina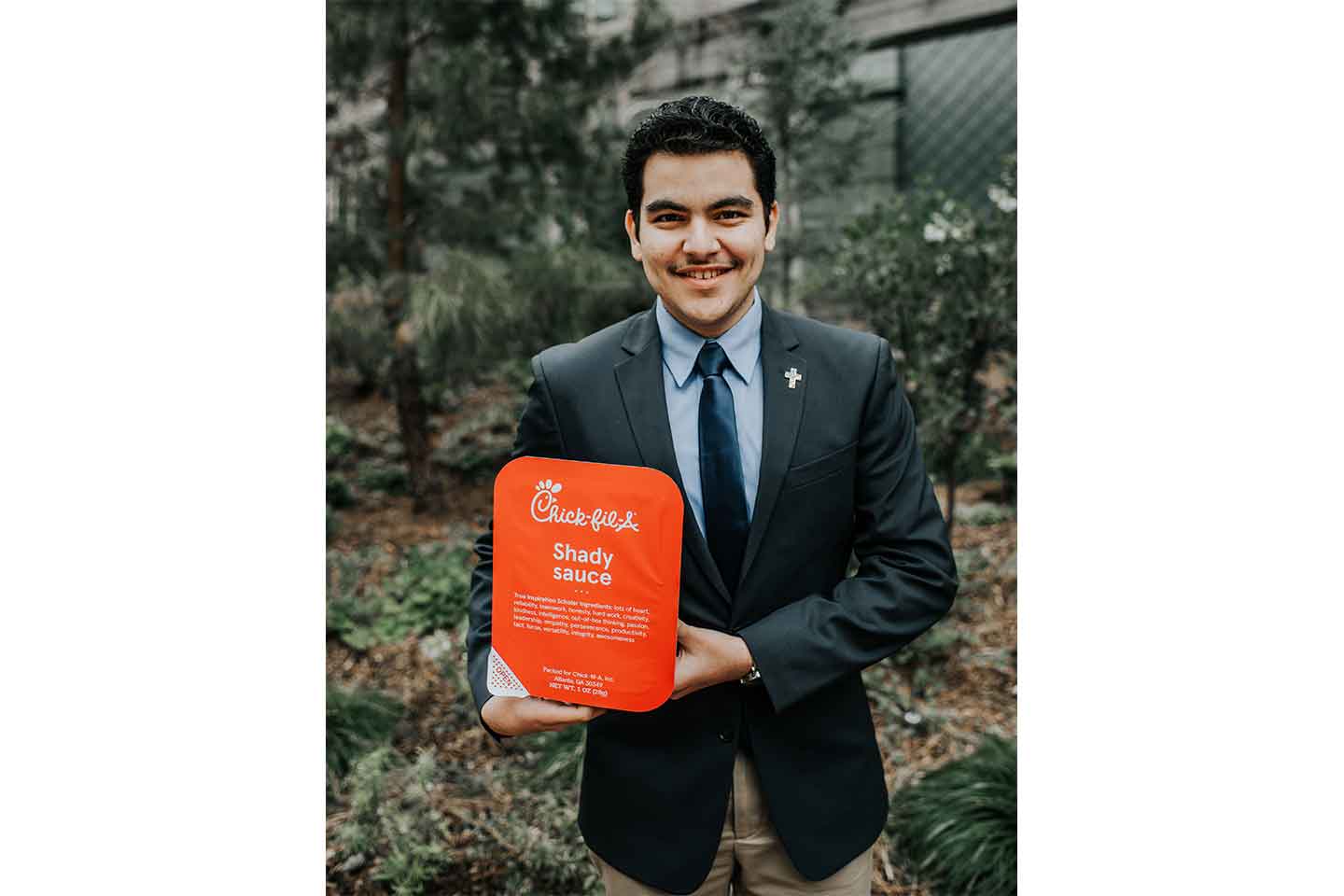 Shady Mina, a Team Member of three years at Chick-fil-A Palm Harbor, in Palm Harbor, Florida, has a track record of excellence with no plans of slowing down soon. Throughout high school, he maintained a perfect GPA, served as executive president of his school's Student Government Association and secretary of the Florida chapter of Future Business Leaders of America (FBLA). During his time with FBLA, he helped to launch a disaster relief initiative to aid chapters in distress following Hurricane Irma, which inspired him to dedicate his life to helping others. Next year, he will start college on the pre-medical track – the first step toward his dream career as a neurosurgeon.
Titus Matthews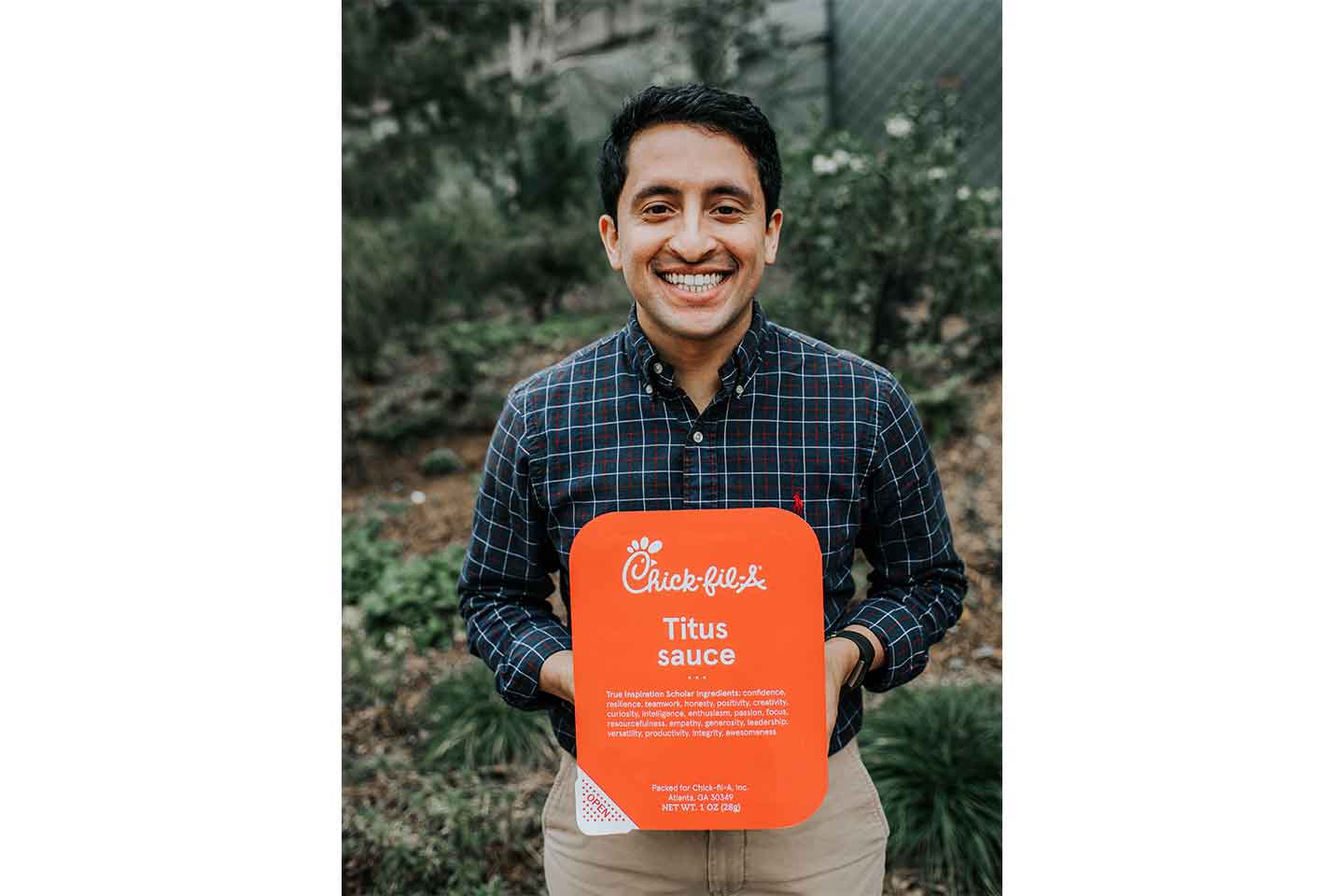 Titus Matthews has already impacted thousands in his journey so far, which makes it hard to believe that he's just getting started. After graduating from the University of Virginia, Matthews moved to India to volunteer for a human rights agency. He then returned to the states where he worked for congress, followed by a year serving impoverished people with AmeriCorps Vista. His passion to serve people led him to Chick-fil-A Somerset Collection in Troy, Michigan, where he has spent the past six months as a Training Ambassador for new Team Members.
"It's such an honor to not only serve Chick-fil-A, but to also receive this scholarship to follow my dreams," says Titus Matthews.
Soon, he'll return to school to pursue a master's degree in counseling with the help of the True Inspiration Scholarship.
Valeria Gomez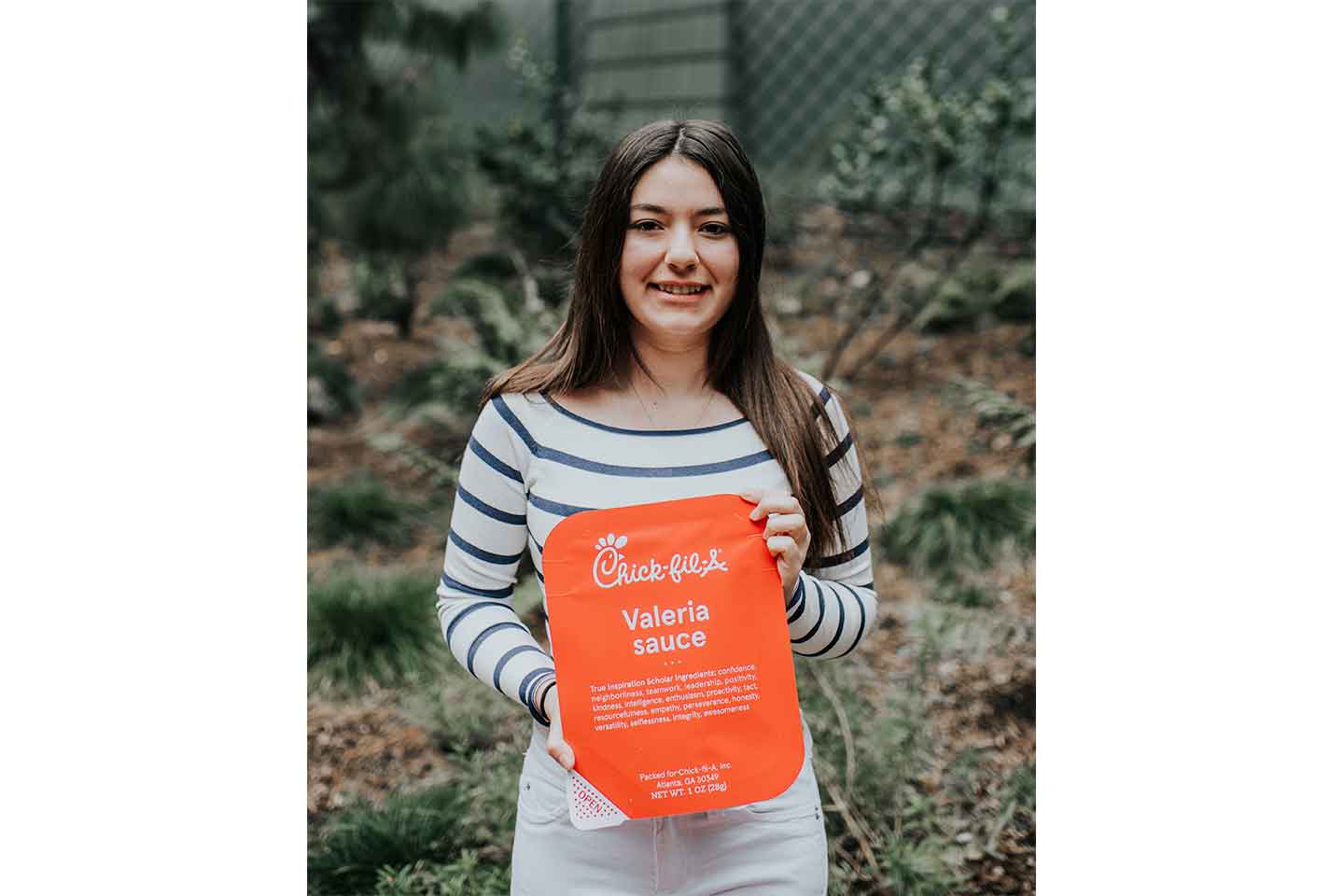 Inspired by her mother, Valeria Gomez has always dreamt big and worked hard. With a college education in mind, Gomez has worked countless hours over the past year at Chick-fil-A Teterboro Landing in Teterboro, New Jersey, to save up for the cost of a degree. Now, Valeria is looking forward to pursuing a college degree without the financial stress she feared.
"I never knew that working at Chick-fil-A would lead to this," says Valeria. "This scholarship takes so much off our shoulders."
Though she's not yet sure what her ideal career will look like, one thing is certain – whatever it is, it will allow her to provide a stable, happy life for her mother.
To learn more about Chick-fil-A's scholarships, visit chick-fil-a.com/scholarships.