Artwork to serve as backdrop of future Brooklyn Chick-fil-A restaurant
Patrick Lewis' mornings look starkly different than they did just four years ago. As he bundles up for the brisk morning air and makes the quick trek through his backyard, he cranks up the space heater in his studio shed and gets to work.
His work, once rooted in Excel spreadsheets as a corporate finance employee, has now shifted to large canvases, filled with loose, expressive brush strokes.
While Atlanta-based Lewis is relatively new to the art scene, his work has gained a quick following, largely because of his understanding and focus on the consumer mindset.
"I love painting powerful symbols and themes that inspire people and draw out an emotional response," Lewis says, adding that one of his best-known pieces is a colorful portrait of Albert Einstein, recognizable by his wacky hair, mustache and deep-set eyes.
Reconnecting with Art

Several years ago, while traveling with his wife, Katie, and in need of his own inspiration, Lewis stumbled upon a painting of an oyster shell by Savannah-based artist Bellamy Murphy. It was simple: a neutral background canvas layered with an array of different colors.
"It was the perfect example of capturing a singular symbol that is central to the Southeastern coast and painting it in an interesting way," Lewis says.
The piece moved Lewis to begin resurfacing his love of art. He first experimented with charcoals and acrylics during art class many years ago in Kansas City, where he was born and raised. He then tabled his passion for years while pursuing economics and business degrees, while spending years in the corporate finance space with AT&T.
With two young daughters at home, Lewis said his "creative drive took hold," and he made the decision to leave the corporate world and reignite his passion, creating a studio in his backyard shed once reserved for storage.
Four years later, his backyard studio is where he now works on two or three pieces at a time: sketching out his paintings, erasing and editing until it's just right, and then layering on brush strokes of acrylic paint, allowing each to dry in due time. The process is strikingly similar to his own path here.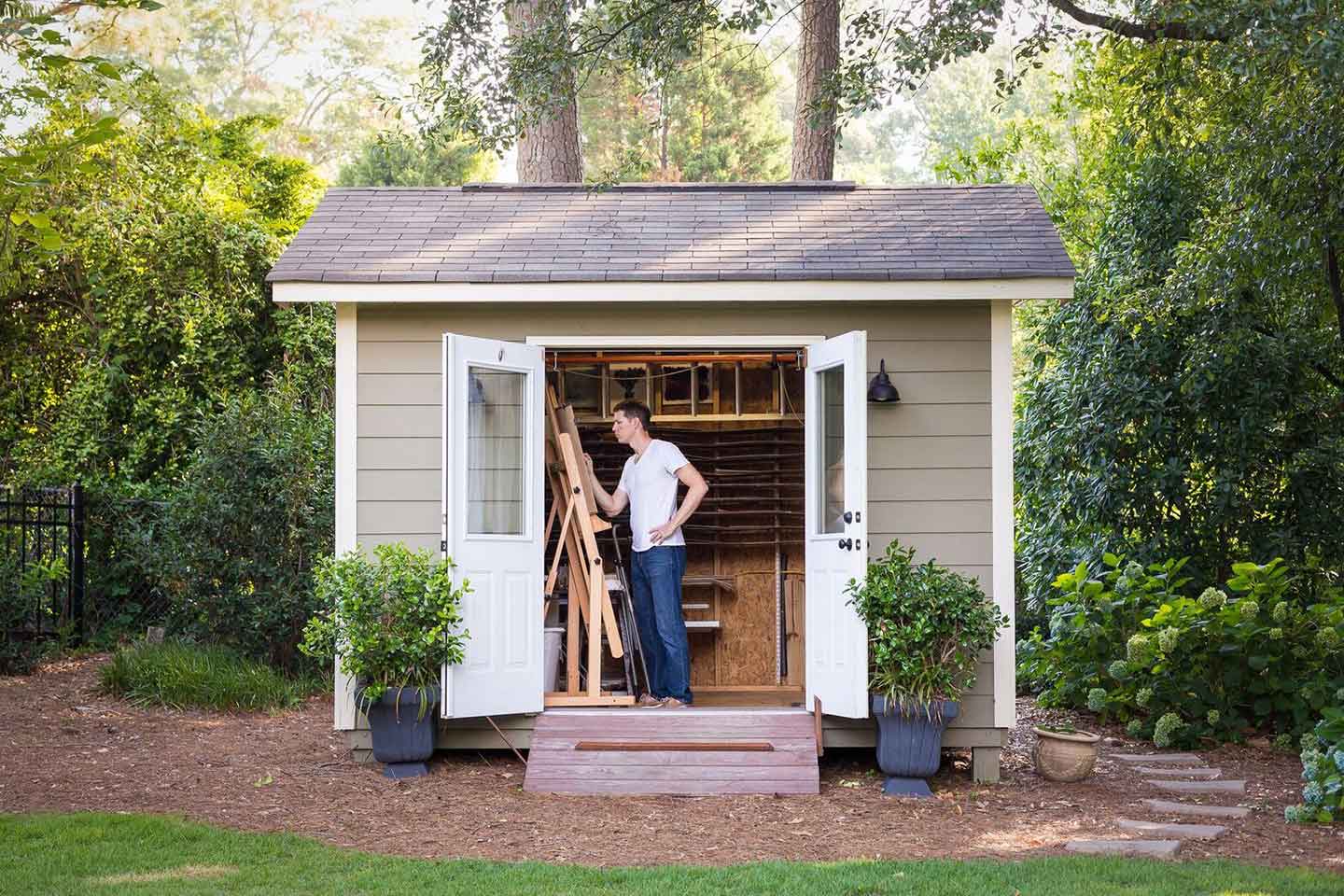 Finding Inspiration in Familiarity
While Lewis finds inspiration in the human element, he also looks to popular brands and institutions as subjects, from University of Georgia and Georgia Tech to beverage companies and Chick-fil-A.
His paintings of Chick-fil-A cups and paper bags have gained popularity, especially among Chick-fil-A employees and customers.
"It's hard to find a more powerful theme than Chick-fil-A, especially in the Southeast," Lewis says. "For me, and for many other families, Chick-fil-A symbolizes ease and friendliness – and that won't change."
Chick-fil-A fans in Brooklyn will soon have the chance to share in this inspiration. The future Chick-fil-A restaurant, opening at 166 Flatbush Avenue later this year, will feature two 6x4' paintings by Lewis—an Icedream cone and cup—on a prominent wall in the dining room.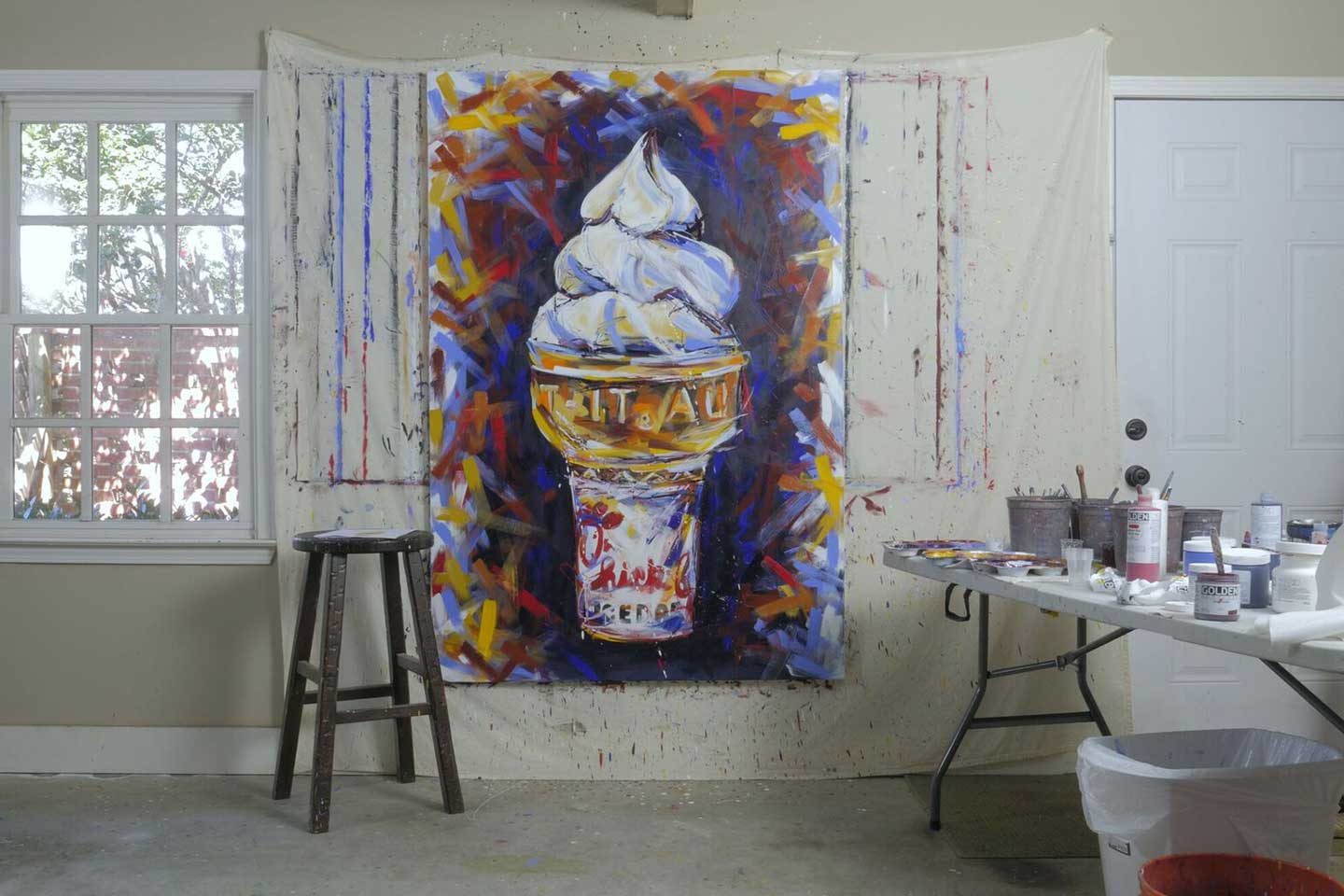 Nathaniel Cates, senior principal design lead for Chick-fil-A restaurants, helped develop the vision for Chick-fil-A's first restaurant in Brooklyn and how Lewis's artwork would complement the space.
Cates, tasked with helping redefine the customer experience in urban environments, describes Lewis's paintings as a "way to celebrate Brooklyn."
The design of the rehabilitated building "speaks to the style of Lewis's artwork," according to Cates, which he calls "loose, dynamic and raw, but also elegant."
While Lewis was up for the challenge and already had plenty of practice painting the Chick-fil-A cup, he had to figure out how to make off-white ice cream compelling for his audience. "It was a great opportunity to experiment with a color palette," which included hues of blue and yellow. "I ended up with a depiction of Icedream that I think people will like," he says.
While Lewis will undoubtedly keep his audience guessing about what's next for his canvas, there's one constant when it comes to Lewis: you can rest assured he'll never stray far from his go-to Chick-fil-A order of a No. 1 Original Chicken Sandwich.
Follow Lewis' latest work at @patricklewisart on Instagram