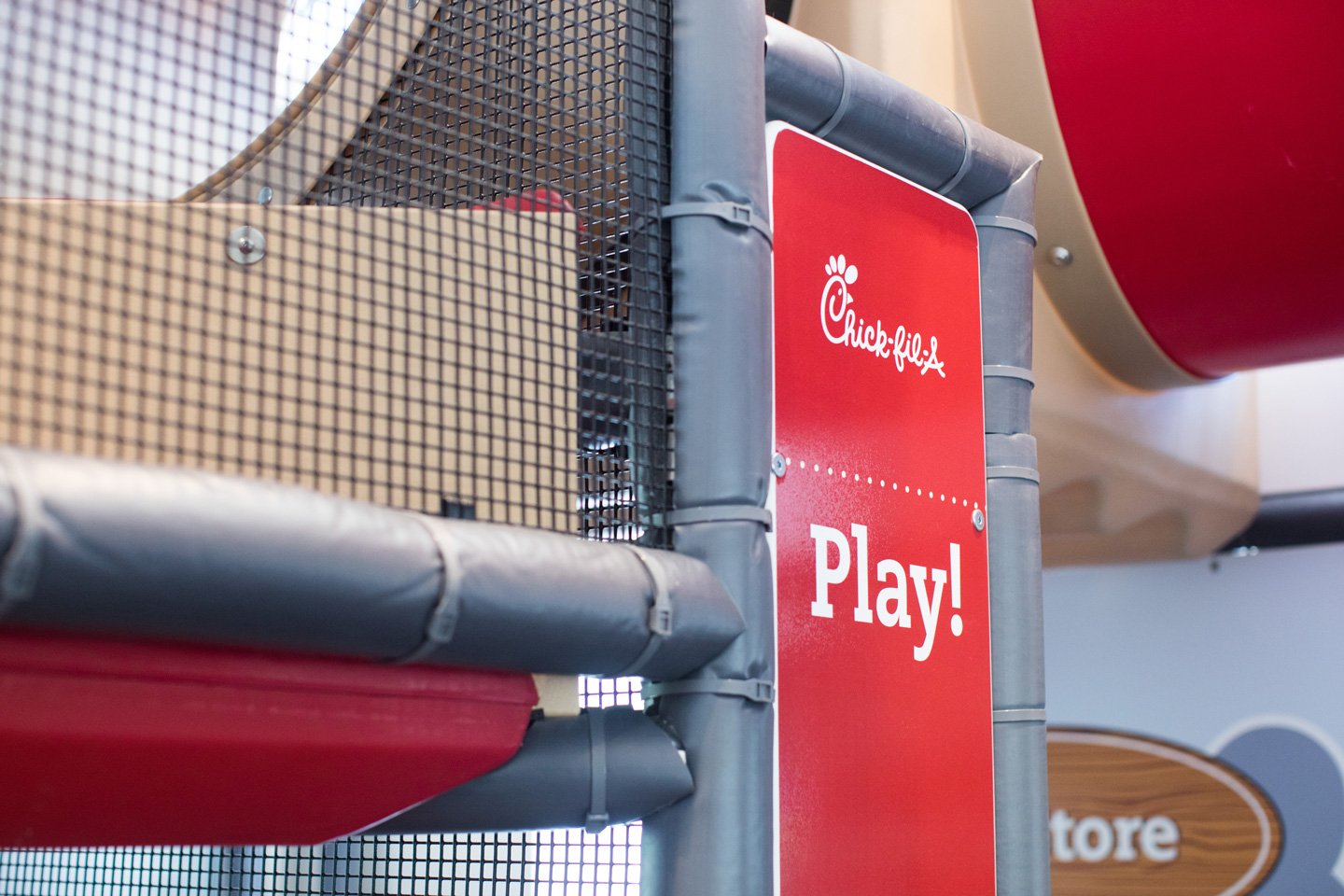 When you become a parent, there are countless things you have to learn: How to feed a baby. How to survive without sleep. How to have a social life centered around a tiny human. These are just the things you expect.

Then there are the things no one tells you: How to cook an entire meal using only your left hand or how a trip to the store to buy toothpaste will now require as much planning as your last vacation. Parenthood is like being inducted into a secret club, with its own special handshakes and understanding nods.

For all the things you have to figure out, let's make one thing easy: how to handle a trip to Chick-fil-A like a parenting pro. Here's your go-to guide for the Chick-fil-A secrets every mom or dad needs to know.
1. There are disposable placemats for children. And they stick to the table.

These colorful placemats are a parent's dream. Adhere them to the table, and voilá – a safe, clean surface for feeding your child, or chopping up their food. Check with your closest Chick-fil-A to see if these are available.

Pro tip: The highchairs in most Chick-fil-A restaurants are on wheels. Grab one when you walk in and wheel your kiddo around while you order and get the table set up. It's just like going on a ride!

2. There are breakfast options for little hands and kid appetites.

Eggs. Eggs with cheese. Hash Browns. Fruit Cup. Chick-n-Minis®. Greek Yogurt Parfaits. And if you need an order modified for your little nugget, just ask one of the Team Members. They may be able to help.

Pro tip: Order ahead on the Chick-fil-A App to avoid waiting in line with your littles. With Dine-In Mobile Ordering, our Team Members will deliver food right to your table.

3. The Kid's Meal bags turn into Cow puppets.

Want to stretch their imaginations? Need to distract your kids while you scarf down your own food? Enter puppet bag. Turn the Kid's Meal bag upside down, and you'll find a hidden Chick-fil-A Cow ready to make everyone smile.

Pro tip: Keep crayons in your diaper bag or purse to color the bag.

4. Speaking of Kid's Meals, the prizes are selected by parents AND kids.

That's right. Chick-fil-A customers and their kids help pick which toys, books and games go with the meal.

"We work with customers who are parents and their kids to help us find their favorites," says Amy Wells, leader of Chick-fil-A's kids and family work (and mom of three). "Then we ask ourselves, 'Does this prize help families have fun together, is it enriching the kids we serve?' and pick the best ones."

Pro tip: If your child is three years or younger, ask a restaurant Team Member for the "under three board book" for your toddler instead of the standard prize.

5. There's a changing table in every restroom.

Enough said.

6. Most Chick-fil-A restaurants plan special events to create memories.

Whether it's a Stuffed Animal Sleepover or a school spirit night, most Chick-fil-A restaurants host events to give families in their community a memorable moment.

Pro tip: Events vary from restaurant to restaurant, so find your closest Chick-fil-A and follow its social media to stay in the know.
7. There are Chick-fil-A onesies for babies. ONESIES.

As if your baby couldn't get any cuter, wait until you see this. But babies don't get to have all the fun. You can order all kinds of Chick-fil-A apparel for toddlers, big kids and even grown-ups here.
Grab your kids and head to your closest Chick-fil-A for family fun (and food)!