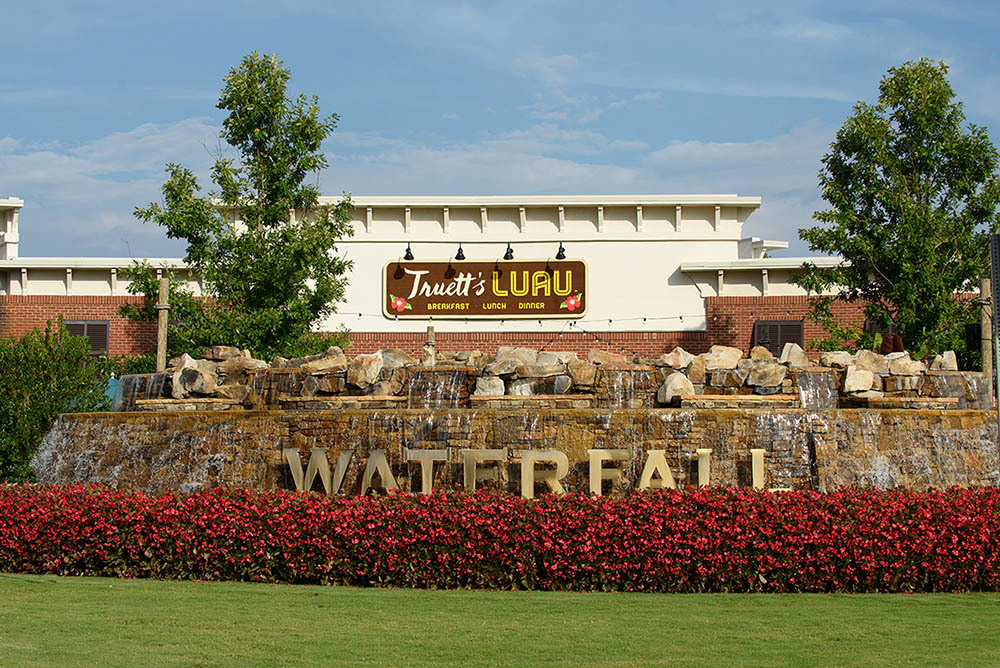 Take your taste buds on a trip to paradise.
While Chick-fil-A® is known for the Original Chick-fil-A® Chicken Sandwich, Chick-fil-A Waffle Potato Fries® and delicious Milkshakes, another restaurant near Atlanta created by Chick-fil-A Founder Truett Cathy treats guests to a tropical taste of paradise without leaving Chick-fil-A's home state of Georgia. We're talking about Truett's Luau®, a one-of-a-kind, Hawaiian-themed restaurant.
Truett's Luau brings the aloha spirit of the Hawaiian Islands to Fayetteville, Ga. (about 22 miles south of Atlanta) through its menu, design and décor. The tagline for the restaurant is "Truett's Luau: where we celebrate as family with laughter, fun times and good food."
Upon arriving at the restaurant, guests will immediately start to feel the vacation vibes as they take in the sights and sounds – from idyllic waterfalls and carved tiki columns to ukulele music and tropical plants.
The breakfast, lunch and dinner menus feature Hawaiian-inspired cuisine, including Fish and Pineapple Chicken Tacos, a Luau Fish Sandwich, Crispy Calamari, Banana Macadamia Nut Pancakes, Tropical Nuggets and an Island Chicken Salad. The Luau Burger, topped with Colby Jack cheese, applewood-smoked bacon and ring of fresh grilled pineapple, is another fan favorite, especially when served alongside Sweet Potato Waffle Fries. Several signature Chick-fil-A items are also on the menu, including the Original Chick-fil-A® Chicken Sandwich, Chick-n-Minis® and Waffle Potato FriesTM.
For those who prefer to sip their way to paradise, the menu's selection of tropical drinks includes Pineapple Macadamia Nut Milkshakes, Bubble Tea, the Frosted Hawaiian and the restaurant's signature drink, the Frosted Pineapple.
Dressed in tropical Hawaiian shirts, restaurant Team Members at Truett's Luau may look a bit different than what guests see at a typical Chick-fil-A restaurant. However, they showcase the same attention to detail when it comes to preparing and packaging every meal and serving it with a "my pleasure" attitude merged with the spirit of aloha.
So, until you can make it to the Aloha State, check out Truett's Luau for the next best thing – tasty food and top-notch service in a fun, Hawaiian atmosphere (minus the ocean views).