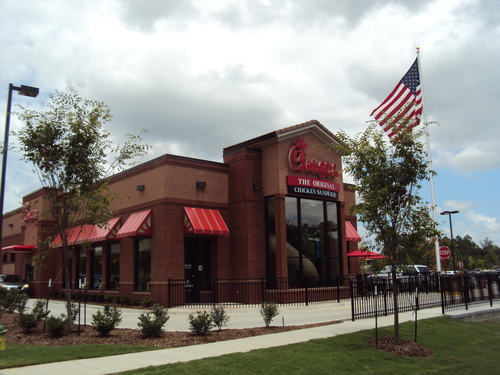 Closed - Opens tomorrow at 6:30am CST
701 Highway 12 E
Starkville, MS 39759
Map & directions
Prices vary by location, start an order to view prices.
Catering deliveries at this restaurant require a $125.00 subtotal minimum order size.
Restaurant Details
Hours
Monday - Saturday
6:30 AM-10:00 PM CST
Amenities at this restaurant
Mobile
Ordering,
Drive-thru,
Catering
Pickup,
Catering
Delivery,
WiFi,
Playground,
Breakfast
Amenities not at this restaurant
Phone Number
Restaurant operator
Jonathan Rogers
Starkville
701 Highway 12 E
Starkville, MS 39759
Choose delivery type
Chick-fil-A delivery
By clicking Continue below, you will leave the Chick-fil-A, Inc. website (www.chick-fil-a.com) and enter a site controlled and maintained by a third party not affiliated with Chick-fil-A, Inc. The content and policies of the site you are about to enter may vary from Chick-fil-A, Inc.'s. Most Chick-fil-A® Restaurants are operated by independent franchised business owners who make all their own employment decisions and are responsible for their own content and policies.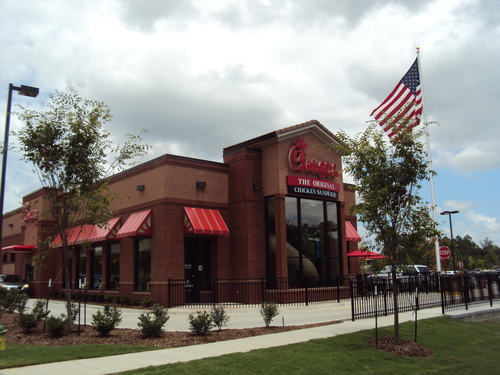 Restaurant Operator is responsible for content on this page. Restaurant Operators are independent business owners.
We're proud to be your nearest Chick-fil-A®, serving freshly prepared food crafted with quality ingredients every day of the week (except Sunday, of course). Our restaurant offers everything from Chick-fil-A menu classics, like the original Chick-fil-A Chicken Sandwich, Chicken Nuggets and Chick-fil-A Waffle Potato Fries®, to breakfast, salads, treats, Kid's Meals and more. Feeding a group? Our Chick-fil-A location also offers a variety of catering options, perfect for your next get-together. On this page, you can check out our operating hours as well as the dining options that are currently available at our restaurant.

If you're looking for great food nearby, it's our pleasure to serve you.
Restaurant Operator
Jonathan Rogers
I am married to Melissa and we are blessed by three beautiful children, Samantha, Stephen and Selah. They are first in my life, behind Christ. I will fail as a husband and as a father if all I do is provide financially. Rather, I strive to be present for my family physically, emotionally, and spiritually. Melissa and I are thrilled to call Starkville HOME. We have spent over 14 years working with Chick-fil-A, including the 2 1/2 traveling the country opening new Chick-fil-A restaurants. Our home town of Tuscaloosa, AL is just down the road, and several of my family and friends actually worked and supported the Grand Opening of Chick-fil-A Starkville. I know Chick-fil-A Starkville holds a special place in the Starkville community, and we believe and hope our family and this restaurant will continue to grow with Starkville. I look forward to seeing many young people, both high school and college, who work with us take their next step towards their passions and life purposes. For a few, I hope Chick-fil-A can become a lifelong career like mine.
At Chick-fil-A®, we love serving others – both in and outside our restaurants. From supporting local charities to hosting school spirit nights, Chick-fil-A® restaurants are committed to giving back in ways that are most meaningful to our customers and our communities.
Community Donation
Are you interested in having us support your local group or event with food or catering?
Community donation request
Working at a Chick-fil-A® restaurant is more than a job – it's an opportunity for teamwork and leadership development in a positive, people-focused environment. We hope you'll apply to join our team. Here are five great reasons to apply:
Operators are committed to creating a positive environment
We're closed every Sunday
You'll have advancement opportunities and gain skills that transfer to other fields
We offer college scholarship opportunities and tuition discounts
We help make a difference in your communities