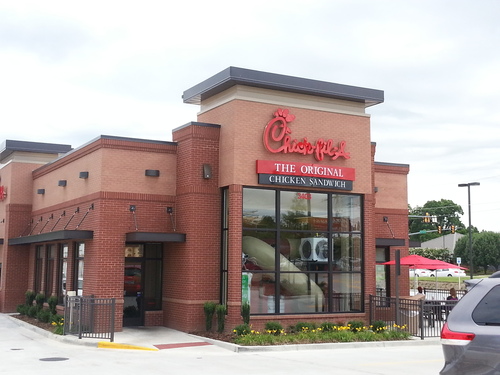 3403 Halls Ferry Rd
Vicksburg, MS 39180
Map & directions
Prices vary by location, start an order to view prices.
Catering deliveries at this restaurant require a $150.00 subtotal minimum order size.
Restaurant Details
Hours
Monday - Saturday
6:30 AM-10:00 PM CST
Amenities at this restaurant
Mobile
Ordering,
Drive-thru,
Catering
Pickup,
Catering
Delivery,
WiFi,
Playground,
Breakfast
Amenities not at this restaurant
Phone Number
Restaurant operator
Nick Jones
Vicksburg
3403 Halls Ferry Rd
Vicksburg, MS 39180
By clicking Continue below, you will leave the Chick-fil-A, Inc. website (www.chick-fil-a.com) and enter a site controlled and maintained by a third party not affiliated with Chick-fil-A, Inc. The content and policies of the site you are about to enter may vary from Chick-fil-A, Inc.'s. Most Chick-fil-A® Restaurants are operated by independent franchised business owners who make all their own employment decisions and are responsible for their own content and policies.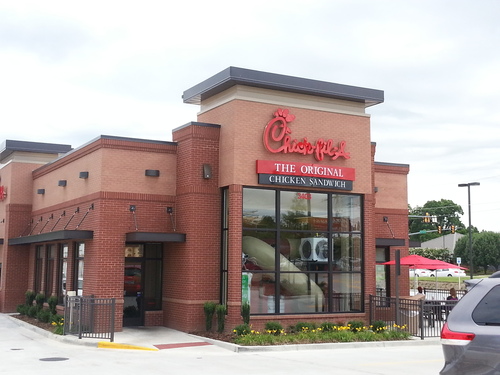 Restaurant Operator is responsible for content on this page. Restaurant Operators are independent business owners.
We're proud to be your nearest Chick-fil-A®, serving freshly prepared food crafted with quality ingredients every day of the week (except Sunday, of course). Our restaurant offers everything from Chick-fil-A menu classics, like the original Chick-fil-A Chicken Sandwich, Chicken Nuggets and Chick-fil-A Waffle Potato Fries®, to breakfast, salads, treats, Kid's Meals and more. Feeding a group? Our Chick-fil-A location also offers a variety of catering options, perfect for your next get-together. On this page, you can check out our operating hours as well as the dining options that are currently available at our restaurant.

If you're looking for great food nearby, it's our pleasure to serve you.
Restaurant Operator
Nick Jones
I grew up in Stockbridge, Georgia and moved to Vicksburg to open Chick-fil-A Vicksburg in April 2013. I first started with Chick-fil-A at the Stockbridge Chick-fil-A Dwarf House as a Team Member, breading chicken, in 1997. A graduate of the University of Georgia with a Bachelor of Business Administration Degree in Management in 2004, I also participated in the Army ROTC program and the simultaneous membership program through the Georgia Army National Guard. I commissioned as an Armor Officer through the University of Georgia ROTC Bulldog Battalion in 2004. I was promoted to the rank of Major (MAJ) in August 2017, am currently a member of the Mississippi Army National Guard and am a combat veteran of both Iraq and Afghanistan. It has been a pleasure to serve in the community in various ways including serving on the Board of Directors for the Vicksburg Warren Economic Development Foundation, Vicksburg Warren County Chamber of Commerce, Vicksburg Convention and Visitors Bureau and the Kings Empowerment Center. Additionally, I have served as the Scout Committee Chairperson for Cub Scout Pack 221. I have been married to Bridget since February 2005. We have 3 children, sons Noah and Brady, and daughter, Lana. My family and I attend both Pinelake Church in Clinton, MS and Crossway Church in Vicksburg, MS.
At Chick-fil-A®, we love serving others – both in and outside our restaurants. From supporting local charities to hosting school spirit nights, Chick-fil-A® restaurants are committed to giving back in ways that are most meaningful to our customers and our communities.
Community Donation
Are you interested in having us support your local group or event with food or catering?
Community donation request
Working at a Chick-fil-A® restaurant is more than a job – it's an opportunity for teamwork and leadership development in a positive, people-focused environment. We hope you'll apply to join our team. Here are five great reasons to apply:
Operators are committed to creating a positive environment
We're closed every Sunday
You'll have advancement opportunities and gain skills that transfer to other fields
We offer college scholarship opportunities and tuition discounts
We help make a difference in your communities