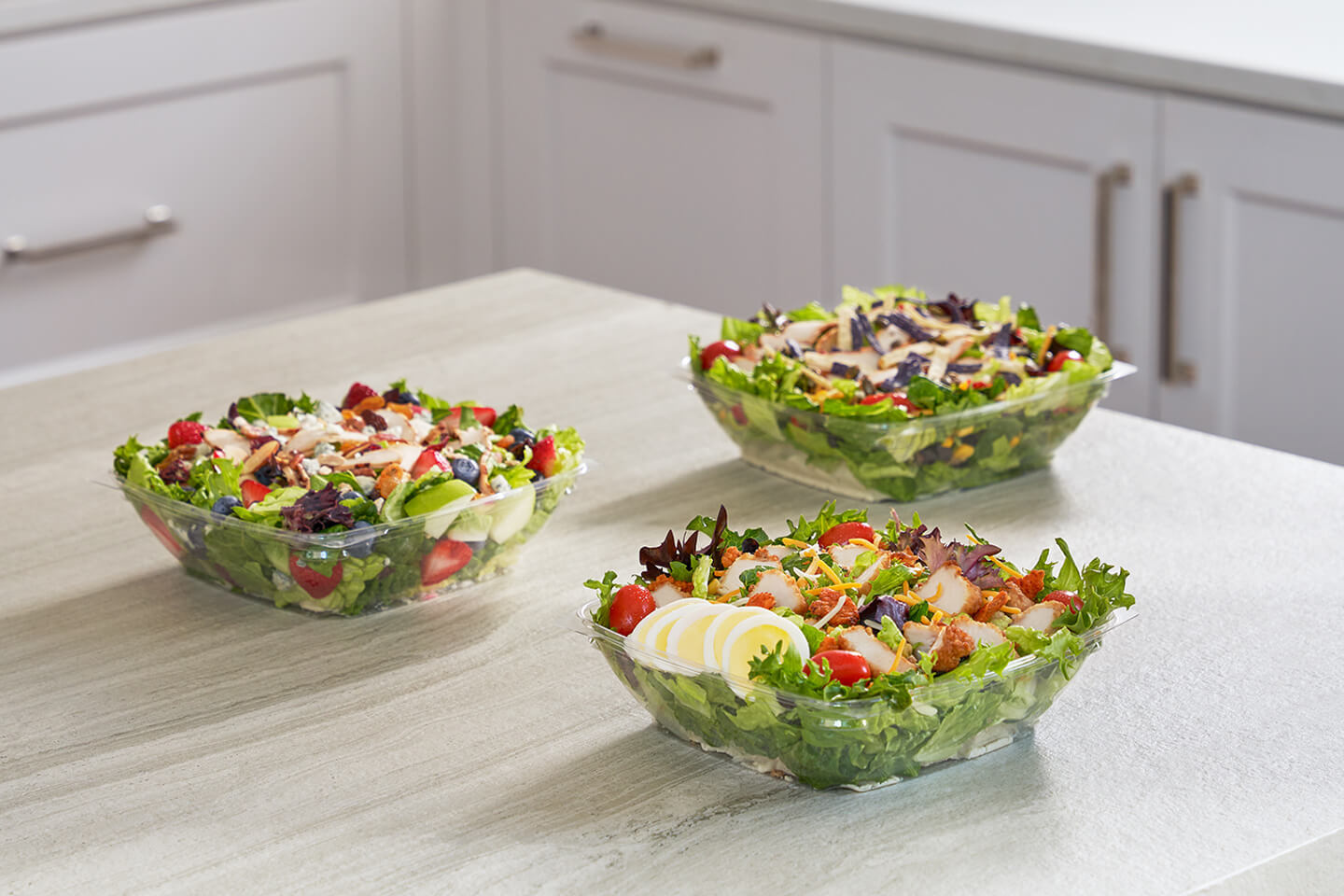 Some matches were meant to be 
Our entrée salads have some things in common: they're all prepared fresh daily with a filling portion of juicy, tender, real chicken. Each was intentionally curated, though, to offer three very different flavor experiences.
While you can enjoy plenty of combinations of Chick-fil-A® sides and treats to help you change up how you salad, these perfect pairings can take your order to the next level.

Chick-fil-A Cobb Salad
Packed with 42 grams of protein, Chick-fil-A's take on this salad classic is filled with shredded Monterey Jack and Cheddar cheeses, crumbled bacon and sliced hard-boiled egg. Topped with freshly breaded and pressure-cooked Chick-fil-A Nuggets, this salad's tasty toppings make eating your greens more delicious. Pair it up with our crisp, refreshing fruit cup for a meal that's equal parts hearty and great-tasting.

Spicy Southwest Salad
Featuring slices of grilled spicy chicken breast and a zesty combination of roasted corn, black beans, poblano chiles and red bell peppers, this salad is made to bring the heat. Match its bold flavors with a Frosted Lemonade — a refreshing, hand-spun treat to cool you down between bites, made with your choice of Chick-fil-A Lemonade or Diet Lemonade.

Market Salad
Eating your greens just got more delicious with sliced grilled chicken breast, roasted almonds, blue cheese and a mix of red and green apples, strawberries and blueberries. Round out your meal with a cup of Chick-fil-A Chicken Noodle Soup — a warm, hearty sidekick worthy of a few slurp sounds.

A can't-go-wrong complement
It's one of our most-ordered menu items for a reason. No matter which entrée salad you switch it up with, Chick-fil-A Waffle Potato Fries® always taste just right.