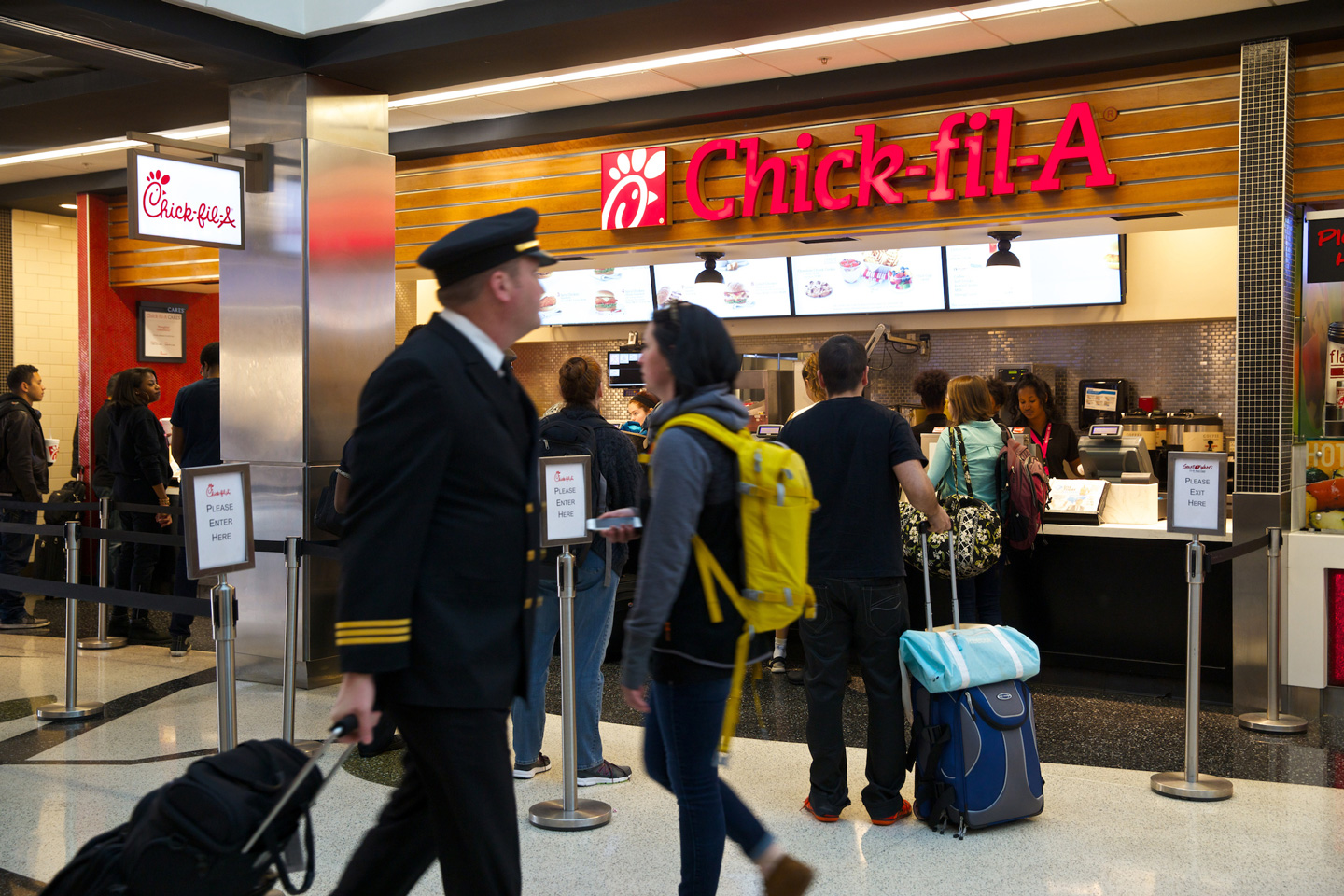 You've got a 45-minute layover and you need a Chick-fil-A Chicken Sandwich. Can you do it? Yes, you can.
Picture this: You're stuck in an airport waiting on a delayed flight. And you're starving. And all you want are some waffle fries.

Or maybe you've got a layover, you don't live near a Chick-fil-A (yet!) and this is finally your chance to taste the Original Chicken Sandwich -- if you and your rolling luggage can make it to the next terminal in time.

Either way, we've got you covered with this handy guide to all of the Chick-fil-A restaurants located inside airports. Bookmark it, print it out and staple it inside your passport, so nothing comes between you and your nuggets.

We'll continue updating this list as more locations open. Happy travels!
ALABAMA
Birmingham-Shuttlesworth International Airport: Concourse A/B Food Court
ARKANSAS
Clinton National Airport
CALIFORNIA
Los Angeles International Airport – Terminal 1
San Jose International Airport – Terminal B (between gates 24 and 25)

COLORADO
Denver International Airport: B Gates, Center Core
DISTRICT OF COLUMBIA
Ronald Reagan Washington National Airport – Pre-security
FLORIDA
Orlando International Airport - Main Terminal: Food Court
Pensacola International Airport: Post Security
Tampa International Airport - Main Terminal: T1
Tampa International Airport: Airside A
GEORGIA
Hartsfield-Jackson Atlanta Int'l Airport: Concourse C
Hartsfield-Jackson Atlanta Int'l Airport: Concourse A

INDIANA
Indianapolis International Airport: Civic Plaza

KANSAS
Wichita Dwight D. Eisenhower National Airport: Concourse

KENTUCKY
Cincinnati/Northern Kentucky International Airport: B Gate
LOUISIANA
Louis Armstrong New Orleans International Airport-North Terminal, Level 2
MARYLAND
Baltimore-Washington International Airport: Concourse A/B
MICHIGAN
Detroit Metropolitan Airport: Gate A74
Detroit Metropolitan Airport: North Terminal (Temporarily Closed)

MINNESOTA
Minneapolis-Saint Paul International Airport: Terminal 1, Concourse C
Minneapolis Saint Paul International Airport – Concourse F
NEW YORK
Albany International Airport
NORTH CAROLINA
Charlotte-Douglas International Airport: Atrium just past security

OHIO
Cleveland-Hopkins International Airport: Main Terminal food court
PENNSYLVANIA
Philadelphia International Airport: Terminal B
Pittsburgh International Airport: Center Core
SOUTH CAROLINA
Greenville-Spartanburg International Airport: Grand Hall between concourses A and B
Myrtle Beach International Airport
TEXAS
Dallas/Fort Worth International Airport: Terminal C
Dallas/Fort Worth International Airport: Terminal D
Dallas/Fort Worth International Airport: Terminal E
Dallas Love Field: Concession Village
William P. Hobby Airport: Food Court, near Gate 1
Houston-George Bush International Airport: Terminal A
Houston-George Bush International Airport: Terminal B
VIRGINA
Washington Dulles Airport: Terminal B
Washington Dulles Airport