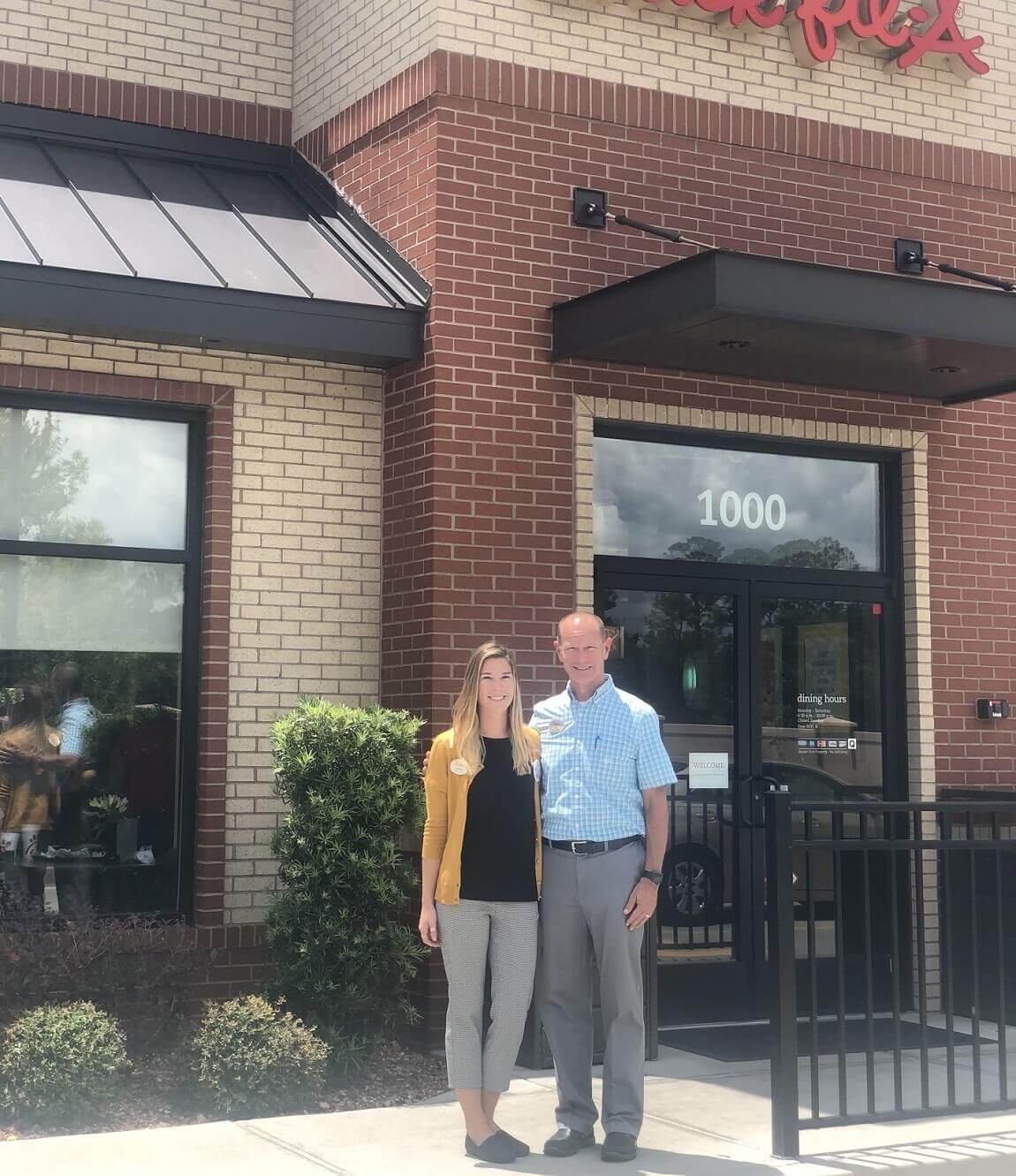 "It's unbelievably rewarding to know that she's helping to expand the Chick-fil-A brand in Canada. As a father, it makes my heart leap with joy." – Glen Efford
When she was 10, Olivia Efford remembers traveling with her family from their home near Toronto to St. Augustine, Fla. for the grand opening of her uncle Wayne's new Chick-fil-A® restaurant.

"Being raised in Canada, I didn't really know what Chick-fil-A was," she said. "I knew my uncle owned a fast-food restaurant, and that was about it. The thing that really stuck out to me was the amount of people who came up to say hi to him. Just the amount of people he knew and impacted through the restaurant was astounding."

As Olivia Efford watched her uncle connect with the Team Members and guests in his restaurant, she never expected that she would, a few years later, get to witness her dad doing the same thing — and that she would one day follow in both of their footsteps.

Wayne Efford's passion for his business inspired his brother — Olivia's dad, Glen — to become an Operator. In 2008, he opened Chick-fil-A Mentor in Ohio and, seven years later, Chick-fil-A Palm Coast in Florida. Olivia helped her dad manage and grow both locations before joining the Chick-fil-A Leadership Development Program, an experience that enabled her to help open the first and second Chick-fil-A restaurants in Canada.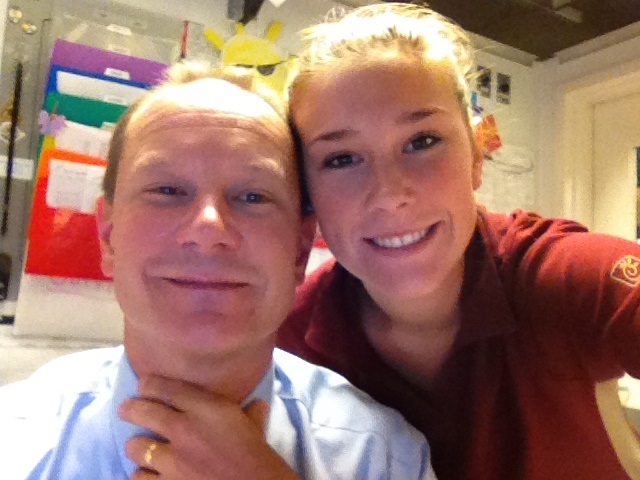 Now, Olivia is preparing to open her very own Chick-fil-A restaurant, the country's third location. Located in Kitchener, Ontario, Olivia's restaurant will be Canada's first free-standing Chick-fil-A restaurant and the first to offer drive-thru service.

In honor of Father's Day, we asked Olivia and her dad Glen to share their story with us. Read excerpts of our conversation below.
Glen, your brother inspired you to leave a successful corporate job and open a Chick-fil-A restaurant in 2008. That's a big move! How'd it happen?
It's an amazing turn of events. Wayne was traveling all over the world for a former job. I never forget the day he called me. He was in Iceland, and he told me he was resigning to open a Chick-fil-A restaurant. My reaction was, "Are you out of your mind?" He was climbing the corporate ladder, but he wasn't happy. He was spending too much time away from his family and didn't feel a connection to the community.
Did you have a similar 'A-ha!' moment as Wayne?
Glen: I've always followed my brother's lead and been so fortunate to do so. I had my revelation while driving to work one morning. To travel 28 miles in Toronto, I had to leave two and a half hours early. An insurance commercial came on the radio one morning and asked, "What will your family do when you're gone"? In my mind, it clicked: "What does my family know about what I do?" If you ask Olivia, she still can't tell you what I did. I felt empty inside. I was missing dance recitals, school plays and hockey games. I had the same revelation of wanting to get out of this cycle of craziness. Something had to change.

Olivia: It was in my senior year of high school, and dad knew it was really important for me to finish high school in Canada. He made a selfless decision to let his family stay here and open a Chick-fil-A in Ohio by himself. When we'd go down to visit, I would spend a lot of time at the restaurant and saw how he would interact with the team. Seeing my dad in this new light was inspiring.
So the community and service aspect drew you to Chick-fil-A?
Olivia: Yes, and another big piece was the development of Team Members and opportunities he was able to provide them, whether it was professional or personal development. The encouragement he shows every Team Member is something that, in my experience, is unique to Chick-fil-A restaurant Operators.

Glen: The thing that really tells you a lot about Olivia is that when we went down to open my store… this was before the grand opening supervisor role. I got to my store in Ohio, and there were construction guys and a green trailer out front. Inside was a box with a stack of interview questions and job applications. Olivia said, "I'm going to come down and help, Dad." She was 16. She spent her summer getting me organized and keeping me on track. That was the first real glimpse of the connection… she wasn't going to let go until I was in a good place.
How did your connection continue after high school and, later, university?
Olivia: My mom and brother followed my dad to Ohio after I went away to university. I would make the 3.5-hour drive from university in Canada to Ohio during breaks and summers, where I would spend a lot of time in the restaurant. After graduating from university, I was at a crossroads. While I loved the Chick-fil-A brand, I was intimidated to leave Canada. But every time I went into the restaurant and saw my dad serving guests or interacting with the team, I was inspired and energized.

Glen: Olivia called upset…unsure of what she wanted to do. I asked her what her heart was telling her. And she said, "I want to work in the restaurant with you." And I can tell you there's no greater joy in this world than to work with your children.

Olivia: So I made the move to Ohio. It was short-lived, though, because about a year later my dad moved to Palm Coast, Fla., to open a Chick-fil-A. It's the closest restaurant to my uncle's, so it's an amazing thing for Chick-fil-A to bring my dad and uncle together. We always grew up hearing stories about how close they were but didn't see it until they were in the same area.
And you followed your dad to Florida?
Olivia: I did. In order to grow, you have to get out of your comfort zone. I'm so glad I did it because I don't think I'd be where I am today if I hadn't followed him.

Glen: I'll never forget one day a Team Member came back to the office because a guest had an issue. I got up and Olivia stopped me. "Dad, I've got this," she said. That's when I saw that she was ready and that she could handle any situation with maturity, care and kindness.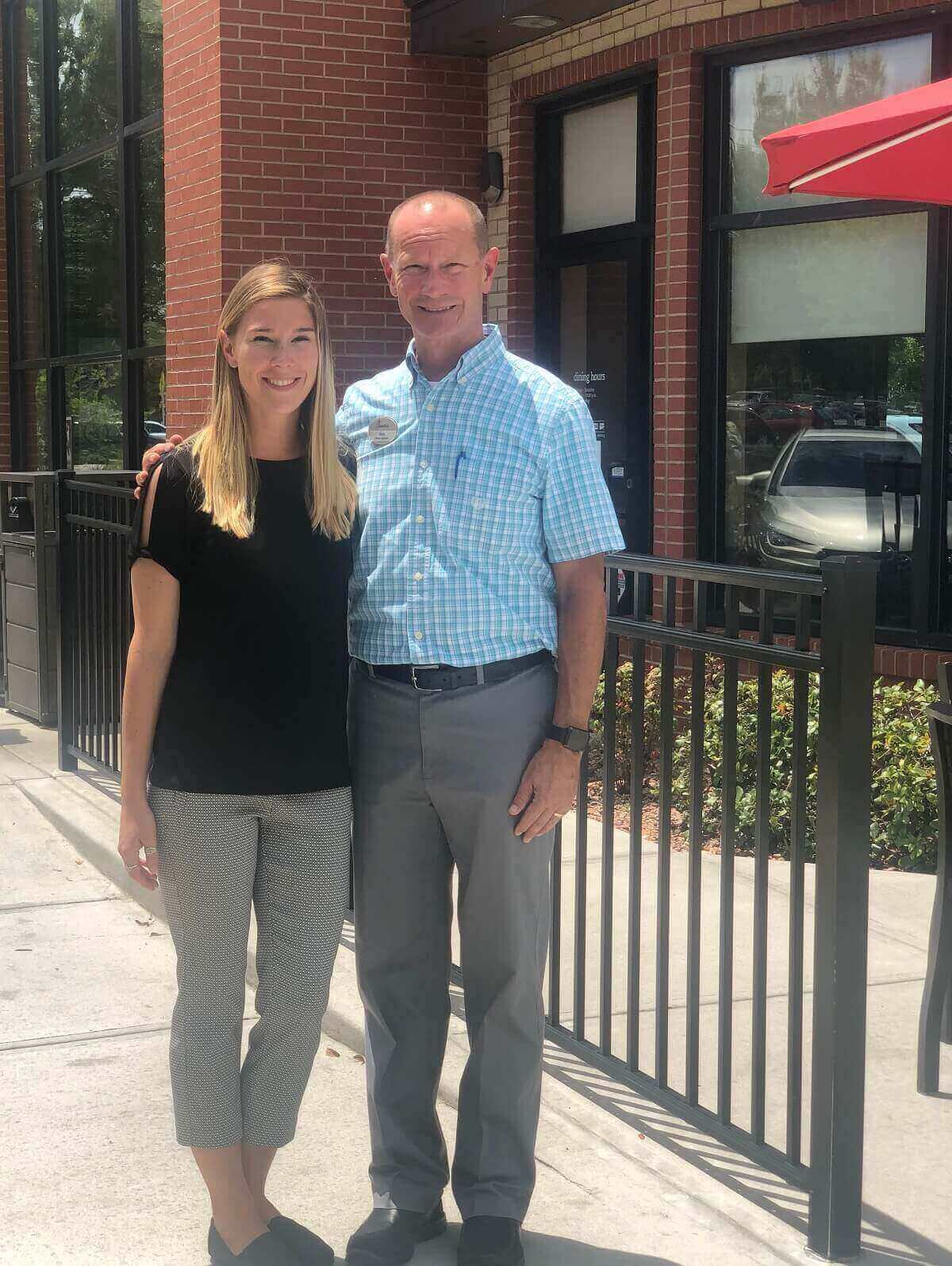 What have you learned from each other?
Olivia: He never wants to be in the spotlight. He's a behind-the-scenes kind of guy, and that speaks to how he wants to showcase his Team Members. Working side by side with my dad is something I will never take for granted and I will miss those days. Even though we will be 1,000 miles away from each other I know that my exposure to his work ethic, positive attitude, consistency, and sense of humour will continue to be a part of the way I lead my team in Kitchener.

Glen: She has constantly pushed me to try new things and to be better. To be there for her entire journey from a rather timid young girl to the confident, smart, intellectual, driven woman she is today inspires me to share with my Team Members that you can always achieve your dreams. Seeing her grow gives me a tremendous amount of hope for the future…not just for Chick-fil-A, but for the world.
What will it mean to open up your restaurant in your native Canada?
Olivia: I'm excited about being a pioneer for the brand here! It's a huge responsibility to help introduce the community here to Chick-fil-A and I am looking forward to creating an environment where Team Members and guests feel care. I'm so thankful for the opportunity to work for my dad in Ohio, which was a low-awareness market when we opened in 2008. I got to see how he worked to build the brand there and I am excited for the opportunity to do the same here in Kitchener.

Glen: Olivia has this huge opportunity, and there's no one better because she knows the Canadian people. They deserve a company like Chick-fil-A. It's unbelievably rewarding to know that she's bringing the Chick-fil-A brand to Canada. As a father, it makes my heart leap with joy.